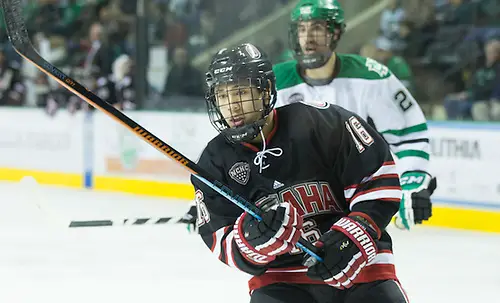 Each week during the season, we look at the big events and big games around Division I men's college hockey in Tuesday Morning Quarterback.
Jim: There were a lot of interesting results this past weekend, Paula. But with No. 2 Minnesota-Duluth idle and No. 1 North Dakota able to hold serve against a good Bemidji State team, each team maintained their position in the USCHO.com Poll.
What that means is that for the first time since January of 2013, we're going to have a clash of the heavyweights as No. 1 North Dakota travels to No. 2 Minnesota-Duluth to open league play in the NCHC. The two will play a two-game series against one another with a lot of early-season bragging rights on the line.
I know it is difficult for college hockey fans to get excited for big games this early in the season. But this is certainly one that hopefully packs Amsoil Arena and gives us a great early-season atmosphere.
Paula: That is an especially exciting matchup because the Bulldogs are looking for their first win since their Oct. 14 4-3 victory over Notre Dame. While the exhibition loss against the U.S. Developmental program doesn't count, Minnesota-Duluth will certainly feel that as something that extended a losing streak to two games. Getting the opportunity to turn things around against a tough conference rival at home will make for great atmosphere for this series.
Don't forget that the Bulldogs lost four regular-season games to the Fighting Hawks in 2015-2016 before upsetting North Dakota in first game of the NCHC Tournament Mar. 18. Amsoil Arena should be fully charged Friday night – and the series should create some buzz around college hockey.
I'm looking at other matches this weekend that intrigue me, two in particular: No. 14 Providence at No. 8 Boston College and No. 11 Michigan at Vermont. I'm intrigued by the okay-ish starts that both the Friars and the Eagles have had and how that may play out in the opening weekend of conference play for each team. I'm also eager to see how the Wolverines will fare on the road against an improved Vermont team.
Jim: The Michigan-Vermont series really intrigues me. I had a chance to watch a good amount of the third period and overtime for Michigan against Michigan Tech on Saturday night. And though the Wolverines earned a tie at home, they were significantly outplayed. I was impressed by the play of goaltender Jack LaFontaine, who made 42 stops on Saturday but recognize that the Wolverines probably need to be stronger in front of whichever goaltender plays.
As for Vermont, the Catamounts had a fantastic weekend at Omaha, both nights coming back from two-goal deficits in the first period. Friday, Vermont probably felt like they deserved the win, but leave it to Austin Ortega, such a dynamic player, who tied the game late in the third. On Saturday, though, Vermont wasn't letting up after taking the lead and scored the game's final five goals.
Bear in mind that the Catamounts are playing well right now without all four of its captains/assistant captains. The quartet was suspended prior to the season for hazing and will miss the Michigan game (though they will return on Sunday afternoon against Northeastern). The fact that Vermont has escaped their first four games with a 2-1-1 record (the other two games were a split with a very good Clarkson team) proves this could be a tough opponent once all players are again eligible.
Paula: Equally intriguing for me in the early going are the teams that are not performing as expected, especially teams that have yet to win a game. Ferris State is 0-6-1, having finally broken its losing streak with a 2-2 tie against Northern Michigan Saturday night. The Bulldogs lost four of their first six games by a single goal and the other two by two goals. I can't imagine the frustration.
Then there's Bowling Green (0-5-1), but some of the Falcons' losses have been a bit more lopsided, like their 6-1 loss to Ohio State Saturday night. Bowling Green was named the favorite in preseason by both the WCHA coaches and media.
And then there's Michigan Tech (1-5-2), picked second in preseason in the WCHA. As you said, they only came up with a tie after outplaying the Wolverines Saturday, and they lost to Michigan Friday night by giving up the game-winning goal, shorthanded, with 52 seconds left in regulation. In fairness, the Huskies have had a really tough early schedule. Not one of these three WCHA teams can be happy about the start of its season.
Once again, the season is young. That doesn't mean it's so young, though, that teams can't be seen as underperforming. What have you noticed elsewhere?
Jim: You mention these WCHA teams, but I'm also concerned about the WCHA as a whole right now. Right now, with a 6-19-2 mark, WCHA teams have by far the worst out-of-conference winning percentage. I know we said this last week as well, but what happens in October, a month when so many non-league games are played, significantly impacts what happens come March.
It's extremely likely that the WCHA may only place its tournament champion in the NCAA tournament. The league's ugly 2-9-1 record against the NCHC and a 3-7-1 mark against the Big Ten has placed the WCHA in a hole from which it may be impossible to dig.
What's interesting is that amidst all of this gloom and doom, you have Lake Superior at a perfect 4-0-0 and Minnesota State off to a 5-1-0 start. So maybe all is not awful for the WCHA.
Paula: Good points overall about the WCHA, Jim. Perhaps we're seeing some natural growing pains, too, for a league that experienced significant membership changes not that long ago. Adjustment can be a difficult thing – although the NCHC, with its 23-11-6 early season nonconference record may be the counterargument to that.
Thumbs Up/Thumbs Down
Thumbs up to the members of Michigan's 1996 NCAA championship team who took to the ice on Friday night. The trio of Marty Turco, Brendan Morrison and Mike Legg all took shots from the opposite blueline as part of Michigan's Score-O contest. After Turco and Morrison both impressively made their shots, Legg stole the show. Trying to recreate his "lacrosse" goal that he scored to win the game against Minnesota in the regional final of the '96 tourney, Legg "threw" the puck perfectly 150 feet to send the Yost Arena crowd into a frenzy.
[youtube_sc url=http://www.youtube.com/watch?v=Chi-pXeoSBM]
Thumbs down to the sheer number of penalty minutes teams are accruing. While it's true that teams need to adjust to tweaks in penalty calling at the start of every season, the stats so far are alarming, with nine teams that have played five or more games this season averaging more than 20 penalty minutes per game — teams that averaged far less than that, some by half or more, for the 2015-2016 season — and 15 total teams with more than 100 PIMs per game. No league is immune to this, and the only D-I independent, Arizona State, has 204 minutes in six games. It's disruptive to the game, no matter the cause, and putting far too much an emphasis on special teams play overall.