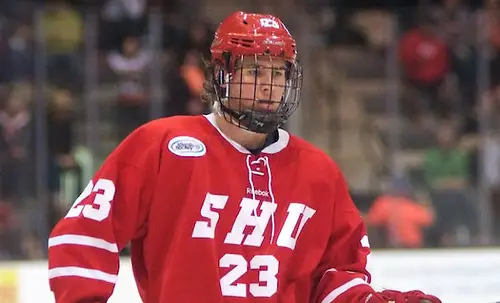 There's nothing more sacred in hockey than the concept of "the room."
It's the very heart and soul of every team, a place where souls shed their individuality in favor of a team skin. It's a place of bonding, a place nobody can understand with any accuracy unless they've been a part of one.
Building the foundation of the room comes in many forms.
At Sacred Heart, it's come on the road as six games into the season, the road warrior Pioneers have played at home only once. They've traversed the northeast, going from Fairfield County to the Hudson Valley to the Massachusetts-New Hampshire border. They've gone back home only to go back up to Boston and out west to Springfield. It's been a long road, one that continues over the next couple of weeks, but it's been worth it.
"It will be nice to eventually get home," said SHU coach CJ Marottolo. "We still have our next two games against Yale and New Hampshire. Yale is close, but it's always a competitive atmosphere to play in, and a trip to UNH is always tough. After that, we'll have four league games at home.
"It's been a good chance for us to come together as a team and learn about each other and our teammates," he continued. "As a coach, when you're going through, it can be hard, but you know that will help make your team."
For the Pioneers, the early road trips are a sign of their resiliency. After opening the year at Army West Point with a 4-0 loss, they traveled up to Merrimack, coming away with a 2-1 victory two days later. They returned to West Point the next weekend, losing 3-0, before returning home the next night to take on Union.
It was in that first home game in their new arena that Sacred Heart gave a glimpse into that resiliency. Surrendering a goal just over four minutes into the third period, the Pioneers faced their second two-goal deficit of the night. That's when two freshmen – Vito Bavaro and Zach Tsekos – scored within 80 seconds of each other to tie the game.
"We didn't get off to a great start [against Union]," said Marottolo. "But we stuck it, especially in the second and third periods. We kept battling, and we just kept playing our game. In the end, we were rewarded for our hard work with Vito and Zach getting their first goals. Even in overtime, we didn't score, but we had a couple of whacks at it."
The next weekend, it was back on the road for two games in three days in Massachusetts. On Friday, facing Boston University, Sacred Heart fell behind 2-0 in the first after being outshot, 14-4. But the Pioneers rallied to play the fourth-ranked Terriers evenly in the second before BU pulled away in the third for a 7-0 win.
"We just couldn't get that first one," said Marottolo. "If we were able to get one, you never know what could have happened. But we held them to 2-0 into the third period, and BU is a very talented team."
That led to Saturday.
League rival American International scored a shorthanded goal with 32 seconds left in the first period to take a 1-0 lead. After Bavaro tied the game in the first minute of the second, AIC again took the lead with a goal at the five minute mark for a 2-1 lead after 40 minutes.
Sacred Heart scored the next four goals, with Jasper striking twice and Kory Kennedy and Jordan Minello adding scores of their own as the Pioneers turned a 2-1 deficit into a 5-2 lead in an eight-minute span en route to a 6-3 victory.
"We really bounced back with a solid effort against AIC," said Marottolo. "We rallied from down a goal, and we really started to get on the same page as a team. We were able to stick with it again against a good AIC team that has great buy-in with a new coach and is very dangerous."
That resiliency and persevering attitude is already defining the Pioneers, who enter a single game on Saturday against Yale with a 2-3-1 overall record. "We don't cheat our game," said Marottolo. "We've done a good job of not pressing against other players, and our guys are buying in that a good defense feeds the offense. We're playing good, hard defense, and that's nice to see, especially when goals sometimes haven't been there. We're playing to our identity."
How 'Bout Those 'Jackets?
In three games this year, AIC is winless, sporting an 0-2-1 record, but you'd be hard pressed to find anyone who considers them an easy out. Against Union, they rallied from three different deficits, including a two-goal difference after two. Despite a 5-4 loss, they just didn't stop coming at the Dutchmen, outshooting them, 11-6, in the third.
Against Connecticut, they rallied from two one-goal deficits, shutting out the Huskies after the first period in a 2-2 tie in their home opener despite being outshot 38-18. With freshman Zackarias Skog stopped 14 shots in the third period, AIC withstood the UConn rush, and then arguably outplayed them in overtime despite not scoring.
And then there was last week against Sacred Heart, where they led 2-1 despite being outshot, 21-16, through two periods. Yes, they lost the game, but they were right there until the Pioneers took over in the third.
In a world where 60 minutes are critical, AIC will, at some point, put it together and breakout. When it happens, they're going to inflict sadness on plenty of other teams' fan bases.
Altitude? What altitude?
Last year, I took a look at the home-ice advantage Air Force has in Colorado Springs. Combining geography with 7,000 feet of altitude, the Falcons have a distinct upper hand. Since joining Atlantic Hockey, they're 115-48-21 overall against both conference and non-conference opponents.
If there's a secret to beating them, however, maybe people should look to the academy's ornithological brethren. Bentley's win on Saturday avoided a sweep and stretched the streak of avoiding a sweep at the western Falcons to eight seasons.
Air Force hasn't swept Bentley in Colorado since October 31st and November 1st, 2008. They haven't won a series outright at home against the eastern Falcons since a win and tie in the next season on November 6th and 7th, 2009.
Bentley took three points during both the 2011-2012 and 2013-2014 seasons, and the two teams split each of the past two years.
It should be noted, though, that there were three years where the Falcons didn't have to travel west.
Homeward Bound
Sacred Heart's Webster Bank Arena is 21.1 miles away from Yale's Ingalls Rink. That shortened distance will create a great atmosphere on Saturday night when the Bulldogs open their home slate against an in-state rival.
For Marottolo, it'll be more than that.
A North Haven native, he spent 13 years on the Yale staff, but the rink known colloquially as the "Yale Whale" is a place that runs deeper than that in his blood.
"I grew up playing there," said Marottolo. "My dad was the founder of Yale youth hockey, and my son now plays in that same Yale youth hockey program. So it means a lot to me (to play Yale) on a personal level. I'm still friendly with a lot of people there, and they're great coaches who will have a great atmosphere on their opening night. At the same time, it's going to be a fast-paced game, and it's a great opportunity for us with Sacred Heart."
I only recently became exposed to the Connecticut hockey culture. Every year, it's one of my favorite things to talk about, and rivalries are great for the growth of the sport. With all of the storylines running through this one, it would be a great moment for Atlantic Hockey to earn a victory over the stalwart Ivy League and ECAC program.
Players of the Week
Here's the latest from the league office!
Player of the Week: Canisius' Felix Chamberland: Chamberland used the power-play to notch score not once, not twice, but thrice. It was the 18th time in NCAA history that a player scored a hat trick exclusively on the power play, and the Golden Griffins used two other man-up strikes to pave a 6-3 win over Robert Morris.
Defensive Player of the Week: Niagara's Tyler Hayes: Hayes scored two assists and blocked nine shots while turning in an even plus/minus rating over three games. His assists came during a 3-3 tie at RPI.
Goalie of the Week: Canisius' Charles Williams: Williams made 59 saves over two games in a three-point weekend against Robert Morris. That included 19 saves in the third period of Saturday's 2-2 tie.
Rookie of the Week: Niagara's Derek Brown: Brown scored two goals and an assist for the Purps, scoring against Mercyhurst and then adding two points against Union later in the week.