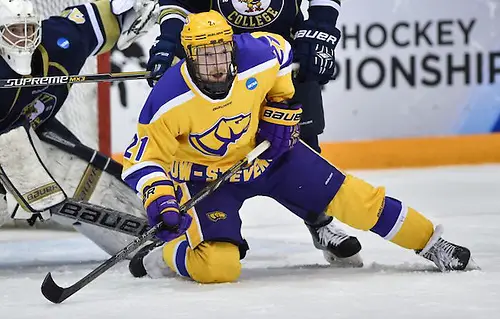 Last year's champion
Wis.-River Falls and Wis.-Eau Claire shared the regular-season league championship. It was the 18th time in program history the Falcons have won a title. The Blugolds won their second league crown. Wis.-Stevens Point won the WIAC tourney, though, and enjoyed a memorable postseason run, winning its fifth NCAA championship with a 5-1 win over St. Norbert in the national final.
Favorites
Wis.-River Falls and Wis.-Stevens Points are the top contenders for the championship.
Dark Horse
Wis.-Eau Claire isn't your typical dark horse. In fact, with 19 returning players, the Blugolds could easily end up winning the title.
Players to watch
Wis.-Stevens Point returns three of its top five scorers, including Kyle Sharkey, who led the team in scoring with 19 goals and 19 assists. Lawrence Cornellier and Jono Davis are also back for the Pointers. Cornellier finished his season with a team-best 23 goals and Davis punched in 17 goals.
Wis.-Eau Claire will be led by Adam Knochenmus, who led the team in goals with 22 and also came through with 17 assists. Second-leading point scorer Patrick Moore is also back after coming through with 11 goals and 19 assists last season. The Blugolds will also count on the solid play of Garrett Clemment, who tallied 10 goals and 19 assists.
Christian George is among the top players back for a River Falls team hoping to win another league title. George scored eight goals and dished out eight assists a year ago. Joe Drapluk is also a key scoring threat for the Falcons, tallying seven goals and nine assists last season.
First-team All-WIAC selection Anton Svensson out of Sweden will lead the way for Wis.-Superior; he had a great year last year, scoring 13 goals and dishing out 13 assists. Ian Ecklund is also expected to play a pivotal role for the Yellow Jackets, after punching in 10 goals and dishing out 19 assists. Eric Shand will also be counted on to play a key role for Superior, tallying eight goals and 15 assists a year ago. He's aiming to become the first four-time All-WIAC selection at the school in more than a decade.
Wis.Stout will be led by Justin Moody, a two-time all-conference pick. Moody racked up nine goals and 14 assists last year. Spencer Viele should be one of the top goalies in the league this year. The Blue Devils netminder fashioned a 4-3-2 record and owned a 2.56 goals-against average.
Notes
Stevens Point won 24 games last season, the most since the 1992-93 campaign. Coach Chris Brooks went into the season with 98 career wins at Stevens Point, which became the ninth WIAC program to win a title.
River Falls has 15 letter-winners back from a team that won 16 games. The group includes Joe Gattalaro, a two-time All-WIAC selection who led the team in points last season with 19. He scored nine goals and dished out 10 assists. The Falcons scored 79 goals last season, including 19 off the power play.
Eau Claire returns 19 players, including goalie Jay Deo, who finished 5-1 last year. The Blugolds put up 103 goals last season. Coach Matt Leon enters his ninth season and has won 136 games in his career at Eau Claire.
Superior had only one senior last season and returns its top nine scorers. Rich McKenna enters his first season as the coach of the Yellow Jackets, replacing Dan Stauber, who retired after 16 seasons. McKenna coached the New Jersey Titans of the NAHL last year.
Terry Watkins enters his 21st season as the coach at Stout. He has won 233 games in his career with the Blue Devils. Stout scored 78 goals last year and had six games end in ties.