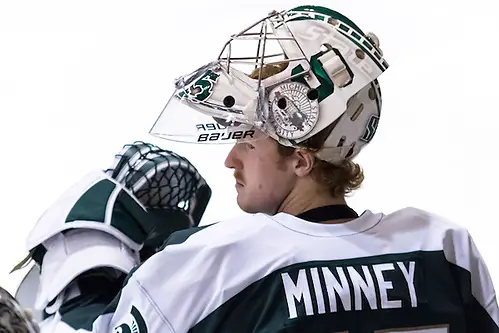 Nobody likes a moral victory.
At least, nobody claims to like a moral victory.
Sometimes, though, when a team is at a point where progress isn't yet noted in the win column, a little bit of moral victory can go a long way for the morale itself.
It's more than fair to say that Michigan State hasn't had the start the 0-4-0 Spartans wanted, but after dropping a pair of road games to unranked Lake Superior State Oct. 14-15 by a collective score of 14-4, Michigan State rebounded at home against Denver last weekend – in a way. The No. 3 Pioneers were ranked sixth coming into the weekend in East Lansing, but the Spartans were able to compete with them in two close losses, 2-1 and 3-1.
MSU coach Tom Anastos said that the Spartans had learned lessons through the series but said, "I hate learning them through losing."
In the Friday game, the Spartans were able to hold the Pioneers scoreless through the first 45:33 of the game, in spite of being outshot 22-9 in the first two periods. In that contest, junior goaltender Ed Minney had perhaps the best game of his career, stopping 24 of Denver's 26 shots.
Freshman John Lethemon made 23 saves in Saturday's loss, his second game in net after having been replaced by Minney in the second period of Michigan State's 7-3 loss to the Lakers the Saturday before.
Eight of Michigan State's freshmen skaters have played in at least two games each this season, and the Spartans have just one junior and one senior blue liner. After Friday's game, Anastos said that the level of competition was good for his young squad.
"I think our team got better, and that's what's important at this stage of the game," said Anastos. "A lot of guys got experience. We played a lot of freshmen tonight in key situations, a lot of sophomores tonight in key situations, so that's a positive as well."
One significant way in which the Spartans improved was on special teams. In the series against Lake Superior State, Michigan State allowed six power-play goals and a short-hander. The Pioneers went 0-for-5 on the power-play against the Spartans for the weekend.
"Special teams tonight were radically improved from a week ago, which is a sign of improvement," said Anastos Friday. "Lots to be encouraged about, although you're always disappointed to lose, to give up the goals that we did and not be able to climb back."
One of the most encouraging things about the series for the Spartans was the play of the very young defense.
"I was pleased with the gains we made from a week ago and how we competed and defended in our defensive zone," said Anastos.
Minney's performance against Denver Friday was very promising, but he also credited the defense in front of him.
"I felt great [and] I was seeing the puck awesome," Minney said. "Overall, our 'D' did a way better job of clearing out the front of the net and it was a lot easier to stop the puck when I could see it. They did a great job of clearing it out of the zone, too."
"I thought Ed was seeing the puck well [and] I thought he was playing the puck well," added Anastos. "He played against a good team, made a lot of good saves and I hope his confidence would grow, for sure. I thought he handled the puck overall pretty well, which was nice. To get over that hump, winning helps your confidence, too, so that's an important part, but again, that's another sign of encouragement."
Anastos said that getting a good performance out of both Minney and Lethemon was "a real positive" for the Spartans against Denver.
"Our plan was to get these guys experience and see how things shake out," he said.
Going forward, Anastos said that Michigan State is "open to playing one guy or multiple guys." What's important, he said, "is that they're playing at a level that gives us a chance to win every night."
This weekend, the Spartans have a single home game against Princeton Friday night.
Ohio State still undefeated
The Buckeyes moved up to No. 15 in this week's USCHO.com Division I Men's Poll. With their 3-0-2 start, perhaps Ohio State needs a few more wins to gain more a little respect outside of the Big Ten, where the Buckeyes were picked by coaches in preseason to finish second in the league.
None of that sort of thing matters to coach Steve Rohlik, whose contract was extended recently through the end of the 2020-21 season.
All Rohlik wants to do is keep going.
"We're just concentrating on the next game," said Rohlik after the Buckeyes swept Bowling Green in a home-and-home series, 5-4 on the road and 6-1 at home.
"If we continue to get better during the week and prepare the right way, all we're concerned about is the next game. If we take care of those things, everything falls into place."
One of the things falling into place is Ohio State's offense. Through five games, the Buckeyes have averaged 3.60 goals with nine skaters on the squad registering at least a goal so far.
"We talked prior to the season on how to get the young guys going – we are four lines deep right now," said senior forward Nick Schilkey. "We have young guys stepping up and scoring big goals right now. We are confident up front for sure."
Schilckey leads Ohio State in scoring with four goals and two assists – three goals against Bowling Green – after having netted 19 in 36 games last season.
Good goalies in the early going
It's way too early to look at stats as anything more than speculative, but it is encouraging to see three B1G goaltenders among the top eight for save percentage in the nation.
The trio includes a pair of Michigan freshmen, Hayden Lavigne (.954) and Jack LaFontaine (.946), each with two games to his credit. The third is Ohio State senior Matt Tomkins (.936), who is 2-0-2 so far this season.
"We scored enough to win. We just gave up too many goals."
That was Don Lucia's assessment of Minnesota's 6-5 overtime Friday loss to St. Cloud State, a game in which the Gophers surrendered three goals in the second half of the third period.
"All of a sudden, we just got on our heels," said Lucia. "We gave them too much room, had some breakdowns, and it's going to cost you."
The Gophers lost Saturday's rematch, 3-2, again giving up three unanswered goals – two in the second and one in the third.
Even with the losses to SCSU, Minnesota is tied for second in the nation in offense, averaging 4.75 goals per game through four games. Sophomore forward Tyler Sheehy (3-5-8) is tied for fourth in the nation in points per game (2.00). Sheehy had 12 goals in 37 games last season.
Perhaps they're not rebuilding
Penn State surprised a few people with the success in South Bend against No. 7 Notre Dame, a team that was ranked third before the Nittany Lions took the Irish to two overtime games, tying 3-3 and winning 3-2.
"It gave us some confidence that we can play with them," said PSU coach Guy Gadowsky. "The rankings this early in the season, I don't think they mean so much, but you know that Notre Dame is a very, very good hockey team and extremely well coached and we were able to hang with them and the guys gained confidence from that.
"I think we're looking to get better, though. By no means do we feel like we've arrived by any stretch."
The Nittany Lions are a still a bit of a question mark this season, with seven rookie forwards, two freshmen defenders and newcomer Peyton Jones between the pipes. In five games played, Jones is 3-0-1 with a .916 save percentage and 2.40 GAA.
"Maybe this counts because of Peyton Jones' demeanor," said Gadowsky, "but we seem very calm and we're not frantic at all and I thought for a team that's as young as we are, we would show some of that."
The young Nittany Lions have a chance to gain even more confidence in their next 10 games, all to be played in Pegula Arena and culminating with their first Big Ten series of the season against Michigan, Dec. 1-2.
Three stars of the week
A couple of rookies and a familiar face.
First star – Penn State freshman goaltender Peyton Jones
Jones (Langhorne, Pa.) recorded a weekend save percentage of .918 in the Nittany Lions' tie and win against Notre Dame on the road, stopping 56 shots in the two overtime contests. This is his second weekly Big Ten award.
Second star – Ohio State senior forward Nick Schilkey
Schilkey (Marysville, Mich.) led the league in goals (three) and shared the conference lead in points (four) as the Buckeyes swept Bowling Green in a home-and-home series. Schilkey's goal in the first minute of the third period Friday tied the game for the Buckeyes. This is his fifth weekly Big Ten award and the first of this season.
Third star – Michigan freshman forward Will Lockwood
Lockwood (Bloomfield Hills, Mich.) had a goal and an assist in each of Michigan's home games against Michigan Tech, a 4-3 win and 3-3 tie. His goal Friday was the game winner with less than a minute to go in regulation. This is his first weekly Big Ten award.
My ballot
I'm with Guy Gadowsky on this. It's so early.
1. North Dakota
2. Boston University
3. Quinnipiac
4. Boston College
5. Mass-Lowell
6. Ohio State
7. Michigan
8. Denver
9. St. Cloud
10. Miami
11. Minnesota
12. Notre Dame
13. Minnesota-Duluth
14. Providence
15. Clarkson
16. Minnesota State
17. Northeastern
18. St. Lawrence
19. Bemidji State
20. Penn State