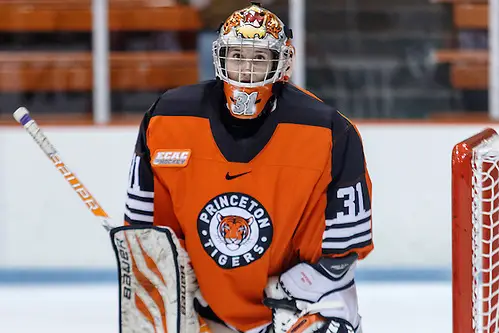 With a school schedule that start weeks later than anyone else, the Ivy League schools are always the last ones to take the ice during the women's hockey season. A full month after Wisconsin and St. Cloud State opened play, the Ivies hit the ice and gave us our first full look at the full slate of teams competing for the eight NCAA tournament spots.
Maybe the most interesting and controversial of those teams is Princeton. In last year's NCAA tournament, the Tigers were sent to Minnesota to play the Gophers, who'd been given the three seed, sending Northeastern to play at number one Boston College. In the end, the higher seeds won in all three quarterfinal games that were affected by the move, so it's probably a moot point, but the questions about the bracket may have been the first time many fans thought about Princeton's women's hockey team for more than a passing moment.
Last season was the Tigers' second NCAA appearance, but it's not something coach Jeff Kampersal lets his team dwell on too much.
"We want to still be true to the core values we have in our program," he said. "We really don't think about last year except for the older players now knowing what it takes to be Ivy League champions and make the NCAA tournament and hopefully they can pass that down."
Kampersal has been with Princeton since 1996 and is entering his 21st season with the Tigers. A Princeton alum, he's the longest-tenured coach in program history, as well as the career wins leader. The Ivy League schools have always started the season a few weeks after the other teams, but that doesn't mean it's something Kampersal has ever gotten quite used to.
Hitting the ice to take on opponents that have as many seven games of experience under their skates already can be difficult, if not a little daunting.
"They're used to the nuances of the officiating or their rotation and maybe have their lineup set while we're still determining roles," Kampersal said.
On the other hand, Kampersal likes that his players get a few extra weeks to get fit — as well as avoid injury. Those few extra weeks of rest can make a difference at the end of a long season, both mentally and physically.
"We try to look at it as a positive. I think the hockey season starts way too early and playing games at the end of September is kind of crazy to me. We can stay healthy and stay conditioned and that's how we mentally (think of the late start)."
One position that may benefit from the extra time is goalie. Princeton graduated First Team All-Ivy League goalie Kimberly Newell, a key part of the Tigers' success last season. Junior Alysia DaSilva takes over in the net having started just seven games thus far in her career. Having First Team All-American and Patty Kazmaier top-10 finalist Kelsey Koelzer in front of her will certainly help the transition, but Kampersal assumes there will be some bumps that accompany the switch.
"Kimberly had an unbelievable four-year career; she hid a lot of our sins," Kampersal said. "We may learn new areas of weakness that we didn't know we had last year. … (But) our defensive approach doesn't really change. We always want to be relentless and take away time and space and smother and block shots. It doesn't really matter who's in net."
As much as Koelzer provides on the blue line, she's also a huge scoring threat for the Tigers. The defenseman finished second on the team in scoring with 17 goals and 16 assists. That brings its own set of challenges, but has allowed Koelzer to grow as a player. She was invited to her first Team USA camp this past off season and was named to the U-22 team.
Adding international experience to an already impressive resume just helps Koelzer be the vocal team captain that Kampersal said leads by example.
"Kelsey is a stud. She had ridiculous production from a defensive position. She's a big part of our offense, no question. She just needs to be Kelsey and do her thing rather than try to do too much. As long as she's picking her spots, she's so big and strong and powerful that she's so hard to defend as a fourth wave of attack."
Koelzer would be impressive no matter where she is on the ice, but by being so prolific from the blue line, she changes the whole dynamic on the ice. Teams now have to find a way to defend her closely and that usually means another player is freed up and open. Her impact goes far beyond her score line.
The Tigers started the season ranked seventh, but dropped off the polls as other teams took the ice. They returned at the ninth position this week after a pair of convincing wins over Providence, but the final score doesn't tell the whole story of the wins. Princeton scored three third-period goals on Saturday and five in the final frame on Sunday to sweep the weekend. That third-period resiliency is the kind of thing Kampersal is looking to see from his team this season.
If they learned nothing else from last year's postseason, the Tigers are now aware exactly how important every win is, in and out of conference. If last season was the best in program history, Kampersal doesn't want to look for concrete goals or outcomes to determine whether this season is better. Instead, he wants the players to focus on day-to-day improvements and conditioning, exactly so they can pull out tight games and put opponents away in the final period.
So instead of focusing on improving the team's conversion rate on the power play, he wants to focus on scoring in those positions so that when the team is down late in a game or up by a single goal when a lot is riding on each win, "they can answer the call."