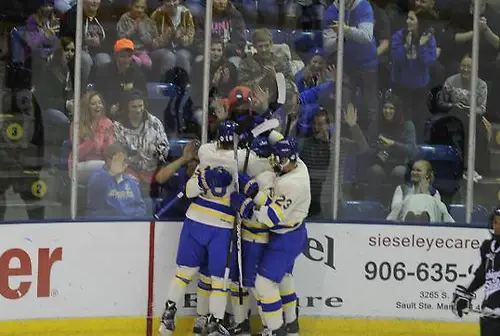 Hockey coaches want their teams to score.
This seems like a statement as obvious as "I want a million dollars" or "I want some chocolate cake."
Of course coaches want their teams to score more goals.
But sometimes, when a team isn't scoring — or is playing a certain defensive style — the outside perception is that coaches would just as soon not score any goals and leave it up to the defense.
Take, for example, Lake Superior State. For each of the past two seasons the Lakers have averaged under two goals per game — 1.80 and 1.58 in 2015-16 and 2014-15, respectively. In each instance, those numbers were good enough for second-to-last nationally.
It perhaps wasn't a coincidence that the Lakers have struggled since then.
Obviously, that isn't the goal.
"Our lack of offense wasn't by design," LSSU coach Damon Whitten said. "We didn't come in here to build a team that is low scoring and try to win 1-0, 2-1. We were trying to build a team that could be high-end offensively, with the goal being top 10 offensively and defensively."
Early in the season, those plans seem to be coming to fruition. The Lakers are currently 4-0-0 after sweeping both Michigan State and Alabama-Huntsville and currently lead the country with a six goals-per-game average.
And although Whitten knows it's still early, it's a big step for a team that has struggled to put the puck in the back of the net in recent seasons.
"I can't tell you that I thought (the offense) would come this early on and I know it's not sustainable to score at that level all season, but we have better depth," Whitten said of this year's Lakers. "We have better speed and better skill throughout our lineup. Right now, pucks are going in."
With just one senior (Gus Correale) and one junior (JT Henke, one of four players with seven points) in the forward rotation, the young Lakers have, so far, lit the lamp 24 times this season. The scorelines thus far have read: 6-1, 7-3, 6-3 and 5-2.
Last season, the Lakers never scored more than four goals in any single game.
Five different players (Henke, sophomores Gage Torrel, Diego Cuglietta and Anthony Nelis and freshman Brayden Gelsinger) have three goals already, while Owen Headrick has a goal and six assists. Aside from Henke and Correale, all of LSSU's forwards are either sophomores or freshmen.
"We're very young," Whitten said. "That sophomore class played huge minutes for us last year as freshmen and that was one of the challenges for us last year. We were relying on young kids to generate offense for us, and that made it tough, but it's paying dividends now."
The Lakers already have an outstanding goaltender (Gordon Defiel) who is only a junior, as well as a solid (and slightly more experienced) defensive core.
It's just four games into their season, and a lot can happen between now and March, but the Lakers seem to have found a better balance offense and defense. Considering it's the LSSU program's 50th anniversary of existence, it's at least a first step in the proper direction back to the more halcyon days of the early 1990s.
"I don't think anybody thought we'd go from being one of the worst offensive teams in the country to leading the NCAA early on here, but it gives us confidence," Whitten said. "I think we've shown an ability that we can create and we can score, and that's going to give us a chance.
"We feel good about where we're at and where we're moving the program forward."
Sacrificing the body
WCHA coaches may point to goaltending as a strength of the league, but skaters have also shown off their ability to block shots this season.
Roughly a month into the season, a dozen players are averaging two blocked shots or more per game. The leader of the black-and-blue effort?
Huntsville sophomore Cam Knight and Lake Superior freshman Collin Saccoman, who are each averaging 2.75 blocked shots per game.
Knight isn't the only Charger consistently blocking shots. Brandon Carlsson is averaging 2.71 blocked shots per game, while Brandon Parker is averaging 2.38 shots per game.
"We want to see our guys doing what they can to help the goalie," UAH coach Mike Corbett said earlier this season. "It's one of those little things that can make a big difference and get some energy up on the bench."
As expected, all those averaging more than two blocked shots per game are defenseman. But there are a couple forwards who have gotten in on the shot-blocking action.
Northern Michigan forward Gerard Hanson leads all WCHA forwards with 11 blocked shots in six game. After Hanson, Torrell is blocking 1.25 shots per game.
Maybe it's leading to chances. Maybe it's just good karma, but Torrell and Hanson have also found success on the offensive end of the ice.
Hanson has four points in six games, while Torrell has six points in four games.
Ice Chips
– Jordan Uhelski is supposed to be the backup goalie for Alabama-Huntsville, but he's played like a starter and has posted impressive numbers while under heavy fire. Uhelski has a .905 save percentage and 2.73 GAA.
– Alaska-Anchorage had a bye week after starting the season 1-3-0. The struggling Seawolves have scored just three goals in the four games they've played thus far. Their only win was a 1-0 victory over Canisius.
– Alaska picked up a big win against No. 9 Minnesota State at home last week. The Nanooks were trounced in the first game 7-1, but battled back and scored three second-period goals in a 4-2 win on Saturday. Alaska takes the momentum to the Lower 48 and will play away from the Last Frontier for the first time this weekend.
-After scoring just six points in 39 games as a sophomore in 2015-16, Bemidji State junior defenseman Brett Beauvais has already matched that total through six games this season. He has two goals and four assists and currently leads the Beavers in scoring. Thirteen players have scored points for BSU so far.
– Bowling Green has been one of the biggest disappointments this season. The preseason WCHA favorite has yet to win a game and once again got swept this past weekend against Ohio State. The good news for the Falcons? They've only played one WCHA series so far, so all could be forgotten.
– Gerald Mayhew has missed the past three games with injury for Ferris State. The senior was expected to lead the Bulldogs in points this year and had three points (two goals, one assist) in three games before his injury.
– Despite outshooting them 79-45 last weekend, Michigan Tech only managed a loss and a tie against nonconference foe Michigan. The Huskies return to the Upper Peninsula this weekend when they take on rivals Northern Michigan. Former Tech players Brent Peterson and Scott White, along with the Huskies' 1975 national championship team, will be inducted into the Michigan Tech Sports Hall of Fame on Saturday, Oct. 29.
– Minnesota State freshman Nick Rivera scored two goals and had two assists to lead the Mavericks in their sweep of Alaska last weekend. Rivera is currently on a three-game scoring streak
Players of the Week
This week's WCHA players of the week were Cuglietta (offensive), Saccoman (defensive) and Rivera (rookie).