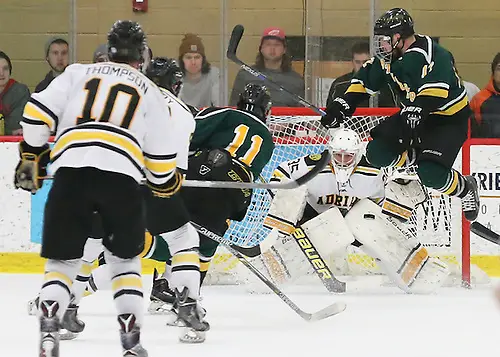 Last year's champion
Adrian and St. Norbert tied for the regular-season championship, sharing the Peter's Cup for most points (35) in the regular season. Adrian won the Harris Cup, but it was St Norbert that made the deepest run in the NCAA tournament, advancing to the final, where it lost 5-1 to Wis.-Stevens Point. Adrian lost 5-2 in the quarterfinal round to eventual national champion Stevens Point.
Favorites
Adrian and St. Norbert have established themselves as the teams to beat in the NCHA. It's unlikely that will change this year. Both will be contenders for the national title as well.
Players to watch
Adrian returns eight of its top 10 scorers, including Cory Dunn, who punched in six goals and dished out 25 assists last year. Connor Armour, the USCHO national rookie of the year, is also back after racking up eight goals and 30 assists. Mat Thompson returns as well after striking for 16 goals and 21 assists a year ago. The defense of the Bulldogs will also be solid with Kevin Entmaa back in goal. As a freshman, he went 14-1 and fashioned a 2.12 goals-against average.
St. Norbert spent the majority of last season ranked No. 1 in the country and returns several of its best players, including Pijus Rulevicius, who finished with 17 goals and nine assists last season. Riley Christiansen tallied 13 goals and 13 assists. Blake Thompson is also back and will anchor the defense. He scored four goals and tallied 18 assists last year for the Green Knights.
Brandon Millin is the top player back for St. Scholastica and is one of the best offensive threats in the league, coming off a year where he struck for 13 goals and 18 assists. Derek Sutliffe and Josh Hansen bring a lot of experience to the table as well. The seniors scored seven and eight goals, respectively, last year. Sutliffe added 14 assists and Hansen, who came through with four game-winners, tallied 11 assists.
A pair of sophomores will lead the way for Concordia this season. Stefen Steel scored six goals and dished out 14 assists last year for the Falcons. Adam Fauchoux came through with four goals and 11 assists.
Lawrence is counting on another big year in goal out of Mattias Soderqvist, who recorded two shutouts and fashioned a save percentage of .899. Josh Koepplinger returns as well after scoring 10 goals and dishing out five assists last year. Nick Felan should also make an impact after finishing last season with seven goals and 13 assists.
Jack Lewis is back for Lake Forest and is the team's leading scorer the last two seasons. Lewis struck for 11 goals and seven assists last season. Charlie Izaguirre also returns and finished tied for the team lead in assists, racking up 11 last year.
Braden Crone should be one of Marian's top scoring threats. The transfer from Concordia (Wisconsin) was the Falcons' leading scorer last season, tallying 10 goals and 11 assists. Gianni Mangone is coming off a stellar freshman year for the Sabres after tallying 12 goals and 13 assists.
James Ring will play a pivotal role in the success of the Milwaukee School of Engineering after tallying four goals and seven assists last season. Zach Simpson also came through with four goals and seven assists.
Tim Santopoalo is among the key players back for Aurora, which is hoping to turn things around after a two-win season. Santopoalo scored seven goals and tallied five assists last year. Rihards Marenis and Tony Pnewski scored four goals apiece last season for the Spartans.
Finlandia returns two of its top three scorers. Thomas Malkmus is the leading returning scorer from last season, tallying five goals and four assists. Thomas Clayton ranked third on the team in scoring a year ago, finishing with four goals and four assists.
Notes
Adrian has made four consecutive NCAA tournament appearances. Coach Adam Krug has accomplished a great deal in his two years with the Bulldogs, winning 48 games and leading his team to sweeps of the NCHA regular season and tournament crowns. He has coached five All-Americans in that time as well.
St. Norbert has appeared in the final four of the national tournament 10 times in its history, winning the championship four times. The Green Knights punched in 137 goals a year ago and also featured one of the nation's best defenses, allowing only 1.68 goals per game.
St. Scholastica advanced past the quarterfinal round of the NCHA tournament for the ninth time in the past 10 seasons last year, reaching the semifinals, where it fell in two games to Adrian. Millin tied for the league-lead in game-winning goals last year, scoring five as he helped the Saints finish second in the NCHA standings with a 15-10-3 record.
Concordia set a program record for wins in a season, finishing the year with 11. The Falcons went 11-12-3 overall and played well in overtime games last year, going 2-0-3 in games that went beyond regulation.
Marian went 18-7-3 a year ago, turning in its best season since the 2010-11 campaign, when it won 19 games. The Sabres won their final 12 games of the regular season and reached the semifinals of the Harris Cup for the first time in program history.
Lawrence has made the NCHA playoffs every year in the 10 seasons Mike Szkodzinski has been the coach of the Vikings. Soderqvist ranks third in school history in career wins (18) and fourth in career saves (1,980).
Northland won seven games last season, including three by a goal. Two of the Lumberjacks' losses were by a goal and three games ended in a tie.
MSOE scored 66 goals a year ago and finished the year at 14-10-1. The Raiders had a winning record at home and on the road, winning eight times on the road.
Billy Kent scored nine goals for Lake Forest, three of which were game-winners. The Foresters finished the season strong, winning four of their final six games and are hoping to carry that momentum over into this season.
Aurora is entering its second full season of NCAA and NCHA competition. The Spartans are under the direction of first-year coach Jason Bloomingburg, who was a Hobey Baker finalist during the 2004-05 season at Wayne State.
Finlandia won just won game last year and heads into the new season on an 18-game losing streak. The Lions will be tested early as they open the season with four consecutive road games.