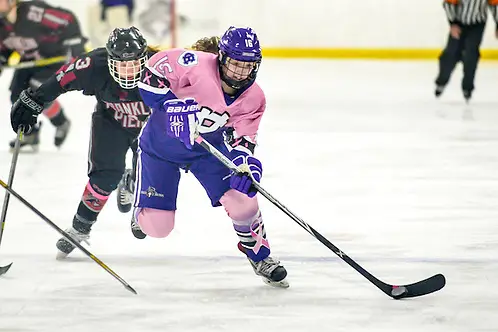 Last year's champion
Massachusetts-Boston defeated regular season champion Norwich 2-0 to win the NEHC Tournament.
Favorites
Norwich gets the nod to repeat as champions. They are currently ranked no. 6 in the USCHO poll. Holy Cross has a strong defense as well as scoring from the blue line.
Dark horse
St. Anselm has a potent offense and might be able to move up while the other top teams beat up on each other.
Players to watch
In addition to NEHC Rookie of the Year Bryn Labbe, Adelle Murphy and Sarah Schwenzfeier led Norwich in scoring with each tallying 20 or more points. To that offense, they add Céleste Robert in net, who had a 1.15 goals-against average last season.
Up front, Holy Cross will look to Kara Violette, who was third on the team in scoring last season and already has three goals and five assists this season. Izzy Bagi led all conference defensemen in scoring last season.
Not only does St. Anselm have NEHC Player of the Year Alex Starzyk, but Alison Butler was third in the conference in scoring. From the blue line, all-conference selection Martha Findley was second in the NEHC in defenseman scoring.
Having lost their top two scorers to graduation, Mass.-Boston will look to Kirsten Embry to lead the offense, while NEHC Tournament MVP Rachel Myette will provide them stability in goal.
University of New England will be looking to Gabby Crugnale, Mary Wirth, and Emily Corrales, who led the team in scoring last season. Sydney Helmbrecht returns between the pipes looking to improve on her 1.89 goals-against and .935 save percentage.
Franklin Pierce goalie Shannon O'Neil is the program's all-time leader in save percentage with .937. Alex Brolsma had nine goals and 19 assists last season and already had three goals and three assists this season.
Looking to replace graduated All-American goalie at Castleton are returnees Racheal Brazil and Rylie Willis. Freshman Alexis Kahn will also have a chance to earn the starting role. Aimee Briand was impressive for the Spartans as a freshman and will need to lead the offense.
Manhattanville has just four seniors, so will be counting on young players to make an impact. Defender Karly Kapur is adept at dishing the puck from the blue line. Lindsey Diot plays both ways for the Valiants.
Jennifer O'Connell sees a lot of shots between the pipes for Salve Regina, but does a great job giving her team a chance. Taylor Chisholm made offensive waves as a freshman and looks to expand on her contribution. Amanda Cronin is a threat from the blue line.
Plymouth State will look to All-Rookie goaltender Emelie Lindqvist to continue to provide stability in the net while Haley Branovan dishes from the defense and Brooke Maggy leads the offense.
New England College looks to captains Mackenzie Meegan and Demi Latham as well as senior forward Rachel Vigliano.
Southern Maine hopes for sophomore Britney Evangelista to continue to grow in the net while Olivia Barragree hopes to lead the offense.
St. Michael's has 12 returning seniors and will need all the experience to provide leadership on the ice. Caitlyn Avery leads the offense. With four goalies on the roster, the Purple Knights will have many options between the pipes.
Nichols lost a ton of talent before last season, so they're happy to have their two top scorers — Samantha DiReda and Laura Christie — back for this season. They also have experienced goalie Lindsay O'Connell to backstop for them.
Notes
Holy Cross defeated St. Anselm in overtime to win the NEHC Open Tournament last season.
Last season was Norwich's sixth straight regular season title.
Last season was the first season the league competed as the NEHC, after the conference changed names from the ECAC East.
Holy Cross has made eight-straight appearances in a conference title game.
Castleton is being led by new coach D.J. Fimiani.
Manhattanville will be departing for the newly formed United College Hockey Conference next season.
Mykul Haun has been named the new PSU head women's ice hockey coach.
Nichols will join the CHC in 2017-18.