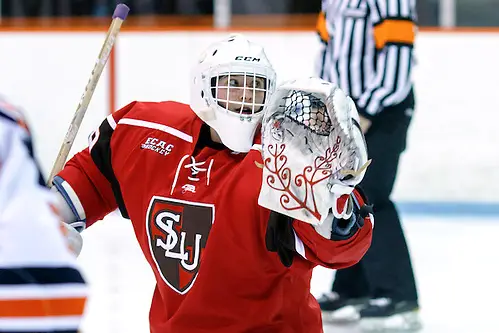 Candace: Nicole, welcome back to Wednesday Women after taking last week off to write the women's D-III conference previews. You will certainly be kept busy this winter covering so many teams!
Last week was a little light on the action, in part because schools often don't schedule games during this weekend due to the Four Nations Cup, which, by the way, was won by Team USA this year. The Americans regrouped after a disappointing 3-2 loss to Team Canada in the final game of the round robin to beat the Canadians 5-3 in the gold medal game. A lot of former college stars factored into the win, including former Badgers Brianna Decker and Hilary Knight, who had three points and two points respectively. Former BC players were also big, as Emily Pfalzer was named player of the game, and she, Haley Skarupa, Kelli Stack, and Alex Carpenter each got a point.
Let's turn to the current college game though, and lead again with Wisconsin. The Badgers were missing Annie Pankowski, who was at the Four Nations Cup. Pankowski has had a bit of a down year point-wise so far, but her absence certainly didn't slow the Badgers, who racked up 11 goals in a weekend shutout sweep of Bemidji State, 5-0 and 6-0. Ann-Renée Desbiens set a new shutout mark with her 43rd and 44th. Three Badgers, Sarah Nurse, Alexis Mauermann, and Abby Roque, each scored two goals in Sunday's 6-0 win, while freshman Presley Norby scored twice on Saturday, as did Mikaela Gardner, while Mauermann also scored.
Wisconsin just seems like a bad matchup for the Beavers, because even when Bemidji has owned wins over Minnesota, they haven't been able to break through against the Badgers, and the scores have often been blowouts. Bemidji hasn't beaten Wisconsin since 2012. What do you think makes the Badgers such a bad matchup, and after such a convincing sweep, does it give Wisconsin more momentum going into a big series with Minnesota-Duluth in two weeks?
Nicole: I feel the need to defend Pankowski a bit because I've heard that she had a rough start to the season from more than one person already this season. When I asked Wisconsin coach Mark Johnson about it this weekend, he chuckled. He went on to point out that much of what Annie contributes on the ice doesn't show on the score sheet, most especially her leadership. He pointed to the fact that she was named captain of the U-22 squad this summer as proof. She was one of just three collegians on USA's Four Nations roster. And though she did put up 22 goals last season, she led the team by a large margin with 36 assists. Though her shot is strong and impressive, she's even more adept at dishing out the puck and setting up teammates. Pankowski herself would tell you she needs to score more, but if Mark Johnson isn't concerned, I'm not sure anyone else should be.
I don't think it would be disingenuous to ignore that the emergence of the second line can be tied to how good Pankowski and Clark were last season. With the top line drawing so much attention, the matchups are much more favorable for Nurse, McKibbon, and Norby. That's not to discount the monster season they've all had so far, but I do think the two are linked. Wisconsin played four weekends on the road before coming home this weekend, meaning their opponents got last change. The Badgers' third line has 10 goals and 11 assists and the team is averaging 3.75 goals per game. Quite frankly, they don't need Pankowski to score.
As you said, the Badgers have had great success against Bemidji in recent years, but I thought this past weekend's series was even more impressive because Wisconsin was missing not just Pankowski, but linemate Sam Cogan, who was injured. The Badgers run four lines pretty consistently and all four lines were productive to start the season. This past weekend, they ran three lines that were pretty mixed up and still got the results we expect from them. It says a lot about the talent and resiliency of the players — not to mention their fitness — that a bunch of disruptions to their lines early on hasn't changed their chemistry or momentum at all.
As far as why the Badges can be such a bad matchup, I think people under-appreciate the Badgers' fitness. Teams try to push the Badgers in the first period, hoping to steal a goal or two and then pack it in on defense, but rarely can keep that pace throughout the whole game. You pretty much are never going to outskate the Badgers. I suppose teams will try anything to figure out how to get past Desbiens, but it's not proven successful for anyone yet. The above-mentioned depth means opponents don't get a chance to rest and have to have defensive lines to match Wisconsin's offensive prowess and few, if any teams, do.
The biggest advantage the Badgers have before heading to Duluth is they get the week off to rest and recuperate, not just physically, but mentally. They've had a challenging few weeks to open the season and now get to take the time to regroup when they're already the no. 1 team in the country. Desbiens, who loathed the attention and talking about the various records she broke, gets to put all that behind her and the roster should be full to finish the final eight games before the winter break
Since we're talking about the upcoming series against UMD, let's stick with the Bulldogs. I don't know about you, but I didn't see this season coming from Maura Crowell's team. It's been spectacular to see Lara Stalder come a bit into her own this season and there's a lot to be excited for in Duluth. However, the Bulldogs have another tough stretch of games as they head to Grand Forks before hosting Wisconsin and then spending Thanksgiving at Harvard. Their only losses so far came in close games against Minnesota. What record do you expect from UMD come winter break? I think we knew to expect good things from Stalder and Ashleigh Brykaliuk, but who else has impressed you from the Bulldogs?
Candace: Like you, I have been somewhat surprised by Duluth so far this season. With all the chaos that has surrounded the team, it wouldn't have surprised me to see them in the middle of the WCHA, perhaps trying to fend off Ohio State and St. Cloud. Instead, the Bulldogs have ridden the momentum from the tie and win over Boston College on opening weekend to an exceptional start, one that hearkens back to their glory years.
You mention Stalder, and obviously her production and leadership have been essential to the team's start, but they are getting great production from Katherine McGovern and Brykaliuk as well. McGovern is off to an exceptional start in her senior campaign, averaging 1.40 points per game. To put that in perspective, in her freshman and sophomore years, she had one point each season, and last year she had 15 points in 37 games. Right now, she has 14 points in 10 games.
Elsewhere, Freshman Sydney Brodt has nine points, almost a point a game, and is giving the Bulldogs more offensive punch along with Katerina Mrázová. The latter's production is up nearly 40 percent from her junior year.
Back in net, sophomore Maddie Rooney has a .934 save percentage and 1.89 goals-against, neither of which is Desbiens-like, but both are solid stats and help give the Bulldogs confidence to press more in the zone. It might cost them on the PK, which is one stat where Duluth has struggled so far.
The question is whether the Bulldogs can continue to gain confidence and stay near the top, and something tells me they will. I don't know that it will be enough to break the Minnesota-Wisconsin stranglehold on the WCHA and the NCAA tournament, but it could be enough to at least get the Bulldogs back into the postseason dance.
Let's turn to Hockey East. Boston College and Boston University played a home-and-home, with each team winning 5-3 behind a big third period. On Friday at Chestnut Hill, the Eagles got three goals in the third, including two from Delaney Belinskas, to get the win, but on Saturday on Commonwealth Ave, the Eagles gave up five goals in the third. Neither Katie King Crowley nor Brian Durocher can be happy with their team's defense right now. At BC, Katie Burt's goals-against is way up and her save percentage is way down, while BU is in even worse shape, with Erin O'Neil giving up on average over three goals per game and Victoria Hanson near that mark.
What do you take away from the series in terms of where BC and BU need to improve to have success the rest of the year, and do you favor either in Hockey East or to make the NCAA tournament?
Nicole: I tried to do some quick statistical research and best I can tell, Burt isn't facing significantly more shots on goal. That sort of puts holes in any of the theories I had about opponents not having possession much due to BC's offense holding the puck so much last season or that the graduation of Lexi Bender and Kaliya Johnson (and Megan Keller being at Four Nations) meant the defense isn't blocking as many shots as maybe they did in the past.
Without anything concrete to go on, my guess would be that opponents are getting better looks. When BC was so dominant last season, teams were lucky to get much offensive zone time at all and often they were shooting the puck from near the blue line or dumping it in and hoping to get a line change before Alex Carpenter et al. came roaring back.
As for BU, both O'Neil's GAA was 2.81 and Hanson's was 3.19, so at least their current stats are matching up to what they've done in the past. O'Neil has had the tougher opponents thus far, having had the net for both BC games and a game against Northeastern.
My personal feeling is that it's never going to go well for a team to split starts in net. I'm certainly not picking on BU here; lots of teams, especially early on, are rotating goalies, but it's just not a strategy I think leads to success. It's so difficult to get into a rhythm and gain confidence if you never know what might be the reason you do or do not start the next game.
Both teams need to work on staying out of the penalty box — they had 28 penalties between them in this past weekend's two games. BU is third in the country in penalties, averaging more than 14 minutes a game in the box. Besides the obvious player advantage that gives their opponents, it really keeps them from ever getting into a rhythm.
I think the door is open for either team to win the conference and get a bid to the NCAA tournament. I've said a few times already this season that I feel like I'm not ranking teams based on how good they are, but on how good other teams aren't. Meaning that I don't know if BC is a no. 6, I'm just not sure who I'd move up to take their place if I moved them down. That to me says there's a lot of wide open space for teams to occupy in the middle and bottom of the polls. St. Lawrence moved from unranked and a preseason no. 7 pick in their conference to no. 4 in the sixth poll of the season. There is opportunity to make a move.
At this moment, I don't see an at-large bid going to Hockey East. With five ranked teams in the ECAC and four in the WCHA, at-large bids are going to be at a premium. Even middle teams in those two conferences have a lot of opportunity to get a lot of quality win bonus points. A second Hockey East team would have to have a pretty flawless record to get consideration, in my opinion.
We talked about UMD's surprising start, but that pales in comparison to St. Lawrence in my opinion. I just mentioned their upward trajectory to start the season, but on top of that, they toppled Princeton and Quinnipiac this weekend. It's one thing to have a hot start, it's another to beat the reigning conference champion and preseason favorite. It feels a bit like those wins were the Saints' way of saying, "We're the real deal." What have your impressions been of St. Lawrence so far, and do you think we'll still be talking about them in the same way at the end of the season?
Candace: For me, St. Lawrence is the likely favorite in the ECAC. So far at least, neither Quinnipiac nor Princeton has shown signs of being ready to step up, and when the Saints played arch-rival Clarkson, they got a win and a tie. The top line of Kennedy Marchment with Brooke Webster and Hannah Miller is scoring at a pretty ridiculous clip; Marchment is fifth in scoring and is fourth in points per game, while Webster and Miller are just outside the top 10.
One possible concern is goaltending. So far, sophomore Grace Harrison has played every game, and she's done very well, with a .945 save percentage and 1.19 goals-against. It makes sense that she's been in every game, especially key ones like Clarkson, Princeton, and Quinnipiac, but if I were coach Chris Wells, I'd be looking to get Harrison's backups, Brooke Wolejko, Sonjia Shelly, and Allison Compeau, some playing time soon, both in case Harrison were to get injured, and just to give her a rest so she can withstand the long grind of the season and can still be sharp when the Saints need her in the postseason. This weekend, when the Saints host Rensselaer and Union, might be a good time to give Harrison a rest.
Looking at the Saints' schedule, I could see them finishing November unbeaten, as in addition to RPI and Union, they have Yale, Brown, and Penn State twice. Then they finish the first half with a home-and-home with Clarkson. The Golden Knights have had the better of that rivalry the last three or four years, but St. Lawrence may have turned a corner in that series this year. I guess we'll know more about it in December.
Of course, while I think St. Lawrence may have the inside track in the conference, Clarkson is right there. The Golden Knights gave Wisconsin its toughest test so far this season, and they looked fearsome this weekend in beating Quinnipiac 4-1 and Princeton 4-2, both more impressive than what St. Lawrence could post. Ultimately, wins, not scores, are what matters, and whether you win by one goal or 10, a win is still a win. Clarkson netminder Shea Tiley is again on a tear with a .928 save percentage and 1.77 goals-against. The offense hasn't been quite at St. Lawrence's pace, but it is clicking, led by Cayley Mercer.
Do you agree that Clarkson and St. Lawrence have separated themselves from the rest of the ECAC, and who do you favor between the two?
Nicole: At this point those two are the front runners. This is where the Ivies starting later really affects things for me, because I imagine that Princeton will be a bit more settled when they've got six weeks under their belt like most everyone else does.
I do think Tiley — and experience — give Clarkson the edge. Not only do they have the postseason experience, but they're well practiced in pacing themselves and handling the long season. It's sometimes difficult to remember that we've got a full month before the winter break, much less that final six-week or so push to conference tournaments.
That being said, I've got a soft spot for St. Lawrence. I just really love any sign that shows how much the sport is growing and changing. I suppose that can be said about any year since we started, but it just feels like the gaps keep closing that much more every year. So I love cheering for programs that are building and growing and making people pay attention, and I think there's an ease around St. Lawrence. Wells told me a few weeks ago that there's not a lot of national press in Canton, New York. Pretty much everything they do from here on out is exceeding expectations, so they don't have a lot to lose. They don't have internal or external pressure; they just get to enjoy the ride and play really loose.
That's not something I think can be said for Clarkson, which made such a splash winning the 2014 National Championship. They have a lot to live up to and I imagine there's a lot of self-imposed expectations and pressure, especially after it was a matter of an overtime goal that separated them from last year's title game.
Going back a minute, you mentioned Ann-Renée Desbiens getting her 44th career shutout, eclipsing Noora Räty and setting a new NCAA career mark. At this point, it's been a year of Ann-Renée breaking various records, so I feel like folks aren't going to appreciate what an incredible accomplishment that is.
She earned just three shutouts her freshman year when she played in relief of injured Alex Rigsby and she picked up six this season. That means the bulk of them came in just two seasons, including last year's mind-boggling 21. For comparison, Räty earned seven shutouts her first year, nine in her second, 10 in her third and 17 during the Gophers' perfect season. Desbiens has played in 97 games for the Badgers, meaning she's earned a shutout in nearly half the games she's played. Her career goals-against average is 0.96. The numbers are just kind of unfathomable.
Setting yourself apart as a goalie at Wisconsin means competing with Olympian Jessie Vetter and Rigsby, who currently seems to be Team USA's starter. The bar was set pretty high and Ann-Renée has gone far beyond it and has plenty of games left to go.
You've been involved and watching games for longer than I have. What do you make of Desbiens' accomplishments? Do you think we'll see another season like she had last year any time soon?
Candace: Maybe this year, with Desbiens again. She is an outstanding goalie, and she also benefits from having an amazing defense in front of her. Not only is Wisconsin's blue line corps deep and experienced, but the forwards also play well in the zone and backcheck a lot. It shows in the stats too. Wisconsin already has six shutouts this season in 12 games. In those 12 games, the Badgers have given up more than 20 shots only three times, and two of those were to Clarkson. Many of the games the opponents are only getting around 15 shots on net. Desbiens has faced 193 shots in 12 games. When you combine the few shots and the ferocious defense with an outstanding goaltender, scoring on Wisconsin just becomes a very difficult proposition.
Look at some of the other teams in contrast. Julia Vandyk at Colgate is facing over 20 shots on average, and has faced over 30 twice so far, facing 209 shots in nine games. St. Lawrence's Harrison has faced over 20 on average as well, facing 219 shots in 10 games while registering four shutouts. Lexie Shaw at North Dakota has faced 227 shots in only nine games. BC's Burt has faced 255 shots in 11 games.
The only goaltender facing as few shots as Desbiens is Sydney Peters at Minnesota, who has ironically faced even fewer than Desbiens, seeing only 166 shots in 12 games while registering four shutouts.
Speaking of the Gophers, they looked good again in sweeping Minnesota State, and the offensive stats for the country currently see three Minnesota players tied for the national scoring lead in Kelly Pannek, Sarah Potomak, and Dani Camerenesi. I admit I gave the inside edge to Wisconsin in the WCHA this year because of who returned to the Badgers and that Minnesota lost Amanda Kessel and Hannah Brandt, but the Gophers returned plenty of players that most other teams would kill to have. The Gophers are also off this weekend, but then face North Dakota in Grand Forks and then have a rematch series with Bemidji State at Thanksgiving; the Beavers are responsible for Minnesota's only loss to date.
What do you think of the Gophers so far? Can they win it all once again?
Nicole: I've had a difficult time getting a grasp of the Gophers. I think the expectations are always so high for them that any time they aren't just rolling over opponents seems like they're having a bad year, which is kind of ridiculous. Most coaches in the country would love to have a "down year" if it looks like the one Gophers are supposedly having.
Losing Brandt and Kessel did have an impact, but Potomak and Pannek had already showed they were ready to step up and take bigger roles. I think that as opposed to being flashy or big name like some rosters in year's past, this team is a bit more workman-like and that's caused people's perceptions to be skewed. There's too much talent constantly coming through that program for them to do anything other than just reload. Peters did have a bit of a difficult time transitioning in the early weeks, as any goalie who's played behind a long-time starter would, but seems like she's doing better as the season progresses.
Minnesota has always been a team that gets better as the season moves on as well. In the opening weeks, there was chatter about their power play; while I'm sure coach Brad Frost would like to see them with more than nine man-advantage goals, their conversion rate is second in the country. If there was a problem there, it's already well on the way to being solved.
When looking ahead a few seasons ago, taking into account graduations and recruits, I had been zeroing in on Wisconsin for this season and so far I have to stick with that. That being said, I would never, ever discount Minnesota. They certainly have the talent to win it all.
One last WCHA question — North Dakota has been on the outside looking in for the past few seasons. They seem to hover near the bottom of the rankings and find themselves left out when it comes to at-large bids. They're already having a similar season, but this year with UMD breaking out, the Fighting Eagles are the fourth WCHA team and if the season ended today, would likely once again be left out.
What have you seen from North Dakota? What do they need to do to climb a few spots in the polls and earn some recognition – and respect? If they are in the 8, 9 or 10 spot in the polls, do you think we'll see a fourth WCHA squad in the NCAA tournament?
Candace: Ultimately, the polls don't matter for the NCAA tournament; the PairWise is all that matters. Right now North Dakota is seventh, so they'd be out because there is no Hockey East team above them in the PairWise and the winner of the Hockey East tournament gets an autobid. It also depends on who wins the ECAC tournament and whether Robert Morris, currently eighth, were to win the CHA. The top eight currently has four WCHA teams, Wisconsin, Minnesota, Minnesota-Duluth, and North Dakota, three ECAC teams, St. Lawrence, Clarkson, and Colgate, and then Robert Morris. Northeastern and Boston College round out the top 10.
To get into a better position, North Dakota needs to at least split with Duluth this weekend. The Hawks also need to try to get at least one win over the Wisconsin or Minnesota. They haven't played the latter yet; the first series against Minnesota is the weekend after Duluth, so that's a pretty brutal week that could knock North Dakota out of contention for an at-large bid before November is over. As I said last week to Arlan as well, the loss to St. Cloud, on the second weekend of the year, could ultimately cost North Dakota any shot at the NCAA tournament. It's tough, but that's the way the selection system works.
North Dakota has a lot of upside. Shaw is playing amazing in net, and the Hawks are getting good scoring from Amy Menke. Freshman Emma Nuutinen is playing well too, but after that the scoring falls off quite a bit. Ultimately, North Dakota is going to likely rely on strong defense to win most of its games.
I mentioned Robert Morris earlier. The Colonials have certainly put themselves in the driver's seat in the CHA the last two weekends, sweeping Mercyhurst and then tying and beating Syracuse last weekend. Surprisingly, Penn State, which beat Mercyhurst in OT this last weekend, is in second in the CHA. I know it's early, but what's your read on the CHA and who might get the conference autobid?
Nicole: I'm loving all the parity in the CHA. It's felt like Mercyhurst has had the conference pretty much on lock for a long time, with occasional pressure from RIT, so in terms of the growth of the game, it's great to be talking about other teams.
Robert Morris was on my radar, but the past two weekends' results really solidified for me that they're a solid team capable of taking the CHA this year. I'd really love to see them find that extra little bit to be able to finish off teams. They already have four ties and three are against teams they beat in the other game of the series. By the end of the season I'd like to see them be able to convert just one or two of those types of games to wins. The postseason requires that kind of killer instinct.
Penn State has been a team over the past few seasons that has shown moments of brilliance but that has been unable to maintain it. The lack of consistency makes it very difficult to believe that they can carry through a full season. They played Clarkson close, but lost to Union — after beating them 8-1 the day before. It feels like we have no idea what Penn State team we'll see skate for any given game. That does make it difficult for teams to prepare against them, but for me to have more faith in them I need to not see such wildly disparate outcomes each weekend.