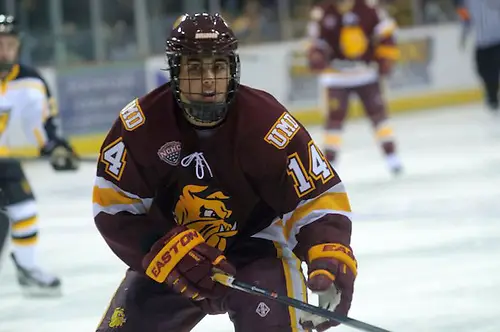 When Minnesota-Duluth swept then-No. 1 North Dakota two weeks ago, the college hockey world took notice, giving Duluth the unanimous top spot in the polls.
Many expected the Bulldogs to fall from that perch after this weekend, when they faced then No. 8 St. Cloud State, but Minnesota-Duluth twice rallied in the third for 5-3 wins.
"The games were almost mirror images of each other," said Bulldogs coach Scott Sandelin. "You don't see that very often. Obviously, [St. Cloud's Robby] Jackson scored the first goal on the first shift in both games. The games took the same path, really. They scored and then we'd respond and they'd score. The only difference between the two nights was it was only 2-1 after one instead of 3-2."
For many teams, following up an emotional sweep of a rival with another big rival series would be the perfect time for a letdown, but the Bulldogs responded by focusing on the process.
According to Sandelin, the team's response was definitely a concern for the coaches during the week.
"Sure, absolutely," he said. "I think that was definitely a concern. I was interested to see how we would play on Friday. It's not that we had a terrible start, it's just that they scored right away. I liked how we responded. We responded shortly thereafter, and then they went ahead, and we responded late again. We knew St. Cloud is a great team and they had won four in a row too. It was a great test for our guys. We talked about the process, about how we go in there and play, and that we would focus on playing a good 60 minutes, and we found a way to win late in the game and just stuck with it. It's a real good sign for our team."
One key to Duluth's success of late has been improved overall offensive production, including from senior Alex Iafallo, whose current production pace is nearly triple what it was in his junior year.
"I think he's been extremely consistent," said Sandelin. "You expect that from your older guys, your leaders, and I think it's really nice to see him have offensive success early in the year because he's played well and been very, very consistent and been one of our top players from day one."
Sandelin also believes the offense has gotten some bounces that perhaps it hasn't in recent years, and thinks it bodes well for his team, especially since he stills sees room for improvement.
"I don't think we've had nearly the puck possession time that our team likes to play with so hopefully that's something that can continue to get better," said Sandelin. "Last year there were stretches where we walked out of there kind of going how did we not win with the opportunities and chances we had. This year some of those have gone in to this point. Obviously, that's a great sign, but for us, it's something where we want to get better in some areas and certainly possessing the puck more and getting more chances is something we want to do."
Another area Duluth can see improvement in is the penalty kill, which is currently only succeeding 82.7 percent of the time. One way Duluth has helped its PK is by being one of the least penalized teams in the country, with an average of only 11.4 penalty minutes per game.
"We had 14 or 15 against North Dakota, and I told our guys if we're going to give St. Cloud that many opportunities, we're probably not going to win," said Sandelin. "We gave up a power-play goal on Saturday, but that was the only one they had. We had a good start against Michigan Tech, not a good weekend against Lowell, which kind of hurt our numbers a bit, but I think it's just working on it, working on some things that need to get better. To get back to your original question, the number one thing is to stay out of the box. You have to stay disciplined and try not to take unnecessary penalties."
This weekend, the Bulldogs host Western Michigan, which has shown great improvement early and just swept Miami last weekend. Facing a strong power play, Sandelin knows his players need to stay out of the box.
"They've got the (Matthew) Iacopelli kid who is off to a great start; he scored a lot of goals in junior hockey, too," said Sandelin. "They're hungry. I think they are playing a lot more aggressively and using their speed and I think offensively they really support the puck well. Watching the tape against Miami, they didn't give up a lot of chances. I think they're sound defensively and don't give you a lot of room. I think it's going to be a great series. Both teams can skate, and their power play is at 28-plus percent, so again, we need to stay out of the box."
Colorado College off to good start
After two of the worst seasons in program history, Colorado College has already shown improvement.
The Tigers opened conference play last weekend by beating high-flying Omaha 2-1. CC is currently 3-5.
To put that in perspective, last year the Tigers didn't get their first win or first conference win until December, and they've only won six games all year in each of the last two seasons.
"It was huge for us; I think we are growing as a team every day," said CC coach Mike Haviland. "We have 17 freshmen and sophomores playing, and certainly I think to go in and win your first conference game is huge in our conference to give us the confidence moving forward. I think early on, we keep finding ways to win on the road. As a young team, I think we are growing each and every day, which is a great time for us. To do it in the fashion we did it, score two early and then shut down a high offensive-minded team, I was pretty proud of how the guys played in all three zones for 60 minutes."
One key to CC's early success has been improved offensive production. The offense has ranked near the bottom of the country the last two seasons, averaging less than two goals a game, while this year CC has averaged close to three goals a game.
"I think we added more speed and more skill up front first," said Haviland. "I think also on the back end we played so many young guys last year that they got experience and that they feel comfortable now in moving the puck and in their game. All of a sudden now, you have guys that after that first year, we had a young freshman class, and now guys are a little older and have more confidence in themselves that they can make the plays, and I think that has translated into some goals here."
One player who has contributed early is freshman Alex Berardinelli, who has six points in his first seven collegiate games.
"He's not afraid to go to those traffic areas, those hard areas, and he's getting rewarded for it," said Haviland. "Certainly he was one of those guys we added with speed and that skill set, so it's really nice to see him getting rewarded early."
While the offense is up, the defense is still one of the worst in the country, giving up over four goals a game. CC got a boost before the Omaha series when Jacob Nehama returned to the starting lineup after missing the first few weeks of the season, and Nehama helped shut down Omaha's high-powered offense Friday, making 31 saves. The next night, Nehama couldn't keep the Mavericks in check, making 27 saves in a 6-4 loss.
According to Haviland, keeping out to the penalty box is one thing the defense needs to do to improve.
"The one thing is I think we are taking way too many penalties," said Haviland. "It's early on and our PK hasn't been up to the standards that we need it to be. We've given up too many goals on the PK and five-on-five, it's also more of a matter of us taking more pride and really winning those battles in our own end. The D-zone coverage for us as a staff is about pride. You have to have the same passion to keep it out of your net that you do to score. That's something we've been talking each and every day about, and we're really trying to work with the guys in the defensive zone and making sure they don't want to get scored on and that everyone is on the same page."
This weekend, that defense will get another stout test when St. Cloud State comes to Colorado Springs. Haviland knows his team has confidence, but that the Huskies like to attack early and often.
"I think we have confidence right now as a team, splitting our last two, out in Boston we split and then in Omaha last weekend we split, with a weekend off in between," said Haviland. "We have confidence in ourselves and how we're playing, so that's a good sign. We know our confidence and how good it is, and certainly a team that is coming in here which is one of the better teams in the country with a high-powered offense, we have to make sure that we take care of their transition and not get them odd-man breaks and second or third chances in our end. And we have to stay out of the box. Their numbers may not be as big as they were last year on the power play, but they are certainly a very offensive-minded team."
NCHC Players of the Week
Offensive Player of the Week – Matheson Iacopelli, Western Michigan: Iacopelli led Western Michigan to a weekend sweep of Miami with four goals in two games. On Friday, he had three points, assisting on the game-tying goal and then scoring Western's final two goals, one on the power play, in a 6-3 win. On Saturday, he scored two more goals in a three-minute span in the second period, including the game-winner, in a 5-2 win. He was named the game's first star both nights.
Defensive Player of the Week – Carson Soucy, Minnesota-Duluth: Soucy helped Duluth to a second straight weekend sweep of a top 10 team and conference foe as the Bulldogs swept St. Cloud by identical 5-3 scores. He helped the penalty kill go 8-for-9 on the weekend while going plus-3. On Friday, he assisted on the game-tying goal in the third period. On Saturday, he scored twice in the third in a second consecutive come-from-behind win, with the first goal coming unassisted and tying the game.
Rookie of the Week – Joey Anderson, Minnesota-Duluth: Anderson continued his red-hot start, notching five points to help his team to a weekend sweep of St. Cloud. On Friday, he had three points overall and scored his first two collegiate goals in the third period, the first the game-winner and then an empty-netter to seal the win. On Saturday, he scored Duluth's first goal and then assisted on another. He had a plus-4 rating on the weekend.
Goaltender of the Week – Trevor Gorsuch, Western Michigan: Gorsuch notched his first career back-to-back wins in Western Michigan's sweep of Miami. On Friday, he stopped 17 shots in a 6-3 win, and on Saturday he made 29 in a 5-2 win. He helped Western kill off all 11 Miami power plays Saturday. He posted a 2.50 GAA and a .902 save percentage on the weekend, stopping 46 of 51 shots.