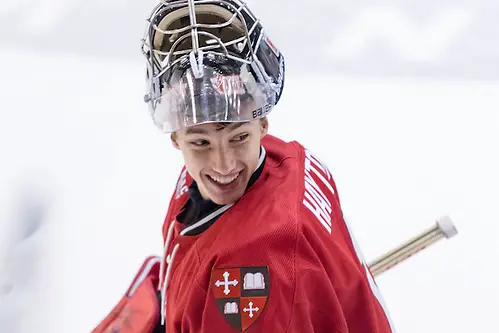 There were some high hopes this season for St. Lawrence.
Part of those positive vibes were on the back on junior goalie Kyle Hayton, but things haven't gone his way in the first eight games as SLU stumbled to a 3-4-1 mark.
In that same stretch, Hayton was pulled twice in back-to-back games against Massachusetts-Lowell and Providence back on Oct. 21 and 22.
The Saints and Hayton bounced back this last weekend with a 4-0 victory over Princeton and a 2-0 victory over Quinnipiac.
Hayton's record now is 5-3-1, his GAA dropped to 2.57 and his save percentage is now .922.
"It was good to see him get his bearings back," St. Lawrence coach Mark Morris said. "He'd never been pulled before and he got pulled twice in two games. We were curious to see how he would respond and he stepped up in a big way. Obviously, with two shutouts and his record-breaking performance this past weekend, it's certainly comforting to know he's finding his way."
The two shutouts were Hayton's ninth and 10th and he is the school's new record holder in that category, surpassing Bill Sloan, who graduated back in 1956. The last time St. Lawrence had back-to-back shutouts was in Feb. 2009 when Alex Petizian (SLU's current goalie coach) accomplished the feat.
Hayton was also named the ECAC Goalie of the Week.
Morris didn't speak to Hayton after being pulled.
"I usually don't say too much to goalies – I have learned my lesson," Morris chuckled. "I let our goalie coach spend time with him. It's a delicate area for coaches who never played the position to air their displeasure, but we know he has huge upside. I think the goaltender coach pressed the reset button and has gotten him back to focus."
St. Lawrence got scoring from veterans and newcomers alike. Senior Gavin Bayreuther had a three-point weekend as he scored and added an assist in Friday's victory over Princeton and an assist over Quinnipiac. His 13 points (four goals and nine assists) is tied for eighth in the country and leads all defenders in scoring. Freshman blueliner Ben Finkelstein and senior forward Alexander Dahl each had two assists against Princeton. Jacob Pritchard and Michael Ederer each had a goal and an assist over the weekend.
Morris noted that his club will have to continue being a hardworking team as the season goes along.
"Your upperclassmen, obviously, are a big reason why you have success in most situations," Morris said. "They shouldered a lot of pressures and garnered a lot of quality ice time. We aren't a deep team, so a lot of pressure is on them to play the special teams role and on the ice in critical moments in time. Because we aren't a deep team, we've had five freshmen play on a regular basis. They are also seeing key moments and being thrust in the fire, so to speak. Them being able to adapt to the speed and intensity of college hockey is very important to us moving into ECAC play."
The schedule doesn't get easier for the Saints as they travel to Union and Rensselaer this weekend. Union has the second-best record in the nation at 8-2-1 (2-0-0 in ECAC) with Bemidji State. Both teams are just one game behind Boston College, (9-2-1).
The Saints look to contain the Dutchmen's top line of Mike Vecchione, Spencer Foo and Sebastian Vidmar.
"We don't have any real dominant lines," Morris said. "We just play a solid team game and keep a good focus throughout the game. When we play that good team game, we've been in some good battles."
Morris hopes the team can continues executing their systems and manage pucks well, something that helped the Saints in their 2-0 victory over the Bobcats.
First full slate of conference games yields parity
Besides St. Lawrence, Union was the only other team to sweep last weekend with a 5-3 victory over Yale and a 6-4 victory over Brown.
The one big surprise early on has been Dartmouth. The Big Green followed up their 3-2 victory over Michigan in their opening game of the season with a 1-1 tie against Cornell and a 2-0 victory over Colgate on Saturday.
Dartmouth goaltender Devin Buffalo has been outstanding as he has only allowed three goals so far. Scoring-wise, the junior and freshmen class has been carrying the load with junior Carl Hesler leading the way with two goals and an assist.
The Big Green's travel partner, Harvard, also won one and tied another. The Crimson fired 42 shots on net Friday night, but Colgate senior goalie Charlie Finn stopped 41 of them in the 1-1 tie. The Raiders were only able to get 15 shots on goal.
Harvard picked up a 4-3 victory over Cornell Saturday as sophomore forward Lewis Zerter-Gossage recorded at hat trick. Early on, it looks like he can be a breakout player of the year candidate as he's nearing last season's point output. As a freshman, he had three goals and four assists. This year, he already has four goals and an assist.
You can only fly under the radar for so long.
"You're not going into the game trying to shut [Zerter-Gossage] down. He had a good night," Cornell coach Mike Schafer told USCHO.com after the game. "He tipped one in on the power play, and collected a rebound around the net. He had a night where the puck found him."
RPI, Yale, Quinnpiac and Clarkson each went 1-1 on the weekend. Princeton and Brown were the only teams that didn't pick up a point this past weekend.
Vecchione and Kaldis win weekly honors
Vecchione has picked up another Player of the Week honor as he had eight points the past week. It started with an assist last Tuesday in the 6-4 loss to Holy Cross. Friday in the victory over Yale, he had a hat trick and a helper. On Saturday, he posted a goal and two assists.
Yanni Kaldis picked up Rookie of the Week as the defenseman for Cornell paced the Big Red with three assists over the weekend.
Hayton won the Goalie of the Week honor.