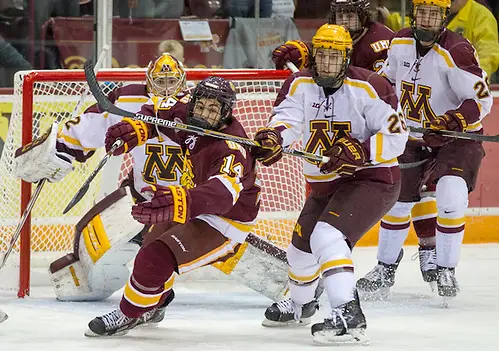 One of Minnesota's top in-state rivalries will continue into its seventh decade as Minnesota and Minnesota-Duluth have agreed to play four home-and-home series over a five-year period starting in 2018-19 and running through 2022-23.
Dates and sites will be determined at a later time.
The Gophers, who hold a 134-79-17 all-time record against the Bulldogs, have played UMD at least once every season since 1961-62 – the longest continuous rivalry for Minnesota.
The two in-state rivals – both nationally ranked – will face off later this year at the North Star College Cup on Friday, Jan. 27 at the Xcel Energy Center. The two programs will also compete at the Ice Breaker Tournament at the Amsoil Arena in Duluth to open the 2017-18 campaign.
"The Gopher series is always a fun one for our players and fans," said UMD coach Scott Sandelin in a statement. "They're a competitive program and a rival."
Minnesota has perennially been the Bulldogs' biggest draw at home and the top two attended games in Amsoil Arena's six-year history were both UMD victories over the Gophers. That included a 3-0 triumph before a record 7,569 spectators on Oct. 17, 2015. Five of the top nine all-time crowds at the DECC, UMD's home facility until midway through the 2010-11 season, also involved Minnesota.
"It is exciting to extend this rivalry for the foreseeable future and for the Bulldog faithful to know that they'll see the Gophers and Bulldogs face off at Amsoil Arena," added UMD athletic director Josh Berlo.