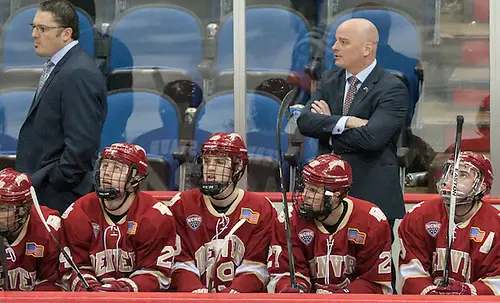 When Jim Montgomery arrived at Denver in April 2013, he became just the eighth head coach in Pioneers men's hockey history — a program home to seven NCAA national championships, including back-to-back titles in 2004 and 2005.
It would be Montgomery's first head coaching job at the NCAA level, but his experiences as a player and coach before arriving at DU helped prepare him for the position at one of the nation's top college hockey programs.
The Montreal native knew what it took to win and he'd done it often in his career as a player and coach. He captained Maine to the NCAA national championship in 1993 and was a member of the 1998 Calder Cup champion Philadelphia Phantoms as a player in the American Hockey League. As head coach of the Dubuque Fighting Saints in the United States Hockey League, he led his team to two Clark Cup titles in three seasons before coming to Denver.
Behind Montgomery's success was a team-first mentality — one he brought to Denver and has used to help develop a strong culture for the Pioneers, while also receiving tremendous support from the university and the surrounding community.
Montgomery's team-first approach has helped the Pioneers to increasingly better records in each of his three seasons at the school, including a berth in the 2016 NCAA Frozen Four — Denver's first trip there since 2005.
At DU, Montgomery has created an environment built around identifying each player's individual strengths and giving them the tools to succeed together as a team.
"We coach very simple — team-first — and we are going to create a culture based on effort, execution and energy. I have always coached that way," Montgomery explained.
Montgomery, who describes himself as a cerebral player during his playing days, often talked over the game with Paul Kariya while the two were teammates on the Black Bears. He has used that experience to help channel each Pioneer player's mental energy and immerse each in the role they play on the team.
"That's the one thing from my playing days that I think has really helped me as a coach, is understanding what gives myself and my teammates success, and what helps them flourish, and relating that to our players and giving them, whatever their role is on the team, to be immersed in that role and believing in what gives our team success … and if we are thinking about those things, then the results take care of themselves," Montgomery said.
The Pioneers have used this team-first approach to put together three straight seasons of 20 or more wins under Montgomery.
Montgomery's mentality is reinforced in the Pioneers through the support they receive in the tight-knit community at DU, from the university's leaders and athletics coaches, to its students and the city of Denver.
"On our campus, we're very blessed with an incredible athletics program," Montgomery said. "We all push each other to be better and we all support each other. You see a lot of coaches at all the other events and I think that rallies the student-athletes to do the same."
Support for the team extends outside of the campus and into the city of Denver — something Montgomery experiences firsthand and appreciates.
"Denver hockey is a big part of, not only campus community, but the city of Denver and I recognize that when I go out for dinner with my family and a lot of people are wishing me luck in the upcoming games," Montgomery said.
The support the Pioneers receive off the ice helps to facilitate the team-first mindset Montgomery strives to achieve for his players on it.
As a coach at Denver, Montgomery draws upon the lessons he learned as a player at Maine where he played for head coach Shawn Walsh and Grant Standbrook, an assistant coach and close friend.
"With Shawn, it was always about the details, being organized and knowing when to push a team and when to pull a team back, or pull back for the team, to give them space. That's the biggest thing I learned from Shawn," Montgomery said.
Montgomery's Black Bears team lost just one game during that championship season and he credits how Walsh allowed him and his teammates to handle it, as an important point in the team's development that year. Montgomery carries Walsh's approach with him as he leads the Pioneers through the ups and downs of the college hockey season.
"I can't motivate like Shawn can, but I feel that if you're well-prepared and you give the players the tools that they need to succeed and you hold them accountable to it, that's in the end what wins championships," Montgomery said.
"It's not motivational moments that do it. I think those moments come naturally when you believe in a process and you can pick out those points that are going to allow your team to raise their level, especially in championship moments."
Montgomery's strong relationship with Standbrook began at Maine and continues today, as Standbrook watches DU games and gives input on ways for the team to keep improving.
"The impact he has had on me as a coach is probably more profound than it was as a player, if that's possible, because it was profound as a player and that's how much of an impact he has," said Montgomery. "I continue to work with Grant. He watches our games and still gives me ideas on how our team can do better."
Denver is currently 6-2-0 and on a six-game win streak after dropping the first two games of 2016-17. The team travels to North Dakota for a pair of games on Nov. 11-12 — their first matchup since UND eliminated DU at the 2016 Frozen Four and a good test for the Pioneers.
Denver's early success has them ranked No. 2 in the USCHO.com Division I Men's Poll, but Montgomery's focus is on continuing to improve as a team and getting better each week.
"It's about team growth and individual growth throughout the year," Montgomery said. "If your team is continually improving and people are growing and feel a part of something special, I think that's when you get the opportunity to win championships at the end of the year."
For the Pioneers, the city of Denver is home, but Montgomery and his players are using a team-first approach with the focus on earning a trip to Chicago in April.