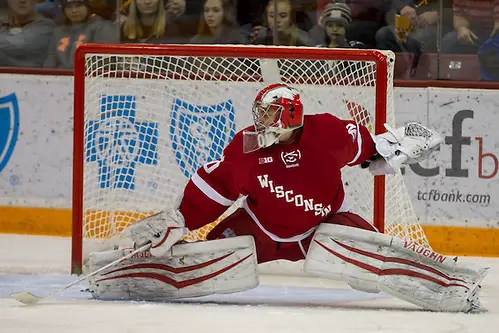 Tony Granato said before the season that he took over a skilled team that lacked confidence.
Eight games into his college coaching career, Granato has already seen some improvements in team morale and the results are following.
Wisconsin owns a 5-3-0 record, which is three victories shy of its total from last season.
"I think we're continuing to grow as a team," Granato said. "Our leadership group is stepping forward. You learn a lot about your team as it goes along and there's been a lot more positives than negatives. I've seen a lot of progress, and I think as coaches we feel really comfortable with the development and the way things are going."
The Badgers were idle last weekend after splitting with Northern Michigan two weekends ago. Granato said he altered the team's practices last week to keep things fresh and "make the practices fun and energetic."
After dropping the first game of the series against Northern Michigan, Granato started freshman Jack Berry in net. Berry responded with a 22-save shutout in his first collegiate start. The Badgers won the game 2-0 and split with the Wildcats for the second time this season.
Goaltending and defense have been under the microscope this season, and while Granato said he thought the team's defending is making progress each week, he added that the inconsistency in net needs to improve.
"Matt Jurusik is an outstanding goalie that hasn't found his rhythm yet," he said "He's had some really good games and parts of games and he's had some other games where he's had to struggle through it. We need to get him on his game to be more consistent."
Jurusik, a sophomore, has a 4-3 record this season with a 4.19 GAA.
"Jack Berry has come in and given us some stability back there," Granato said. "I think that makes for a healthy situation as we go forward, because (Jurusik) is going to have to battle through it to get back to the level he's capable of and once he does having both of those guys back there will be a bonus for us."
Granato said that he will start Berry Friday against Merrimack and hoped to play Jurusik this weekend, too. Although, he added that if Berry turns in a similar performance to his last start, he would probably get the nod on Saturday.
"I want to get (Jurusik) in there soon, I think his level of play could be elite," he said. "With the experiences from playing last year and the type of goalie that we think he can be, we need him, and we need (Berry) as well."
On the defensive side of things, Granato credited assistant coach Mark Osiecki with improving the team's defense. He pointed to the fact that the Badgers allowed 39 shots on goal over both games against Northern Michigan as a sign of that improvement. While Wisconsin's 3.50 goals per game average isn't great, it is a slight improvement over the 3.63 average from last season.
"Individually, our group has come a long way," Granato said. "We've gotten some performance out of some of our defensemen where they're getting better and better. Coach Osiecki has done an outstanding job on individual development and that's starting to carry over into their play."
Offense was one thing that Granato pointed to during the preseason as something that could be a strong point for the Badgers. He was right. Wisconsin is averaging 3.75 goals per game, which is good enough for No. 10 in the country.
The first-year coach said he considers the top three lines to be "scoring lines" and used the words "talented" "dynamic" and "exciting" to describe the players on those lines.
"We've had a lot of nice plays that you've got to be extremely skilled and gifted to make those plays," he said, listing off a number of highlight-reel goals that Wisconsin has scored this season, including Cameron Hughes' goal against Boston College that was No. 1 on SportsCenter's Top 10. "The confidence in making plays continues to grow."
Wisconsin's special teams have also been strong so far this season. With a first power play unit that includes Luke Kunin, Grant Besse and Hughes, that shouldn't come as a surprise.
"The concepts of what it takes to be a successful power play, they've been really good at understanding," Granato said. "Their work-ethic and commitment to make it work has been great."
The Badgers penalty kill is at 89.7 percent this season, something Granato attributes to the team's willingness to shot block and commitment to do what is asked of them.
Finally, after a 13-year coaching career in the NHL, Granato said he's loving coaching at the college level and is also working on finishing his bachelor's degree in human development and family studies.
"I've enjoyed it a ton, it's more fun and even a greater experience than I thought it might be," he said. "I love being a part of something bigger than just coaching the hockey team. I'm not just the hockey coach, I'm part of something special here at the university and everybody that's on the staff feels the same way."
Gophers get another shot at an in-state rival
After a long period of dominance, a new trend has emerged lately when Minnesota plays Minnesota-Duluth, Minnesota State, St. Cloud State or Bemidji State — The Gophers come out on the losing side.
Minnesota, 1-9 against in-state opponents over the past two season including a sweep at the hands of St. Cloud State this season, will play a home-and-home series with Minnesota State this weekend.
The silver lining for Minnesota is that the last in-state team it did beat was the Mavericks, and the series between the two has been close the past couple seasons. Each team has won three games against the other since Minnesota departed the WCHA. The Mavericks went 2-1 against the Gophers last season.
Three Stars of the Week
First star — Ohio State senior forward Nick Schilkey: Schilkey led the conference with five points (2G, 3A) last weekend. He scored the 100th point of his career during the Buckeyes' 7-4 victory over UConn on Friday. This is his sixth career Big Ten weekly award.
Second star — Ohio State senior forward David Gust: Gust had four goals, including his first career hat trick on Friday, last weekend. This is his second career Big Ten weekly award.
Third star — Penn State freshman forward Nate Sucese: Sucese had two goals and two assists as the Nittany Lions swept Alaska-Anchorage last weekend. This is his first career Big Ten weekly award.
B1G in the poll
No. 7 Minnesota, No. 10 Penn State, NO. 14 Ohio State and No. 16 Michigan represent the Big Ten in this week's USCHO.com Division I Men's Poll. Wisconsin received votes in the poll.
My ballot
1. Minnesota-Duluth
2. Denver
3. Boston College
4. Quinnipiac
5. Boston College
6. Massachusetts-Lowell
7. Minnesota
8. Notre Dame
9. North Dakota
10. Harvard
11. Bemidji State
12. Penn State
13. St. Cloud State
14. Ohio State
15. Minnesota State
16. Providence
17. Michigan
18. Omaha
19. Western Michigan
20. Vermont
This week's matchups
Minnesota at/vs. Minnesota State (Friday at Verizon Wireless Center, Saturday at Mariucci Arena)
Penn State vs. Arizona State (Friday and Saturday, Pegula Ice Arena)
Ohio State at Rensselaer (Friday and Saturday, Houston Fieldhouse)
Wisconsin vs. Merrimack (Friday and Saturday, Kohl Center)
Michigan vs. U.S. Under-18 Team (EX) (Friday, Yost Ice Arena)