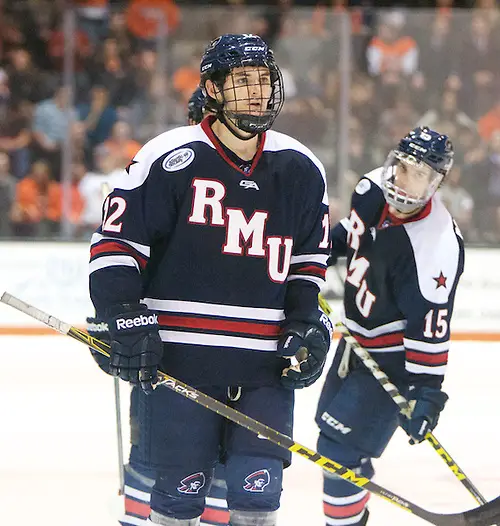 It was supposed to take a while for Robert Morris to recover from last season.
The Colonials, thanks in part to a large senior group that set team records and boasted multiple all-league award winners, led Atlantic Hockey wire to wire last season, winning 24 games before bowing to RIT in the championship game.
Nine freshman were brought in, and a large rookie class often leads to a slow start. But the Colonials are on an accelerated pace, 4-3-1 in league play, good for second place. And RMU is 1-0-1 so far out of conference, handling then-No. 11 Ohio State its first loss of the season two weeks ago.
"We're young, but we've gotten better week by week," said RMU coach Derek Schooley, who is in his 13th season at the helm with a career record of 196-196-56.
"It's been fun to see the improvement."
The Colonials still have plenty of veterans, most of whom have taken on new responsibilities.
"We have guys in new roles and some guys that didn't play much their first two or three years," said Schooley. "Guys like Alex Tonge (13 points) have stepped up. Brady Ferguson (a team-leading 18 points) have stepped up. Eric Israel (10 goals from the blueline) has elevated his play."
Thanks to those players, the RMU power play hasn't missed a beat. Robert Morris is currently clicking at 27 percent, third best in the nation.
If there's been a weakness to the Colonials' game, it's been the penalty kill, which suffered the most from the departure of so many experienced players. RMU allowed 10 power-play goals in its first four games, but only three in the last six.
"The penalty kill got off to a slow start," said Schooley. "But it's been improving as players get more comfortable in their roles. We're pretty solid now."
The freshman are making contributions, but with one big exception, haven't had to shoulder much of the responsibility so far.
"We're getting good minutes (from the rookies), and not just the goaltending," said Schooley. "We have an all-freshman line of Matthew Graham (four points), Dan Mantenuto (three points) and Luke Lynch (six points) that has played really well."
The star of the freshman class so far has been goaltender Francis Marotte, whose play has been the story of the season so far for the Colonials. Marotte is 5-1-1, with a .951 save percentage (second nationally) and a 1.48 GAA (third nationally).
"We knew he was a pretty good goaltender and we knew we had two good goalies coming back in (senior) Dalton Izyk and (junior) Andrew Pikul," said Schooley. "Dalton has had some injuries early in the season and Frankie has stepped into the role. You want to run with a hot goalie and he's playing well."
Another factor in the team's chemistry so far has been the schedule. The Colonials have been home just three times so far this season, but that's due to change.
"Seven out of ten games so far on the road," said Schooley. "The rest of the season (counting the Three Rivers Classic Tournament), we've only got eight more games outside the city of Pittsburgh, and four of those are (short trips to) Mercyhurst and Niagara."
Robert Morris has this coming weekend off before starting a homestand that starts with a pair of games against Dartmouth. Even though it's early in the season, Schooley says his team can use the break.
"We've been going at it pretty hard," he said. "A few guys are banged up, so it comes at a good time. But we're back at it again, with eight games before Christmas."
But after a high-stakes 2015-16 season, things have been a little looser at RMU. Expectations a little lower. But not the energy level, which Schooley praised.
"This team has been a joy to coach," said Schooley. "Guys are working hard to improve. I can count on one hand the number of low energy practices we've had so far.
"It's been fun."
Emerging
In Monday's blog, I mentioned the play of Mercyhurst goaltender Colin DeAugustine, who has performed well recently.
All 11 Atlantic Hockey teams returned established starters in goal, so it was likely that rookie goalies wouldn't see a lot of time between the pipes early in the season. This has been mostly the case, with the exceptions of DeAugustine, Robert Morris' Marotte and American International goalie Zackarias Skog, who has emerged as the starter over the last month or so, posting a 2.80 GAA and a .916 save percentage in six games.
Will other rookies get their shot? Time will tell.
Not just goalies
Turning away from the net, you would expect that with the wealth of talented players that collected their sheepskins and moved on, there would be a crop of rookies moving into the limelight. Here's a quick look around the league:
* AIC: Blake Christensen (three goals, five assists) leads the team in scoring, while classmates Martin Mellberg and Dominik Florian are tied for the team lead in goals with four each. Three of the top five scorers for the Yellow Jackets so far are rookies.
* Army West Point: Four of the top six scorers for the Black Knights are freshmen, including Dominic Franco, whose seven points leads all scorers. He shot to the top last weekend thanks to five points in a series with Canisius.
* Bentley: A pair of rookies, Jonathan Desbriens and Jake Kauppila, are tied for third in scoring with five points each.
* Canisius' Nick Hutchison is the team's top goal scorer so far with four tallies. Classmate Matt Stief's seven points (one goals, six assists) is tied for the team lead.
* Niagara's top two scorers so far are rookies: Kris Spriggs (three goals and four assists) and Derek Brown (three goals and three assists).
Weekly Awards
The league offered up its picks, but I also have to mention a player that was named the week's first star by the NCAA.
Player of the Week — Jonathan Charbonneau, Mercyhurst: The junior forward factored in all but one of the Lakers' goals in a split with Holy Cross. He had both Mercyhurst goals in a 3-2 loss on Friday, and topped that off with another pair of goals and an assist in a 5-2 win on Saturday. Charbonneau has seven goals in seven games so far.
Honorable mention — Daniel Leavens, Robert Morris: Leavens had five points, including both game-winners in a sweep of Sacred Heart. He was named the number one star of the week by the NCAA.
Goalie of the Week — Francis Marotte, Robert Morris: The rookie from Longueuil, Quebec made 56 saves on 58 shots in a pair of 4-1 wins over Sacred Heart. His .951 save percentage is second nationally; his 1.48 GAA is third.
Defensive Player of the Week — Dalton MacAfee, Army West Point: MacAfee assisted on the winning goal on Friday in 3-0 against Canisius, and scored the GWG himself in a 5-2 victory on Saturday.
Rookie of the Week — Dominic Franco, Army West Point: The league and the NCAA were in consensus here, with the freshman also named the second star of the week. Franco also had five points on two goals and three assists in a Black Knights sweep of Canisius.