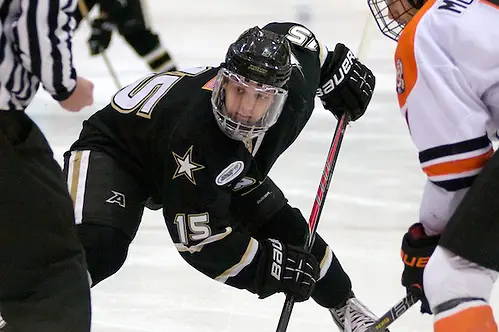 Last Thursday night, senior cadets at the United States Military Academy (colloquially known as "firsties") filed into historic Eisenhower Hall for one of their most special nights.After listening to speakers, the building crescendo culminated in the opening of envelopes and the reveal of what branch of the Army in which they would serve.It's one of the milestone nights for West Point cadets preparing to graduate and join units stationed across the world. Earlier in the year, cadets list choices for branch requests with the hopes of getting their first option, and the emotion of the night is something nobody can understand unless they've opened one of those envelopes.Five cadets, however, were not in Eisenhower Hall. They were in Western New York, in the city of Rochester, readying with their hockey teammates to play RIT last weekend."The rest of the senior class goes to Eisenhower Hall (to receive their assignments)," Army coach Brian Riley explained. "Well we had to be on the road to get ready to play Rochester. So we gathered as a team on Thursday night for our five seniors. Our officer representative spoke to the team and the seniors about the significance of the night, and then he called each of them individually. They all got their first choice, so it was really neat to watch the whole team give them hugs and celebrate. As a coach of a place like West Point, it's really a special night."It was a night marked by tradition and history. The officer representative, Capt. Jeff Fearing, played 132 career games for the Black Knights, and, having graduated in 2008, knows the personal importance of the night. It also was a night where, in their last games before Thanksgiving, hockey was secondary to their future as soldiers."You look at these young men and think, 'Wow, where did the time go?'" Riley said. "I've always said that when they come to West Point, I never worry about the military aspect (in recruiting). They've been playing the ultimate team sport in hockey since they were five years old, and the Army is the ultimate team. They are great young men, and they're going to be great representatives of the hockey program and of the United States Army as officers. And it's really interesting to see what paths they choose and the branches they've earned because of the experiences they've had and the mentors who helped them along the way."Service academies in general have a way of being unique in sports. Cadet requirements makes being an athlete and representative a different collegiate experience. Branch Night, regardless of where they are, is something that's unique and a source of pride for anyone associated with West Point.For Ryan Nick, CJ Reuschlein, Clint Carlisle, Garret Peterson, and Parker Gahagen, knowing what they're doing is only one part of the proverbial battle. Later this winter, they'll learn where they will serve during Post Night, the next milestone. Like Branch Night, they'll have submitted where they would like to serve, and, during the season's stretch run, they'll find out if they received their top choice.During Thanksgiving week, I know stories like Branch Night only serve to remind me that with Air Force and Army West Point, Atlantic Hockey has two of the most special teams in all of college sports, not just hockey. In a week of reflection, giving thanks for the ability to work and compete among these young men is something everyone can get behind.
Leaders of the Pack
It's not even Christmas, but it's already time to start having the same discussion we have every year.Seven points – or the difference of two good vs. bad weekends – separate first from last place in Atlantic Hockey's standings. Three teams are tied for fifth, and three teams are tied for eighth. I know I speak for Chris Lerch when I say, "Here we go again."Army West Point leads the league with 12 points, but they've among three teams who played 10 AHC games. Behind them, Canisius and Robert Morris have 10 and eight points, respectively, and both have games in hand against both the Black Knights and RIT, who is tied with the Golden Griffins for second.None of that includes Air Force, who is in a three-team jumble with Mercyhurst and AIC for fifth. The Falcons only played six league games, poising them to make a run at the top of the league.Even Niagara, who is in 11th with five points, has won two of their last three games, including a 5-4 win over Mercyhurst, to pull closer to the teams in front of them.We say it every year, and we've said it all year this year. Points in games right now matter. A bad night and an errant loss can and, for someone, will be the difference between a closer road trip or a home series or even a bye. It's hard to imagine that being the case, since the season is barely two months old, but we all see what's coming. And we all know what's happening in the present."Getting multiple points in a weekend is very hard," Bentley coach Ryan Soderquist said following his team's split with Mercyhurst. "Every team in the league is evenly matched, and I think every weekend is going to be a battle (for everyone)."
Nonconference Bonanza
With the holiday on Thursday, there's a little bit more leeway for teams to avoid playing conference games, although there will be one series between Niagara and AIC in Massachusetts and a single game between Mercyhurst and Canisius on Friday.That opens the door for some local non-conference games. Of the five teams playing non-conference games, four are either playing at home or staying local to their campuses.Holy Cross is the lone outlier, traveling to Notre Dame for the Fighting Irish's annual Shillelagh Tournament. They'll play the Irish on Friday night before playing either Clarkson or Yale in the second day.Bentley heads down the road to Harvard for a game at the Bright-Landry Hockey Center, while Sacred Heart travels up to Storrs for a game against in-state rival and old conference foe Connecticut. Air Force hosts Denver before traveling to Colorado College on Saturday.Robert Morris will play Dartmouth twice, but both games are in Pittsburgh. Saturday's game is scheduled for 84 Lumber Arena on campus at RMU, while Sunday is at PPG Paints Arena, the home of the Stanley Cup champion Pittsburgh Penguins.
What's In A Name?
The NHL unveiled its 31st franchise this week, officially giving a name and logo to the team to the first major sports franchise in Las Vegas. The Vegas Golden Knights, as they're dubbed, will play their home games on the Las Vegas Strip at T-Mobile Arena.The name itself is derived from an Atlantic Hockey connection. Its lead investor is Bill Foley, a West point graduate who is chairman of the appropriately-named Black Knight Financial Services. Foley's investment group responsible for bringing the NHL to Las Vegas also draws its name from Army – Black Knight Sports & Entertainment.Army's colors are black and gold, as are the Golden Knights. The logo, utilizing a spartan logo stylized with the letter "V," also bears a resemblance to the current Black Knights' logo introduced in April 2015.
Players of the Week
Player of the Week: Niagara's Derian Plouffe: It feels really good to recognize a Purple Eagle. Plouffe scored four points last week and registered a +6 rating in a four point week. After helping Niagara over Mercyhurst with a plus-3 rating, he registered a plus-3 in a weekend split against Sacred Heart.Defensive Player of the Week: RIT's Adam Brubacher: Brubacher was plus-3 with two assists and two blocked shots in RIT's weekend sweep over Army West Point. He now leads the Tigers with an absurdly good +9 rating.Goalie of the Week: Canisius' Charles Williams: Williams stopped 63 of 64 shots in a three-point weekend against AIC. It included 39 shots in the series' second game in a 1-1 tie that moved the Golden Griffins into a second place tie in Atlantic Hockey. That was his seventh 30-save performance of the season.Rookie of the Week: Canisius' Matt Hoover: Hoover scored a natural hat trick in a 4-0 win over AIC on Friday night last week. It was the first Canisius freshman hat trick in nearly 10 years; the last one was by Jason Weeks in 2006-07.
Happy Turkey Day!
Once again I'll speak for Chris Lerch, but I wish all of you a very Happy Thanksgiving this week. These are divisive days, but regardless of what side you land on, we can all give thanks to have this great game of hockey. For me personally, I'm especially grateful and thankful to be able to cover this sport and this league, and I'm especially thankful for everyone who read and react to what we do.So join me in wishing everyone the greatest of turkey naps this week and remember – gravy goes with everything!