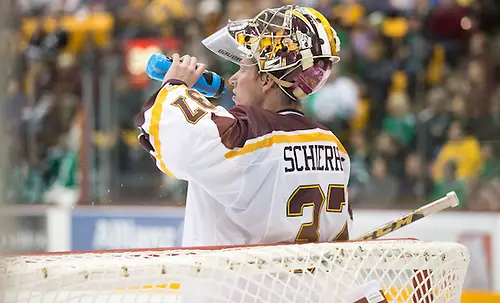 If it's a weekend and there's hockey to be played, then the Golden Gophers must be on the road.
For Thanksgiving, Minnesota heads east to play Northeastern Friday and Boston College Saturday. Last weekend, the 5-3-2 Gophers split a home-and-home series against Minnesota State, and the Gophers have played just four home games this season with a record of 2-1-1 in Mariucci Arena.
"At the end of November," said coach Don Lucia, "we will have played one home series so far this season."
And what a series it was, renewing the rivalry with North Dakota that resulted in a 5-5 tie and a 3-0 win for a Minnesota team that is, according to Lucia, making progress."We've played a lot of good teams, which will make us better as a team," said Lucia.
The extended nonconference schedule that each Big Ten team plays before league play begins in December provides an opportunity for B1G coaches to build a variety of schedules. Lucia said that he and his staff made a conscious decision to schedule challenging teams, although the amount of travel wasn't something done by design. And he said the start the Gophers have had this season is, in part, because of the level of competition coupled with travel.
"We need to score more goals more consistently," said Lucia. The Gophers are averaging 3.40 goals per game for the 18th-best scoring offense so far nationally. At the end of last season, Minnesota was 11th in the country in offense but scoring 3.27 goals per game.Most recently against Minnesota State, said Lucia, "We score two goals on a weekend and get a split. That split part is good.
"Through ten games this season, no one on the Minnesota squad has registered more than four total goals. While Minnesota's fifth-best power play is clicking along at 25.6 percent, the Gophers are looking for offense five-on-five. That's how playing such good teams is such a mixed blessing."
Part of the offense is playing good teams like Clarkson and St. Lawrence, who were both really good, really tough, and North Dakota is North Dakota," said Lucia. "Those are going to make us a better team. You improve when you're going to grind them out."
We're breaking in some new defensemen, so we 've got three of the six [defensemen] are newcomers. Our specialty teams have been better and our power play is good.
"The Gophers continue to rely heavily on sophomore goaltender Eric Schierhorn (2.64 GAA, .900 SV%). The sophomore, said Lucia, has had some ups and downs in the early going, but he has confidence in his starter, who went 20-17-0 in 2015-2016.
"It's been his M.O. since he's been here that if he doesn't play well on a Friday, he always works hard to recover and play better on Saturday," said Lucia.
After Friday's 4-1 road loss to Minnesota State, Schierhorn bounced back with a 1-0 shutout home win Saturday. The week before against North Dakota, Schierhorn recorded a 4-0 shutout on the Saturday following Minnesota's 5-5 Friday night tie. Schierhorn now has three shutouts on the season, six in his collegiate career.This weekend's games against Northeastern and Boston College will be Minnesota's final nonconference warmup before hosting Ohio State Dec. 2-3 to open Big Ten play.
"Again, we're going to play to good teams," said Lucia. "This is the time of the season that Northeastern gets going every year. Northeastern's very skilled. They only had one loss in the second half of last season.
"Knock on wood, we've had some decent sets against BC over the years. Both of teams can get up and down the ice and they can score goals. Their seniors are having some really good years. Their freshman goaltender [Joe Woll] has nearly the same save percentage that [Thatcher] Demko had last year. It should be a good game."
For his part, Lucia said that he's enjoying the travel, even if so much sightseeing hasn't been deliberate. He seems to get a kick out of showing players a bit of the hockey landscape outside of their own league and said that the trip to upstate New York to play Clarkson and St. Lawrence was especially nice. Of course, he loved returning to Alaska, where he coached in Fairbanks from 1981 to 1993, first as an assistant and then as head coach.
"We wanted to take a trip to Alaska," said Lucia. "It's good to take a group up there every three or four years if you can do it."
One benefit of so much road work is the reciprocation. Teams like Northeastern and Boston College will travel in the future to Minneapolis to play on Minnesota's home ice. As for this trip east, Lucia said that he the day off between the game against Northeastern and Boston College was deliberate.
"If a team's not playing Friday," he said, "we're getting Saturday off."The Eagles played Connecticut last night but don't play against until they meet the Gophers Sunday afternoon.Said Lucia, "I did schedule a little bit smarter."
Big Ten, big win percentage
If you think that the Big Ten as a conference is off to a good start, you're correct. After a weekend during which B1G teams went 6-2-0 in nonconference play, the league's overall inter-conference record improves to 38-19-8 on the season for a Division I-leading win percentage of .646. The Big Ten finished 2015-2015 with an inter-conference record of 40-40-11.
The improved record and win percentage against teams in other conferences may be very significant toward the end of the season. Right now, one week away from concluding the league's long nonconference prelude to Big Ten play, the league has three teams under consideration in the PairWise Rankings: Penn State (second), Ohio State (eighth) and Minnesota (13th). Wisconsin is sitting at 21st, Michigan is 27th and Michigan State is 51st.
Three teams – half the league – emerging from the first third of the season in such good PWR shape is good news. When conference play begins, said Lucia, "Now you're playing teams with better records within the conference." This can increase the league's chances of putting more than one team into the NCAA tournament next March.
The league seems to have improved overall, but it's difficult to point to exactly why. You have two teams really scoring goals – Penn State and Ohio State – and the league seems to be getting improved goaltending overall. Although he hasn't seen a lot of his conference's other teams play yet, Lucia said that he's not really surprised.
"I knew if Ohio State could stay healthy, they'd be good," said Lucia. "They have a good, veteran team. That's why I voted them number one in our poll."We knew Wisconsin was going to be better. Penn State has gotten off to a good start, and Michigan's getting good goaltending. That was their question mark. And Michigan is Michigan."
Lucia said that he thinks that the standings are going to be very close at the end of the regular season. "I think you'll see the conference in better shape overall. No one is going to run away with this."I hope he's right. Exciting, relevant Big Ten hockey would be very welcome after the first of the year.
Penn State's quick start
How good are the Nittany Lions?
Well, they're enjoying the nation's best unbeaten streak (10-0-1) and have lost a single game this season.
They're leading the nation in shots on goal per game for the second straight season, averaging 46.64 and many of those shots go in. PSU leads the country in scoring, averaging 4.77 goals per game. Nineteen Nittany Lions have scored at least a goal and sophomore Andrew Sturtz has 10 of them in 11 games, sixth in the nation, and that's just eight short of what he totaled for all of 2015-2016.
A pair of rookies is making a huge impact on PSU. Freshman forward Denis Smirnov leads all Big Ten players and all freshman nationally with 22 points (9-13—22) and he's fourth nationally in points per game. Goalie Peyton Jones (2.16 GAA, .912 SV%) has the third-best win percentage (.950) nationally in 10 games played. In front of Jones, Penn State's penalty kill is second in the country (91.8).
The Nittany Lions are idle this weekend in advance of opening Big Ten play at home against Michigan Dec. 1-2. That series will end a 10-game home stand for Penn State.
Those Buckeyes, though
The 8-1-4 Buckeyes haven't lost on the road (6-0-2) and are likewise done until the beginning of Big Ten play, when they travel to Minnesota (Dec. 2-3).
And like the Nittany Lions, they can score. Averaging 4.38 goals per game, Ohio State's offense is second nationally. Fourteen different Buckeyes have found the back of the net this season, led in goal scoring by senior Nick Schilkey (12-5—17). One of three players nationally to have scored a dozen or more goals so far this season, Schilkey is fifth nationally in goals per game and needs seven more goals to equal his career-best 19 of a season ago.
The Buckeyes' power play is 11th in the nation (22.0), and Schilkey is one of 25 players nationally to have netted four power-play goals this season; in 36 games last season, Schilkey netted six goals on the PP.
Three stars of the week
It's all about the Nittany Lions and Buckeys this week.
First star – Penn State freshman forward Denis Smirnov Smirnov (Moscow, Russia) led all B1G players in points with five, including his first career hat trick – the fourth in Penn State history – in the Nittany Lions' 7-4 win over Arizona State Friday, and he had the game-winning goals in both of PSU's wins in the sweep of the Sun Devils. This is Smirnov's second career weekly Big Ten award, and his second consecutive week of honors, as he earned the second star last week.
Second star – Ohio State senior goaltender Matt TomkinsTomkins (Sherwood Park, Alberta) registered a weekend save percentage of .962 and was the only B1G goalie to have earned two wins on the weekend as the Buckeyes swept Rensselaer on the road, 4-0 and 3-2. Friday's win was his third career shutout and his first of the season. This is his third career weekly Big Ten honor and the first for Tomkins this season.
Third star – Ohio State freshman forward Tanner LaczynskiLaczynski (Shorewood, Ill.) had two goals and two assists in OSU's series against Rensselaer, including the game-winning goal in Saturday's 3-2 win. This is his first career weekly Big Ten honor.
My ballot
1. Minnesota-Duluth
2. Denver
3. Boston College
4. Quinnipiac
5. Ohio State
6. Penn State
7. Boston University
8. Bemidji State
9. North Dakota
10. St. Cloud
11. Mass-Lowell
12. Minnesota
13. Union
14. Minnesota State
15. Western Michigan
16. Harvard
17. Michigan
18. Notre Dame
19. Vermont
20. St. Lawrence