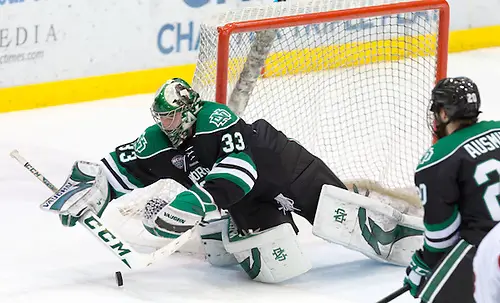 After going winless in six games, things were not looking good for North Dakota headed into a road series against St. Cloud State last weekend.The Fighting Hawks hadn't swept St. Cloud on the road in 18 years. The power play was struggling, the offense as a whole was struggling, having scored more than two goals only once in those six games, and the team didn't look like it would snap out of that funk any time soon.Instead, the Hawks rode strong play from its defense and goaltender Cam Johnson to a pair of shutout wins, 4-0 and 3-0.UND coach Brad Berry talked about the process being the important thing for his team, as he had felt his team had shown good signs even while going winless over three weekends."It's not the fact that we didn't play well; we played well, but we hadn't played well for 60 minutes, and part of that is playing good teams," said Berry. "You look at those teams, Duluth, Denver, Minnesota, they're very experienced, their group has been together for a number of years. We lost nine players from last year's team and over 50 percent of our offense."We are trying to define roles for new players coming in, so again, we look at it as going through the process each year. Each team is different, and we go through a year where we have 19 underclassmen that are trying to find their rhythm. I think the biggest thing for us is working hard every day at it. It's a process, and it's a different year, and we're growing as a team in this first half."One thing Berry and North Dakota can depend on is the play of Johnson, who has helped shut down opposing offenses."Going into that weekend, I thought we played tighter defensively as a group in front of him," said Berry. "He had to make some tough saves at key times. The biggest thing with Cam is he prepares very well. He's doing the things over and over that he needs to do to have success, so it gives him a chance to have those games."Another upside for North Dakota has been the emergency of sophomore forward Shane Gersich, who after averaging only 0.3 points a game his freshman year, leads the team in scoring this year, averaging 1.38 points a game. Gersich had a hat trick in Friday's 4-0 win."I think he is a young man that has invested in his game and comes to the rink every single day and does things before and after practice that gives him success on the ice, which you are seeing right now," said Berry. "He's not the only guy that does that. From a young man coming in as a freshman last year, and knowing the level that we play at and the level of the league that we're in, he's taken a huge step from last year."North Dakota will hope to build on some of the good things it saw last weekend when it hosts Michigan State this weekend. The power play, which had been kept in check, notched a goal in each game against St. Cloud. Above all, Berry hopes to see the consistency in preparation that his players displayed last week."It just doesn't start on Friday or Saturday night; it's what you do from Monday to Friday as far as the preparation and the mindset. It's the attitude that you have to come to the rink every single day and get things done on a consistent basis. Our guys had a business-like approach leading up to St. Cloud, and we'll need to have that again."
What they are thankful for
This holiday is all about giving thanks for the good things you have. As such, here is what the coaches of each NCHC team have to be thankful for.Colorado CollegeMike Haviland's team notched its first league win a month earlier than last season, and has shown signs of improvement while still also showing the inconsistency that comes with being a young team. Haviland is thankful not only for the early wins, but the play of freshman Mason Bergh, who leads the team in scoring with four goals and two assists.DenverJim Montgomery's squad started the season going 0-2 at home in the IceBreaker tournament, but has since rebounded. Part of that has been the play of goaltender Tanner Jaillet, who earned the starting job the second weekend of Denver's season against Boston University. Montgomery is thankful to see Jaillet continue to improve, as his GAA has dropped to 1.61 from last year's 2.27 and his save percentage is up to .935 from last year's .922. Jaillet's play is one reason Denver's penalty kill is the best of all NCHC teams at 86.3 percent.MiamiEnrico Blasi is thankful for the play of senior forward Anthony Louis, who has 17 points in 13 games. He also is thankful for the play of freshman goaltender Ryan Larkin last weekend in Denver, who helped his team earn two ties, and hopes it continues and develops more consistently.Minnesota-DuluthScott Sandelin is thankful for his season to date. The Bulldogs are ranked first in the country and have compiled an impressive 10-2-2 record and are 7-1 in conference. Part of the success Duluth has had has come from improvement in the power play, which after struggling in recent years, is currently clicking at 21.13 percent, 13th in the country. Sandelin is also thankful for time off, as his team is off for the next two weekends before facing No. 2 Denver on the road.North DakotaNorth Dakota entered the season ranked No. 1 as the defending champion, and returned a lot of talent, including goaltender Cam Johnson and freshman phenom Brock Boeser. However, what Brad Berry is thankful for is the emergence of Shane Gersich as an offensive force. Gersich, like Boeser a sophomore, is averaging more than a point a game better than what he did as a freshman. Berry is also thankful that his team ended its winless streak of six games while possibly getting the power play untracked.OmahaThe Mavericks are at .500 in the conference and one game over that mark overall. For coach Dean Blais, what he is thankful for is that his team has managed to overcome a poor home mark of 2-5-1 by going 3-0 on the road and 1-0 at neutral sites. Since Omaha's last six games of the first half are on the road, perhaps that bodes well for them. Blais is also thankful that forward like Austin Ortega returned as a senior. Ortega leads the team in scoring with nine goals and seven assists. Ortega could easily have left for the pros last spring, like his former classmate Jake Guentzel did. Guentzel, incidentally, scored twice in his debut with the Pittsburg Penguins on Tuesday night.St. Cloud StateThe Huskies lost their top six scorers from last year's team, five to graduation and one to early departure to the pros. Their starting goaltender also left early for the pros. Coach Bob Motzko knew it would take time for his young team to work out the kinks, so he is thankful they are sitting at .500 so far despite playing some top-ranked teams like Minnesota, Minnesota-Duluth, Minnesota State, and North Dakota. Motzko is also thankful that Judd Peterson is developing into a scoring threat in his junior year.Western MichiganAll the prognosticators had Western Michigan off their radar, so coach Andy Murray is happy not only with his team's good start, but also that the Broncos avoided falling off like they did last year after starting well. Western Michigan is the only NCHC team to defeat No. 1 Minnesota-Duluth so far, in part because of a lethal power play that ranks sixth in the country. Murray is thankful for not only the power play's effectiveness, but the play of sophomore forward Matthew Iacopelli, who leads the team in scoring with 12 goals, second in the country, and also has four assists.
NCHC players of the week
Offensive player of the week – Matthew Iacopelli, Western Michigan: Iacopelli had four points as the Broncos tied and beat Air Force at home. In the 5-5 tie Friday, he assisted on Western's first two goals in the first period. On Saturday, he lodged his fourth multi-goal game of the season with two goals, including the first game-winner of his career. On the weekend, he had two goals, two assists, and finished the weekend plus-3. He is second in the NCAA this year with 12 goals.Defensive player of the week – Tucker Poolman, North Dakota: Poolman helped North Dakota notch its first sweep in 18 years, getting three points while also helping staunch St. Cloud's strong offense. Friday, he assisted on North Dakota's second goal. Saturday, he assisted on the first goal and then scored North Dakota's second goal. On the weekend, he finished plus-2 and anchored the penalty kill that killed all eight St. Cloud power plays.Rookie of the week Ryan Larkin, Miami: Larkin was outstanding in helping Miami earn two ties on the road against Denver, facing a barrage of shots each night, and blanked Denver in 10 minutes of overtime play and another 10 minutes of three-on-three play. Friday in a 1-1 tie, he made a then-career-high 38 saves, then made seven more saves in the three-on-three OT. Saturday, he topped that with 49 saves, including 13 while short-handed. He finished with a .967 save percentage with 87 stops no 90 shots and a 1.38 goals-against average.Goaltender of the week – Cam Johnson, North Dakota: Johnson helped North Dakota earn its first road sweep of St. Cloud in 18 years with two shutouts, helping the Fighting Hawks end a six-game winless streak in the process. Friday he made 26 saves, including five while short-handed, in a 4-0, and topped that Saturday with 36 saves, three while short-handed, while earning a nod as first star of the game. He made 62 saves and has an active shutout streak of 153:55.