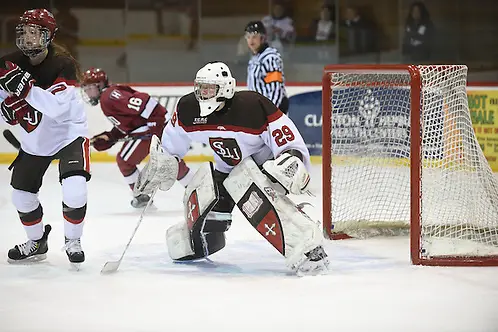 Arlan: Two of the three teams that went into the weekend unbeaten tasted defeat, including No. 1 Wisconsin, which split at Minnesota-Duluth. After starting the season with a 12-0-1 burst that pushed it to No. 5 in the polls, Colgate was toppled twice within 24 hours. Even during its historic opening month and a half, Colgate had walked a high-wire act at times against lesser competition that apparently kept the voters hesitant to rank the Raiders higher. Those were just two of the eight ranked teams that were defeated or tied over the weekend, with only St. Lawrence and Clarkson coming through unscathed. It may not have been a coincidence that those were the only two not facing a ranked opponent.
There were other significant developments far from the rankings as well. Lindenwood got its first win of any kind of the campaign, and in the aftermath, the Lions decided to share the joy as RIT bounced back the next day with its first CHA win of the young season. Minnesota State claimed its only WCHA triumph since Feb. 2, 2015, by edging Ohio State. Six contests over the weekend went into overtime tied, and five minutes of game action later, that's how they ended. That included Minnesota and North Dakota, who deadlocked twice, and Northeastern, which was unable to reach a verdict versus two different partners.
Let's start with Wisconsin, the favorite of many to hoist the championship trophy come March. The Badgers embarked on a tough trip to Duluth without goaltender Ann-Renée Desbiens, their most important piece, to face a long-time rival that is enjoying a resurgence. The visitors dominated the opening 20 minutes to the tune of a 20-3 advantage in shots, but that didn't translate into any advantage on the scoreboard that remained at 0-0. Thereafter, Wisconsin didn't have many answers as the Bulldogs pulled away to a statement, 4-1 victory.
What do we make of that? We could say that it was a lot to expect of freshman goaltender Nikki Cece making her first collegiate appearance. She allowed four goals on 30 shots, but looking at the highlights, I'd place the blame elsewhere than on her shoulders. She wasn't getting a lot of help on the goals that she allowed or on many of the scoring chances that she repelled. A couple of times, Cece made the first save on a quality chance, only to have an uncovered Bulldog near the crease put away the rebound. UMD also scored on a wraparound that perhaps she could have denied more emphatically, but Katherine McGovern was allowed multiple pokes at the puck while the attendant Badgers were slow to neutralize her. The final UMD goal had a couple of Cece's defensemen coughing up the puck and combining to screen her most effectively. Did Wisconsin miss Desbiens? I'm sure it did, but the regulars in the lineup could have done far more to make it an easier transition for the newcomer. That includes the offense that has shown a propensity to be fairly easy to contain for longer stretches than one would expect given its personnel.
On Saturday, the Badgers bounced back with a 4-1 win of their own, led by a hat trick from junior Annie Pankowski, her first three goals of the year. I've seen people explain that despite not scoring in her first nine games for Wisconsin, Pankowski has done a number of other things for her team. Maybe, but we're not talking about a player like Sydney McKibbon, who truly does fill a lot of roles for UW, and if she provides offense, then that is a bonus. Pankowski missed several games while she was away competing for the United States at the Four Nations Tournament. She's on that roster because of her ability to bring instant offense, and on top of whatever little things she does, I'd have expected more tangible contributions than six assists and a plus-3 rating through her first nine games. Having now found the net in a big way in her 10th game, maybe her slump, injury, or whatever it was, is now behind her, and she'll get back to leading Wisconsin's attack.
What did you think of Wisconsin over the weekend, and because it takes two to tango, the Bulldogs as well?
Candace: The Bulldogs' win Friday certainly caught me off guard, especially given that it was fairly convincing. I knew Wisconsin wouldn't get through the season undefeated, but I figured that when the Badgers did lose, it would be a tight, one-goal game. A three-goal loss definitely wasn't what I would have expected.
Like you said, the temptation might be for some people to pin the loss on a rookie goaltender. There's no question that making your first collegiate start against the No. 3 team in the country is a daunting task, but when you dig down, I think there was more going on. When you outshoot your opponent 20-3 and don't get a goal, that's cause for concern. The Badgers have too much offensive talent not to finish when they are getting so many chances. Yes, Maddie Rooney is an outstanding goaltender, but I don't feel that Wisconsin was getting her to move too much, and when a goalie can square off, she's going to be more effective. You mentioned Pankowski, and her production has been down, her worst so far in her collegiate career, but she's still averaging almost a point a game, and I expect her to get untracked. Her getting a hat trick Saturday had to come as a relief, especially since the teams were tied 1-1 after the first period, and Pankowski scored the three goals from there.
In some ways, the Badgers' loss isn't that surprising, however. They have struggled at times. They needed to rally from a 2-1 deficit against St. Cloud in the third period on opening weekend, and they played Ohio State to a draw. The Badgers really shouldn't have been in that position in either game, given their talent level. I thought they had turned a corner with the sweep of North Dakota and the convincing sweep of Bemidji State, but perhaps maintaining that consistency was too much. Perhaps the loss to Duluth will help the Badgers play looser in two weeks when they face Minnesota, a series they need to at least split.
As for the Bulldogs, they continue to show that they've turned a corner, and are back in that elite conversation. The scoring production has fallen off a little, but Lara Stalder is still having a great year, and McGovern and Ashleigh Brykaliuk are also contributing quite well. Having an elite line like that helps all the other players on the team in terms of production, even if the Bulldogs aren't quite as deep as say, Minnesota. Having said that, I could see the Bulldogs playing themselves into position for a home ice spot in the first round of the NCAA tournament. If that happens, we might have three WCHA teams in the top four, and a possible all-WCHA final again.
Of course, some Eastern teams will have a say in that, especially St. Lawrence, which is currently in the top spot of the PairWise. Before we get to them though, let's talk about Hockey East a little. Vermont tying Northeastern came as a huge surprise to me given how the Huskies had been playing. Northeastern needed two third-period goals just to get that tie. The Huskies then played Boston College to a 2-2 draw Sunday at home, twice rallying from a goal down. Each team also got a short-handed goal. Boston College has actually played itself back into the at-large position in the PairWise, but it's still a long season. Northeastern gets another shot at the Eagles, again at home, this Saturday, which could have some pretty big implications down the line.
Hockey East just seems so volatile right now. It's hard to know what to think. Maine, for instance, is 2-8 in conference, but those two wins are over BC and Boston University. Providence has actually been playing quite well, and currently sits at fourth with a .500 record. I could see the Friars battle New Hampshire and Connecticut for the final home ice spot in the Hockey East tournament. What's your take on top dog in Hockey East right now? Does it seem like BC again?
Arlan: Regarding the PairWise, BC is back in the picture — almost. The Eagles sit seventh, which sounds fine, but it's only worth an at-large berth should they not need one. One CHA team is going to make the field. If BC doesn't win the Hockey East tournament, then that would be a second team below the Eagles in the current PairWise that would be advancing, and the seventh spot won't get a team into the field. The good news is that more than three months remain for BC to improve its lot in national tournament life.
As for whether they seem like themselves again, I can see that, as long as you don't mean like the Eagles of the previous two seasons. Their pace is much more in line with what it was each of the four seasons that preceded 2014-15 and 2015-16, when Katie Crowley made and then surpassed history at Boston College.
The encouraging thing is that a couple of BC's best players thus far are rookie forwards. Delaney Belinskas leads the team with 11 goals, and Caitrin Lonergan is second with nine tallies and is tops in assists with 12 and points at 21. Lonergan is 13th in the country in scoring average. That has contributed to BC scoring roughly three and a half times per game, which is not too shabby. That's more than a goal and a half less than last season, but I doubt anyone expected to put up the type of numbers of that juggernaut. However, the drop in production is compounded by the fact that the Eagles are allowing more than .6 more goals per game. The net result is that a scoring margin that was 3.95 for last year's Eagles is down to 1.6 this time, and it figures that there will be more frequent games where the opponent is within range.
Those numbers, like the Eagles themselves, can certainly change and improve. The returning players figure to become more accustomed to life after Alex Carpenter and Haley Skarupa, and they'll figure out what their new teammates bring to the ice. Their most difficult nonconference games are behind them, as are half of their Hockey East games with Northeastern and Boston University, so BC should improve on that seventh position in the PairWise, and it should be in the NCAA tournament even if it fails to defend its Hockey East Tournament title.
As for the Hockey East regular season title, yes, that should be BC once more. It took the Eagles a while to figure out how to win the darn thing, but they look poised to put together a nice string of those championships. The league playoff title is a bit more precarious. One slip there is a team's undoing, and BC has shown that it can be at something other that its best from time to time. While both Northeastern and BU figure to be capable of springing such an upset, only one is likely to get the chance if they finish 1-2-3 again with BC on top of the heap.
Am I being too pessimistic about the rest of the league, given that BC has been dead even in goals scored and allowed thus far in two games with BU and one with Northeastern?
Candace: No, that seems like a fair assessment to me. Northeastern and Boston University seem more inconsistent, so I think that with consistency an issue, it makes the Eagles the favorite for the regular season title, but before the last two seasons, BC was also vulnerable to slips come the Hockey East tournament, so one bad game can do them in and it might again. Regardless, I don't see anyone else in Hockey East stepping up to dethrone BC of the regular season crown except its cross-town rivals. The Eagles already have a good jump on the rest of the league, including leading Boston University by five points. Northeastern is the team closest, and does have two games in hand while trailing by four points, but the game with Vermont seems to indicate some vulnerability from Northeastern. Long-term, just like BC seems to figuring out its offense, I think the Eagles will figure out their defense more as the season goes on and become a more potent threat. I think one of the Boston teams wins the Hockey East tournament, and it could be a coin flip come the postseason between BC and Northeastern, with BU an outside threat.
Boston University had a good weekend last weekend in sweeping Merrimack, but BU still has trouble giving up too many goals. Case in point was last night against Harvard. The Terriers built up a two-goal lead in the third period on a goal by Rebecca Leslie, only to let Harvard tie it with goals in the last three minutes of the game and force overtime. The positive is that Victoria Bach scored with 1:46 left in the overtime to eke out a win for BU. BU's defense gives up on average three goals per game, and some are sloppy. Up 3-1, they let Sydney Daniels score with a slap shot from the left point with 3:45 to play, and then they let Haley Mullins get behind both defensemen and get sprung on a breakaway with under a minute to play, and Mullins scored top shelf with 49.6 seconds left to send it to OT. The Terriers really need to get better defensively if they want to make a push for the postseason.
We've talked a lot about the teams in the ECAC that are in the upper echelon, but one we haven't talked about much is Cornell. I'm wondering if it's time to give the Big Red another look after last weekend, where they beat Princeton and tied Quinnipiac. As recently as three years ago, Cornell was a top squad with a fearsome offense that was a virtual lock to make the NCAA tournament. They are off to a 6-2-1 start so far, and it seems like Doug Derraugh has his team clicking again. Freshman Kristin O'Neill leads the team in scoring with 10 points and a 1.111 points-per-game average. Senior Hanna Bunton is also scoring well. Goaltender Paula Voorheis is a senior now, and seems to be establishing more consistency in net with a .951 save percentage. Do you think Cornell belongs in the conversation with St. Lawrence, Clarkson, Colgate and Quinnipiac as a threat to win the ECAC tournament and possibly make the NCAA tournament?
Arlan: Yes, but I'd need to qualify that to some extent. I think that a few weeks back, most people would have included Princeton in that list, and the reason that you didn't now hinges to a large extent on the fact that Voorheis made 38 saves in the Big Red's 2-1 win over the Tigers on Saturday. We knew that Princeton would need to replace Kimberly Newell in its own net. Alysia DaSilva has done fairly well with a .925 save percentage, but that is only 10 games into her first season as the starter, so she may have a higher ceiling.
Jeff Kampersal also has an intriguing prospect on his roster in Canadian Under-18 veteran Steph Neatby. Neatby is a 6-footer like Voorheis, and I wonder if Kampersal is hoping to redshirt her this season so that she'd have three years of eligibility remaining after the junior DaSilva graduates.
Anyway, getting back to this season's Tigers, I think that they have more offensive pop than teams like Cornell and Quinnipiac do. Any team that can score always has the equivalent of a puncher's chance in hockey, and if you combine that with goaltending that we could reasonably seeing heating up and staying hot, I think it is too soon to discount Princeton from the ECAC tournament picture despite the four losses in the first 10 games. I guess the bigger reason to overlook Princeton may be the team's own postseason history, where for whatever reason, it hasn't managed to make deep runs. With one of the most dynamic defensemen in the country in senior Kelsey Koelzer and Karlie Lund showing no sign of a sophomore slump as she leads the team with nine goals and 14 points, I'm going to keep an eye on the Tigers. Perhaps Greg Fargo will as well after they hung seven goals on his previously unbeaten Raiders in the first 45 minutes on Friday.
When Cornell had its best teams, its trademark was high-level talent on the blue line. That seems to be the case again. Despite graduating Cassandra Poudrier off of last year's roster, Derraugh has rebuilt around the likes of sophomore Micah Hart and freshman Jaime Bourbonnais, both Canadian veterans of the U-18 World Championships, and junior Erin O'Connor, who was a member of our All-Rookie team a couple of season back. That unit has likely aided Voorheis' strong start. The Big Red will need the tight defense to continue, because after the O'Neill and Bunton, the offense tails of markedly.
What about the rest of the Ivy League teams? Brown and Dartmouth are rebuilding under new coaches. Yale hasn't quite gotten back to the level it had reached in Jaimie Leonoff's senior season. I think I started the season expecting more from Harvard than you and Nicole did, but I certainly didn't expect to see the Crimson dip this low, ranking 22nd defensively and 30th in scoring heading into their Tuesday night game hosting BU. Did you?
Candace: The Crimson have definitely struggled, but they've been in some games, like the Qinnipiac one that was a one-goal game. When you look at their results, the one that pops is the loss in OT to New Hampshire. I really don't know what to make of that one. I think enough time has passed in their season that we can't keep using the later start as an excuse. I think I always expect more Harvard just because of the Crimson's history, but perhaps this is the year where they not only don't get home ice, they really struggle to even get into the ECAC tournament. When I look at their schedule, I could see the Crimson ending their first half with two more conference losses, and I don't see them beating Minnesota-Duluth this weekend, even if they are at home. Then Harvard opens its second half with Quinnipiac, Princeton, and Boston College.
It's funny to think that the Crimson were in the national championship game just two seasons ago, but a lot of those players are gone. They can't look to Emerance Maschmeyer to be a wall in net anymore. Harvard has two senior goalies, but neither has played a lot. Molly Tissenbaum had played in 11 games entering this year, and Brianna Laing had played in 24, an average of eight per year for her. Those two have split their time in net so far.
Offensive production is also by committee. Sydney Daniels' production is pretty much in line with what it's been in her career, as is Lexie Laing's. Harvard doesn't have players like Miye D'Oench and Mary Parker anymore. Harvard could definitely use the latter, who has 13 goals and eight assists for Boston University so far this season. She can play because she ended up redshirting her senior year at Harvard after injury and is now in grad school at BU, and she scored twice against her former teammates last night.
I think the falloff in the ECAC after the top six is such that Harvard should at least make the ECAC tournament, but who knows. You mentioned Yale, and the Elis and Rensselaer are the teams I expect to fight Harvard and possibly Dartmouth down the line for the last two spots in the ECAC tournament, but it's still early to speculate so far out.
Rensselaer was just swept in blowout fashion over the weekend by a Mercyhurst team that has struggled. The Lakers then faced Colgate last night, losing 4-2, and do so again tonight. Do those results from the Lakers show that they are ready to make a push in the second half and challenge for the CHA tournament autobid?
Arlan: This is the second consecutive slow-as-molasses start by Mercyhurst. Historically, the Lakers have been strong in goal, and in the rare seasons where they needed to buy some time while waiting for a new goaltender to find her way, the offense was able to square accounts. With the graduation of Christine Bestland's class three years ago, Mike Sisti doesn't have any truly elite scorers at his disposal, something that allowed his teams to separate from their CHA competition in most years.
Thus far, the best producers at Mercyhurst are hitting the score sheet at a point-per-game pace, and other CHA teams can match or exceed that. Syracuse doesn't have anyone at that mark, but the Orange are on the wrong side of .500 as well. Robert Morris leads the way in the league, in part because the trio of Brittany Howard, Jaycee Gebhard, and Amber Rennie are all recording more points than games played. Laura Bowman and Amy Peterson have led Penn State in scoring the past two years, they are currently doing so again as seniors, and most of the time, they'll get a couple of points per series.
Such a threat has yet to really emerge for the Lakers. Perhaps the cream will start to separate once their schedule softens a bit. It will be tough for Mercyhurst to make a big push up the standings until they can look to people who strike as regularly as the top lines of their competition.
Even without that, it will be in the realm of possibility for Mercyhurst to get on a roll in the CHA playoffs and capture the automatic bid, but I think that at this point, we'd have to say Penn State belongs in that same category. RIT showed in consecutive seasons that a first-round bye isn't needed to emerge victorious from that conference.
Speaking of RIT, what is your best guess as to why the Tigers have dipped so low? I've seen a number of different theories offered, but why do you think that Scott McDonald has been unable to get the same level of talent on his D-I rosters that he brought in while RIT was a D-III power?
Candace: I have a few theories on RIT. One is that they managed to have an outstanding goaltender in Ali Binnington when they moved up from D-III to D-I, and her steady presence in net gave the Tigers a great advantage. Sometimes really good players go D-III instead of D-I for a variety of reasons. Binnington was an outstanding goalie during her years at RIT, and that helped RIT be in position to have some success as soon as they moved up.
However, consistently recruiting good players is more of a challenge, especially for a school like RIT, which not only has rigorous academics, but because it's still a D-III school with its other sports it can't offer scholarships to its players, which puts the McDonald at a distinct disadvantage against other programs. I expect that RIT will mix in good and bad seasons and streaks of seasons because of that issue. I'm not sure if you have other thoughts besides those, but if you do, please feel free to chime in.
Let's talk about St. Lawrence again. I think one thing getting lost with the Saints given how well the top line has been scoring is just how good they have been defensively. Desbiens of Wisconsin rightfully gets a lot of notice for her gaudy stats and she set a new shutout record this year, but Grace Harrison at St. Lawrence is becoming a force in her sophomore year. She has seven shutouts so far, one more than Desbiens, a save percentage of .956, which is tops in the country, and a goals-against of .923.
It's not just Harrison though, even as good as she has been. In their last 13 games, the Saints haven't given up more than one goal, and they have eight shutouts, including shutouts in their last five games. Saturday night, backup goalies Brooke Wolejko and Sonjia Shelly combined to get a shutout against Brown.
If Harvard has been a surprise on the bad side of the ledger, the Saints have certainly been one of the feel-good stories of the year. The questions becomes, can they keep it up? What's your take?
Arlan: St. Lawrence reminds me of a movie where I want to just enjoy the ride, not stop and ask, "Wait! Would that really happen in real life?" I doubt anything would be as good for the overall health of the game as someone like the Saints winning the NCAA title. Clarkson's championship was great from a competitive standpoint, to be sure, but the Golden Knights accomplished that by bringing in some very high-profile recruiting classes. Before that season got underway, they were the high-ranking team from the previous year whose roster was the most intact and conducive to a deep run, and looking back, it wasn't a big surprise that they ended up on top.
Has SLU had a top-five recruiting class in recent memory? Maybe — I'm not that up on who is who coming out of some of its recruiting hotbeds as I'd need to be, but there certainly aren't the quantity of kids with medals from the U-18 World Championships that one sees on rosters for Minnesota, Harvard, BC, or Wisconsin. Instead, the roster is full of students who made the honor roll. Not that other schools don't have players who do well scholastically, or that there aren't Saints who were the focus of some contested recruiting battles. Nobody is going to question the pedigrees of the top line of Brooke Webster, Kennedy Marchment, and Hannah Miller, but hockey isn't basketball, where you can pick up a handful of great players and that is all you need to win.
To be successful, Chris Wells needs to also land some overlooked talent and a few diamonds in the rough, and he needs players who will have faith in his program, work hard, and improve over the course of their years in Canton. He's not the only one to do more with less, and there are obviously rosters with far less talent than that of St. Lawrence, but it is surprising to see how high the Saints have climbed when you remember that they opened last season winless in their first six games and went into the holiday break with a .500 record before rallying to reach the ECAC semifinals.
More than anything, I enjoy the perspective Wells has on college sports. You don't find too many other coaches doing interviews during intermission for the broadcast of the other team. He isn't the only coach willing to schedule opponents that look to be better than his team, but when that game comes, his players don't pack it in and look to clog things up. Instead, they try to get up and down the rink and match their skills against the opposition. I think they play the game the way it is meant to be played if college hockey is going to be fun.
Can they keep going as the ECAC schedule gets tougher and once everyone turns it up a few notches for the postseason? Who knows, but it'll be an entertaining finish.
Speaking of entertainment, we have some good stuff on tap over the long holiday weekend. Many teams take a break from league play to serve up an appetizing assortment of games. We have special events like the Nutmeg Classic hosted by Quinnipiac, Vermont's Windjammer Classic, the Mayor's Cup in Providence, Maura Crowell returning to her old home to face Harvard, Syracuse traveling to Grand Forks, and the first-ever meetings of Cornell and Wisconsin. The Badger fans may have to put their, "Let's go Red!" cheer on hold in that one. What stands out to you?
Candace: It's not the tournaments for me. First up is the BC-Northeastern rematch on Saturday. I'm very curious to see if that's another draw, or if one team can assert itself. I'm also curious to see how Bemidji State does against Minnesota. The Beavers have often troubled Minnesota, even when the Gophers were practically unbeatable. As far as non-league games goes, I'm wondering whether Cornell can do anything against Wisconsin.