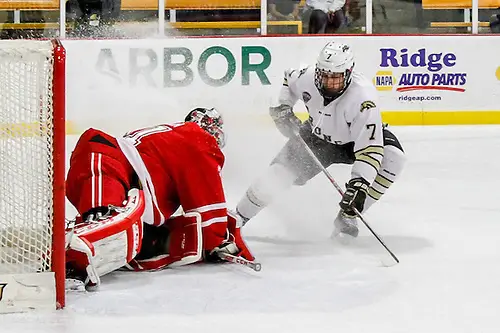 Each week during the season, we look at the big events and big games around Division I men's college hockey in Tuesday Morning Quarterback.
Jim: Well, Paula, Denver's ride at No. 1 was pretty short lived. Two ties this weekend for the Pioneers against Miami combined with Minnesota-Duluth's two-game sweep at Omaha has the Bulldogs back to the top spot in the USCHO.com Division I Men's Poll with 48 of the 50 first-place votes (Denver, for the record, took the other two votes).
Certainly, holding the No. 1 spot has been difficult, but recent polls are showing that there are a handful of teams with the staying power in voters' minds to remain among the top teams in the country.
In addition to the two aforementioned teams, Quinnipiac and Boston College have both spent significant time this season in the top five. The longest tenured No. 1, North Dakota, is back in the top five. And despite two consecutive weekend splits, UMass Lowell continues to ride in the top six.
In fact, the top 16 teams from last week are once again members of that group, with some reshuffling, which makes me wonder: Are we beginning to see some teams define themselves as the "haves" while others still remain "have nots?" And is there one team that isn't ranked right now that you expect to impact the rankings at some point?
Paula: There is something to be said for things shaking out for most divisions, the "haves" and "have nots" defining themselves. Teams have played enough hockey to begin to establish themselves – their identities and, in some cases, their credibility. Voters are confident enough that Bemidji State, for example, is the team to chase in the WCHA, and confident enough in the WCHA to vote the Beavers into the top 10. BSU's eight-game unbeaten streak along with its great showing two weeks ago against Minnesota State did some convincing.
The other teams in the top 10 seem like usual suspects with the exception of Penn State, which may make a case for itself as a usual suspect with continued success.
You ask about other teams that may have an impact on rankings at some point, and it seems this season that I keep going back to Atlantic Hockey. I look at Air Force and Robert Morris – both competitive teams, both just outside of consideration in the Pairwise, and each has received votes in the poll this year – and I think that if either of them heats up and the AHC becomes even more interesting as the season progresses, there could be an impact.
Do you see a team outside of the rankings that can potentially impact?
And speaking of the poll, I received an email from a reader this week asking why we bother with a poll, given that the PairWise Rankings are such an accurate predictor of the NCAA tournament field. How would you counter that, Jim?
Jim: There are two teams that have jumped onto my radar screen that I think some people didn't think highly of coming into the season and, for one, still isn't getting recognition. The first jumped into the poll last week and remains at No. 18, that's Western Michigan. Too often, teams have to pull off big upsets to get recognition and that was the case for Andy Murray's squad. After the Broncos beat Minnesota-Duluth two weekends ago, they debuted in the poll. After taking three of four points from Air Force, Western held its position.
Another team that still isn't getting the looks is Clarkson. I saw them play in person and know that team has some decent talent, particularly goaltender Jake Kielly, who as a freshman is 6-4-2 in his first 12 collegiate starts. Clarkson still is towards the bottom of the "receiving votes" category but is 4-1-1 in ECAC play and 7-5-2 overall. That's a team to watch out for as this year progresses.
As for the reason for polls when the PairWise exists, I think the answer has many parts. First off, many people will tell you that polls are for fans and media. But they do help provide some structure to understand which teams are trending in the right direction and which are not.
But more importantly, because the PairWise is a computer formula that really only matters on the final day when the NCAA is selecting the field (though we all like to follow it much of the year, right?), there are times when the PairWise tells us nothing. Does it matter right now? Probably not much as there are too many games left to play and, for certain teams like the Ivies, the sample size is still really small.
The reality is that as the season progresses, the PairWise becomes a more accurate representation of each team's performance based on its total body of work. The polls really tend to recognizing trends more than overall accomplishment. Thus, I see a reason for both to exist.
Paula: I've had my eye on Western Michigan all season. The Broncos are capable of impressive displays of offense with an ability to come from behind when they need to at all. Western Michigan is averaging 3.83 goals per game, driven in part by sophomore Matheson Iacopelli's performance in the early going. Iacopelli has a dozen goals in a dozen games and three on the power play; WMU's power play is the sixth-best in the nation (24.1).
Clarkson caught my eye early as well, but the Golden Knights' little mini-skid at the end of October and beginning of November may have given some poll voters (like me) second thoughts. Their current five-game unbeaten streak, though, is convincing.
I like the way you frame the poll as something that identifies trends. In the first half of the season, especially, when there is so much hockey left to played, the poll also provides the kind of input that numbers don't. Poll voters actually watch the teams play and the poll can be a more concrete representation of the overall performance of given teams – and leagues.
Heading into Thanksgiving weekend, I am becoming impatient for Big Ten play to begin. I remember the days of the old College Hockey Showcase, when Michigan, Michigan State, Wisconsin and Minnesota would play each other annually on Thanksgiving weekend and four teams within the greater definition of the Big Ten playing each other was a big deal. Now, fans of that conference have to wait another whole week after Thanksgiving before Big Ten play begins.
But that does mean another week of interesting nonconference play for fans of B1G Hockey. For sentimental reasons, I'm looking forward to the match between two old CCHA rivals, Lake Superior State and Michigan. This series should be a good barometer for each team as well. The Lakers seem significantly improved this season and the Wolverines still appear to be finding their feet.
There's also Minnesota's trip east, which has the Golden Gophers playing Northeastern Friday and Boston College Sunday. That Sunday game is exciting for obvious reasons.
Jim: I am excited to watch some morning hockey this weekend with ASN nationally and NESN in New England broadcasting the second installment of the Friendship Four from Belfast, Ireland. I was lucky to be part of the inaugural event last season and know that all four teams participating – Massachusetts, Quinnipiac, St. Lawrence and Vermont – will have a true one-in-a-lifetime experience to play college hockey in a unique environment.
The organization that sponsors this tournament, Odyssey Trust, truly is committed to hockey in Northern Ireland. They own the Belfast Giants, Ireland's only professional hockey team and the arena where the event will be played.
It is nice that the field for this year's tournament seems very competitive as well as Quinnipiac, Vermont and St. Lawrence all take up spots in the USCHO poll.
I am told the tournament organizers will soon announce – possibly as early as January – that the event will be extended for at least two more years.
Thumbs Up, Thumbs Down
Thumbs up to Alaska-Anchorage for ending a seven-game losing streak with a 1-1 tie and shootout extra point against visiting Michigan Tech Saturday night. Trailing 1-0 to the Huskies after two, the Seawolves tied the score on Jonah Renouf's second goal of the season at 2:30 in the third. Renouf's second goal of the season was also his second power-play marker and stopped a four-game point drought for the sophomore.
Thumbs down to Lake Superior State. We feel like the Lakers maybe tricked us with their white-hot start – 6-1-0 in the first seven. Since then, they've come back to Earth and have lost five straight, including back-to-back setbacks to Ferris State, 3-0 and 7-5. It may not help that the Lakers are in the middle of their longest road swing – six straight on the road – and that continues to this weekend when they head to Ann Arbor for two against Michigan.