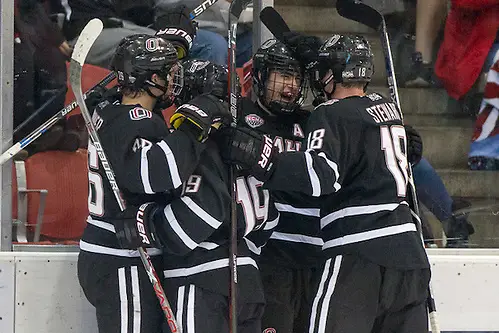 Each week during the season, we look at the big events and big games around Division I men's college hockey in Tuesday Morning Quarterback.
Paula: Jimmy, looking at the results of the weekend, I think there were very few surprises and this week's poll reflects that relative stability. It's not surprising that Minnesota-Duluth retains the top spot and Denver is still No. 2 after those two teams split. Boston College drops a little after that close road loss to Notre Dame and Quinnipiac drops out of the top 10 after being swept in that home-and-home series with Princeton. Of course, this allows two teams that didn't even play this weekend to edge up. Harvard's new position at No. 4 reflects where it is in the PairWise, and Ohio State moved from No. 10 to No. 9 in the poll. Of course this happens all the time, teams moving up or down after not having played a given weekend. It just so happens that, this week, both the Crimson and the Buckeyes maybe moved closer to where they should be polling.
This past weekend of hockey was surprisingly predictable, especially in league play and especially among ranked teams. Not only did Duluth and Denver split, but so did Boston University and Vermont, St. Cloud and Omaha, Western Michigan and North Dakota.
In Atlantic Hockey, two upper-tier teams distanced themselves further from the teams beneath them as both Army and Air Force swept, and with a sweep of Bowling Green in two close games, Michigan Tech created some space between the top two WCHA teams and a very tight middle pack.
I think the only outcome that really surprised me this weekend was Quinnipiac's two losses to Princeton. The Bobcats are now 1-4-1 in their last six, and their drop from No. 7 in the poll to No. 14 is probably a better reflection of those last six games than just these most recent two losses.
Jim: If there was a way to sum up last weekend when it came to the top 20, "splitsville" might be most appropriate. In fact, 10 of the 17 teams in the poll that were active split, which, as you mentioned, is why there was so little movement.
But Quinnipiac, the only top 20 team to lose twice, took one of the biggest falls we have seen this seasons. The recent play of the Bobcats is certainly concerning and I can't help wonder if the travel to Northern Ireland for the Friendship Four had something to do with it. Last season, the four teams that traveled to Belfast had a difficult time upon return. Collectively a season ago, the four teams were 1-7-0 in the weekend following.
This season, it isn't as dramatic. But looking at the two weekends since returning, Vermont (which didn't play the first weekend back) is 1-1-0 and Massachusetts is 1-2-0 (the win came against Notre Dame, though). St. Lawrence at 2-1-0 isn't showing much sign of wear. But then there's Quinnipiac.
The Bobcats are 1-3-0 since returning from Belfast, that after the team scored just one goal in two games during the tournament. Offense has disappeared and Quinnipiac is averaging less than two goals a game since the Friendship Four began.
I had talked to Rand Pecknold before his team left and he said he "hesitated" when making the decision to head to Northern Ireland. That was more related to the fact that his club was giving up a home game against St. Lawrence, but now the twist that his team's season has taken, I do wonder if there is some remorse about taking such a trip.
Paula: That is an interesting observation about the Friendship Four, Jim. An overseas trip during the season is probably a grueling thing, especially for college students who are also expected to keep up with their studies in addition to playing hockey. I am sure that no coach wants to deny his team that opportunity, though.
It's sort of the opposite of what can happen with midseason tournaments, which can propel teams forward through the second half even if they don't take the tournament title. A good performance at the holiday break can help a team maintain first-half momentum, or regain confidence, or find some chemistry.
As we close in on the end of the first half of the season, I'm looking both backward and forward. I'm surprised by some developments in the first half, and as someone who covers the Big Ten, I can't help but be excited about the second half, as that's when the majority of that conference's league play takes place.
I'm really surprised by how down the WCHA seems to be this season. As I've said before, if I lived any closer to any of the league's teams, that is a league I would love to cover, as it is comprised of member schools where hockey is a very prominent sport on every campus. I wonder, though, how much the restructuring of Division I four years ago has hurt the teams in that league. When a team like Ferris State was competing in a league that also housed Michigan, Michigan State, Ohio State and Notre Dame, the Bulldogs benefited through exposure at the very least. It's true of many teams in that league, and while the WCHA is interesting in and of itself, its first-half performance has me thinking back to realignment.
Then there are some delightful surprises, like Union senior forward Mike Vecchione. His 17 goals through 17 games has him two short of his career-best 19 goals he scored in 39 games in 2014-2015.
Jim: I guess there are two ways to look at the WCHA. Out of conference, the league's performance borders on a dumpster fire. The .287 winning percentage for the league is the worst of the six conferences. But within the walls of the league, there are some good storylines that continue to develop. Bemidji State's 13-1-2-2 mark inside the WCHA is excellent, and it's certainly good to see Alabama-Huntsville turn from homeless a few years back to a top-five team in the WCHA at break.
If you're looking for pleasant surprises, you can also find one in West Point where Army is sitting atop the Atlantic Hockey standings after a two-game sweep of Holy Cross. The wins might have been overshadowed on campus by the football team's first win over Navy since 2001, but they are significant for an Army program that hasn't finished above .500 in league play since capturing the AHC regular-season title in 2008.
We haven't spent a ton of time discussing Atlantic Hockey teams in this space recently, so maybe this is a good time. Is Army one of the more pleasant surprises of the first half?
Paula: Without question, Army is one of the more pleasant surprises of the first half. Senior goaltender Parker Gahagen is one of those players whose career has always been consistently good enough but overshadowed by his team's overall performance. He's also shown significant improvement from season to season, and this year, his save percentage (.940) is second-best nationally and his goals-against average (1.69) is third.
In front of him, the Black Knights are an improved team. Last season, Army West Point averaged 2.32 goals per game (50th) compared to this year's 2.75 (38th), a small push upward that sometimes means the difference between winning and losing one-goal games – except that's not how the Black Knights win or lose this season. They score by committee, with 16 players recording at least one goal and no one with more than seven total. Their scoring defense (1.81) is second-best nationally, up from 16th last year. They don't take a lot of penalties, but their PK is fourth nationally (90.1).
Whatever the Black Knights are doing, they're finding ways to win games. Like you, Jim, I have a soft spot for both Army and Air Force, knowing that the current players will go on to active duty, but beyond that, the emergence of Army hockey is good for Atlantic Hockey. The more teams that becoming consistently competitive in that league the better, and a more competitive Atlantic Hockey is good for Division I hockey as a whole.
Still, we're all riveted by the teams at the top of the proverbial heap, and that series between Minnesota-Duluth and Denver did not disappoint. Two games that were essentially one-goal games is exactly what you want to see from the top two teams in the country. It was the Bulldogs' performance in their loss that likely influenced poll voters. In Denver's 4-3 win, the Pioneers unloaded for three second-period goals, but Duluth scored the last goal in that period to make it 3-2 after two. Then the Bulldogs answered Denver's fourth goal in the third period with a goal at 17:55 to draw within one again.
In Saturday's game, it was Denver playing from behind the whole night and unable to capitalize on power-play chances. And it was a true 2-1 game until Duluth added the empty netter with a minute to go in regulation.
Not only was that exactly what you'd hope for in a match between the top two teams in the country, but it was what we are coming to expect from the NCHC.
Jim: I thought the Denver vs. Minnesota-Duluth series was very interesting. I was so very tempted to vote for Denver this week in the USCHO.com poll, because I really like how they played. But results are still results. In Friday's loss, I thought Minnesota-Duluth showed the resiliency they have shown all season and came close to tying the game. In Saturday's win, I actually thought Denver was the better team, but the Bulldogs took advantage of a "bad goal" by goaltending standards on the first goal and a broken stick that led to a 2-on-1 rush on the second goal.
But the more I thought about how to vote, the one thing that stands out if Minnesota-Duluth's resilience. They fell behind but kept coming back on Friday, something they've done all season. And then they took advantage of mistakes and won a game thanks to great defense and goaltending on Saturday.
If we learned anything this weekend about the two teams, we learned this could be a great ride in the second half for the NCHC and its fans.
And seeing as this is our last column of TMQ before the holidays, might I take a chance to wish everyone a very happy holiday season. We'll see you in the New Year!
Thumbs Up/Thumbs Down
Thumbs up to two coaches who hit significant milestones this weekend. We'll start with Omaha head coach Dean Blais who reached the 400-win plateau on Friday night with a win at St. Cloud State. A night later, Robert Morris bench boss Derek Schooley earned his 200th win (and the 200th win for the program) when his team earned a 4-1 win on the road at Bentley. Two good guys hitting great milestones.
Thumbs down to breaks. We hate breaks. We really do. And though the holidays are coming, what we'll miss most as we toast egg nog and warming bourbon drinks is college hockey. So our thumbs down is to the fact that we'll be missing it for a number of days. Yes, there are games this weekend (and a heckuva home-and-home between No. 1 Minnesota-Duluth and No. 15 Bemidji State), but we will miss hockey for days after that. Thanks to all our readers and a happy holidays to all!