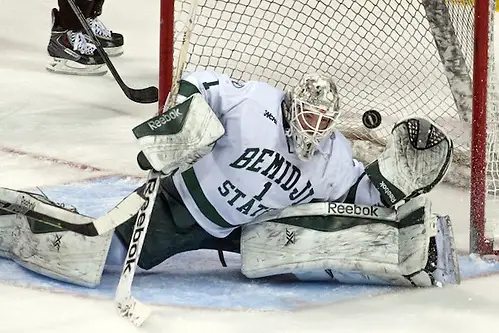 Since the season started, we've seen WCHA teams score 499 goals, earn 2,758 penalty minutes, and win 77 games.
And being the holiday season, we're thankful for all of those goals, infractions, and victories. But we're feeling a bit greedy, and we want to see a bit more as the holidays come around and hopefully, Santa Claus will leave some treats off our list under the WCHA tree.
• Someone to challenge Bemidji State. The Beavers are a great story and their defense is superb. But the league is more fun when a team — looking at you, Michigan Tech — can turn this into a more compelling title race.
• Better nonconference success. The WCHA is just 12-32-3 in non-league games — that's a .237 winning percentage, which isn't doing teams any favors. Even Atlantic Hockey (.304) has a better nonconference win percentage. Obviously, this has been a problem area for the league in general — even league leaders Bemidji State are 0-4 against other leagues. That's not good, and if the WCHA wants any hope of getting an at-large team in the tournament — which is unlikely right now — they have to do better in this area.
• Some offense in Anchorage. The Seawolves have a league-low 28 goals this season. Every other team has scored at least 40. If the Seawolves ask nicely maybe they'll find some more goals in the second half of the season.
• More success in Huntsville. The Chargers nearly saw their program die five years ago. Since then, as we all know, they've struggled. Joining the WCHA has helped, but it seems like this is the year they more fully realize their potential as a viable program. There's more work to be done, certainly, but success in places like Huntsville can only be good for the health of college hockey. Is a winning season too much to ask Chris Cringle?
The teams themselves? Some have been naughty, some have been nice.
Alabama-Huntsville
Nice list:
• Josh Kestner has been the offensive catalyst for the Chargers. The junior has 16 points in 20 games. Kestner has a team-high 56 shots on goal, while he has the vision to create for his teammates.
• Blocks. The Chargers block a lot of shots, so far they've blocked 293 this season, an average of 14.93 per game.
Naughty list:
• Blocks. Yes, this is also on the naughty list. While the Chargers are doing a good job of helping their goalies, their puck possession against has forced them into so many blocked shot chances.
• October started strong for the Chargers with a WCHA sweep, but the next eight game yielded an 0-7-1 record.
The verdict:
• Nice, recently removed from the Naughty list. The Chargers are in the middle of a season where they're somewhat surpassing expectations. Huntsville is in the middle of the pack, but that's not a bad place to be.
Alaska
Nice list:
• Defenseman Zach Frye has 12 points and a team-high nine assists. The junior has been a key part of the Nanooks offense, and pushed play from the blue line.
Naughty list:
• Goals against. Alaska hasn't been able to keep pucks out of the net and have allowed 3.50 goals per game, the second worst in the WCHA.
• Second periods. Alaska has allowed 24 goals in the middle stanza, the worst mark in the WCHA.
The verdict:
• Naughty. The Nanooks have shown potential at time, but have some work to do in the second half of the season to get on the nice list by Christmas 2017.
Alaska-Anchorage
Nice list:
• The Seawolves started out 1-11-2 but are 2-3-0 in their last five games. That's not great, but at least they're starting to get more consistent as they play more games.
Naughty list:
• As mentioned above: Scoring. With 1.56 goals per game, the Seawolves are the worst-scoring team in the country. Even Canisius — one team UAA has actually defeated this season, a 1-0 shutout — has scored more than Anchorage. They're at 1.88 GAA — 59th out of 60 nationally — and have 32 goals in 17 games.
• Penalties. The Seawolves take a lot of them (121 so far). They've also taken six major penalties. That adds up to 311 minutes of penalty-killing time — not exactly a recipe for success.
The verdict:
• Naughty. UAA's three wins have been against Canisius, Northern Michigan and Alaska. Combine that with all that penalty time, and it's going to be tough for the Seawolves to make it onto the nice list at any point this season.
Bemidji State
Nice List:
• Went undefeated in league play until December and are seven points ahead of second-place Michigan Tech. Nothing is clinched yet, but the fact that they're that far ahead is impressive.
• That defense. Through 20 games played the Beavers have let in just 32 goals for an NCAA-best 1.60 goals against average. Goaltender Michael Bitzer's number is even lower — 1.47 in 19 games (second nationally behind Michigan Tech's Angus Redmond). His save percentage of .938 is third overall.
Naughty List:
• The nonconference record. The Beavers are 0-4 against nonconference teams. That sweep against North Dakota in Grand Forks? OK. But the home sweep to Princeton? Yikes. Although the Tigers are a lot better than their start indicated (that sweep of Quinnipiac last weekend proved it) you can't get swept at home by a team you should beat if you want a hope of getting an at-large bid.
The Verdict:
• Nice. Very nice. The Beavers will likely want Santa to reward them with an early Christmas present in the form of a win (or two against Minnesota Duluth). And maybe that leads to a (very belated) late Christmas gift in the form of an NCAA at-large bid.
Bowling Green
Nice list:
• Mitchell McClain's offensive ability has been a gift for the Falcons. The junior has 20 points (10 goals, 10 assists) in 19 games and can score in bunches when given the chance.
Naughty list:
• Expectations were high for the Falcons coming into this season, but they've lost close games that good teams are supposed to win. That includes a weekend vs. Michigan Tech when they only scored two goals.
The verdict:
• Naughty, because of expectations. The Falcons were picked to win the WCHA this year by many, and it doesn't look like that's going to happen. They could be a contender in the WCHA tournament, but that regular season title isn't going to happen.
Ferris State
Nice list:
• Senior Gerald Mayhew is a joy to watch. Despite missing time with injury, he still leads Ferris State with 17 points in 15 games. How important is Mayhew? Ferris State hasn't won game when he hasn't registered a point.
• Freshman goalie Justin Kapelmaster who has played seven games and has a .932 save percentage.
Naughty list:
• Non-conference hasn't been a strong point for the Bulldogs. They have gone 1-4 in games outside of the WCHA.
The verdict:
• Trending nice. Ferris State has taken a couple lumps this season and rely too much on one player. But it's hard to put them on the naughty list with a player like Mayhew.
Lake Superior State
Nice list:
• The Lakers are still tied for the league lead in scoring offense — they've potted 57 goals in 18 games. For comparison: They scored 74 goals in 41 games last season. Sophomore forward Mitch Hults has 21 points — second in the league behind MSU's Mark Michaelis.
• A bulk of that scoring has been done by sophomores and freshmen. Just one senior (Gus Correale) has skated for LSSU this season and of the Lakers' top ten scoring leaders, only JT Henke is a junior.
• Solid wins. The Lakers swept Michigan State and split with instate rivals Michigan. They've also put some goals up on Minnesota State and Bowling Green.
Naughty list:
• When their offense has struggled, so have they: In their last 11 games the Lakers are 2-8-1 and average 2.0 goals per game. They've been held to two or fewer goals in eight their last 13 games.
The verdict:
• Nice, but they're close to naughty. It remains to be seen which Lake State team shows up in the second half — the one that lit up the scoreboard in October or the one that waned in November.
Michigan Tech
Nice list:
• Tech is one of the hottest teams in the country right now, winning nine of their last 12 games.
• Freshman goaltender Angus Redmond has been a revelation. Since his first start Oct. 28 against Northern Michigan, he's allowed just 20 goals in 14 games and leads the country with a 1.40 GAA. He's also fifth in the nation with a .937 save percentage. Among WCHA goalies, only BSU's Michael Bitzer has been better, and that's because he's played in five more games.
Naughty list:
• That 1-5-2 start still looms large for the Huskies. It set them back early (although their early struggles did allow them to find out Redmond was their guy even more quickly, so maybe it's a net positive).
The verdict:
• Extremely nice. After that poor start, Tech is finally where everyone thought they'd be at the beginning of the year. They're just seven points behind league leaders Bemidji State — well within striking distance going into the second half.
Minnesota State
Nice list:
• Freshman Marc Michaelis has 21 points (9 goals, 13 assists) to lead the league in freshman scoring (he's fourth nationally). The German forward has been held without a point in just five games.
• Quality wins. MSU swept St. Cloud State to start the year and then took two of three from Minnesota. That's a full 25 percent of the WCHA's nonconference victories.
Naughty list:
• Consistency issues. The Mavericks have had some head-scratching two-game series. For example: They beat Alaska 7-3 two weekends ago but needed five goals just to tie the Nanooks the next night. Last weekend, they lost to Ferris State 3-0 before winning 3-2 the next night.
The verdict:
• Fairly nice. The Mavs' season is the inverse of the Huskies, in many ways — their 4-0 start set them up well to start the season but they haven't swept a series since. A nonconference series at surprising Princeton will be a good test, but MSU will want more consistency in league games after the break.
Northern Michigan
Nice list:
• Sophomore goalie Atte Tolvanen who has played in 19 of the Wildcats 20 games and has started 16. He's been a workhorse and his save percentage doesn't illustrate how many athletic saves he makes.
Naughty list:
• Losing streaks. The Wildcats have fallen into holes this season and haven't been able to dig out. When problems arise, they seem to keep coming up for Northern Michigan.
The verdict:
• Naughty. The Wildcats only have four wins this season, and two are against Wisconsin. Wins have been hard to come by and they were recently swept by Alabama-Huntsville.