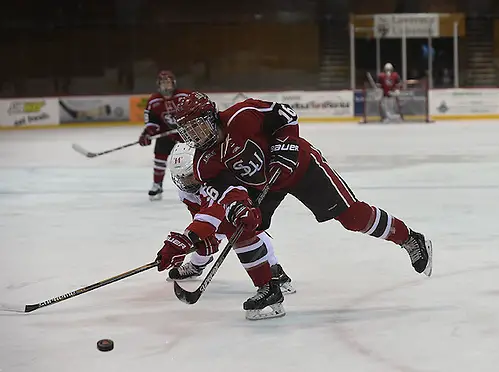 It's the midway point of the season, and all but a few teams are done with their schedule until after the new year. As the students prepare for finals and we all head into the holidays, I've prepared a letter to Santa to let him know what I wish for each of the Division I teams to find under the tree this year.
CHA
Dear Santa,
It's been an unpredictable start to the year for the CHA. Dark horses emerged and old favorites have slipped. In order to ensure continued success on the ice, here's what I'd like for each of these teams.
Robert Morris hopes to find a better penalty kill. They've given up 23 power-play goals in their first 18 games.
Syracuse wants to stay out of the penalty box. They're second in the country with 13.33 minutes per game.
Penn State hopes to find improved offense and defense so they can improve their goal differential.
Mercyhurst wishes for more scoring. The usually potent Lakers offense hopes to find scads of pucks under the tree.
Lindenwood wants to find power-play goals. They convert just 12 percent of the time and they need all the special teams help they can get.
RIT hopes to find some offense. They're second-to-last in the country with 1.09 goals per game.
ECAC
Dear Santa,
In the ECAC, parity has been an early storyline. Recent powerhouses Clarkson and Quinnipiac are sharing time at the top with St. Lawrence and Colgate, while teams like Dartmouth and Yale are giving folks a difficult time. In order of the current standings, here's what I wish for each time in the ECAC.
Clarkson hopes to find improved defense under the tree. The offense is potent and carrying the team. Time for the blueliners to step up. The penalty kill could use some help, as could goaltender Shea Tiley. She's got more goals against than any other goalie in the top 15.
St. Lawrence really just hopes that not much changes. They've been pretty great across the board, so they hope for no second-half meltdown.
Quinnipiac hopes they continue to see players emerge on offense to help create depth. Their stingy defense has long been their calling card and they need players to step up and make sure they have more to count on than TT Cianfarano.
Colgate could really use a package of confidence, Santa. After their impressive start, they've encountered some bumps. They're still solid in practically every statistical category, so they need to use the break to rest, recuperate, and remember that they're a very good team.
Cornell wishes for some luck on the road. All their losses happened away from Ithaca, so they want Santa to bring some confidence and help on the road.
Princeton wants to find some of last year's magic wrapped up this year. They've been more affected by graduation than they anticipated and all aspects of their game needs to step up to fill those holes. They need confidence and the determination to step up.
Yale is just really excited for the break. The season started well, but has been rough the past few weeks. They hope for rest and some depth on offense. Their top line is doing well, but they need contributions from everyone else.
RPI hopes to unwrap some defense. Lovisa Selander helped carry the team last season, but she needs help. She's facing too many shots and RPI is allowing more than three goals a game. It's an unsustainable model and one they hope they can figure out over break.
Harvard wishes they could start the season over. Since that's unlikely, the Crimson really just want to find their stride under the tree this year. They've got entirely too much talent to be averaging just 1.55 goals scored a game, especially since they're giving up almost three goals a game.
Brown wants to find some special teams success tied up with a bow. They're last on the penalty kill and have scored just five power-play goals. To that end, they also need to find a way to stay out of the box under the tree this year.
Dartmouth hopes to figure out a way to pull out close games. Seven of their 12 games so far this season have been decided by two or fewer goals. If the Big Green can dig a bit deeper, they'll be finding a lot more upset wins to their name.
Union wishes they could find some of their early season mojo. Since their two twins, they've lost 12 straight, and seven of those were by two goals or less. They've made big strides for their program and they need to believe they can continue to do so.
Hockey East
Dear Santa,
Though the rosters and results look a bit different, in the end, not much has changed in Hockey East. Boston College has a big lead and Northeastern and Boston University are trying to keep up. The biggest surprise comes in the form of New Hampshire, which are in fourth and just eight points out of first place. In the "more things change, the more they stay the same" climate of the Hockey East, here are my wishes.
Boston College hopes to maintain the status quo. They're in control and have their offense and defense relatively in line. If they were to ask for one little thing, it would be to be more disciplined. Though the penalty kill is third in the country, they're tempting fate with more than 11 minutes a game in the sin bin.
Northeastern wishes for improved goaltending. The only way the Huskies make a second-straight NCAA appearance is to beef up the back. Brittany Bugalski's ranked 20th among goalies.
Boston University really wants to unwrap some defense to start the second half. They're allowing almost three goals per game, putting them at 27th in the country. The penalty kill is even worse. They're wasting the offensive firepower they have by not supporting them on the blue line.
New Hampshire hopes to find some consistency under the tree. They've shown flashes of brilliance, but are allowing more goals than they score. It's probably still in development for the Wildcats, but they can make waves — and host a playoff series, if they can keep it up.
Providence wants to unwrap some cooler heads this holiday season. They lead the country in penalty minutes, giving opponents way too much time with an extra attacker. They're scoring, but they aren't doing their own defense any favors by constantly putting them at a disadvantage.
Vermont wishes to keep on growing in the second half. With some marquee wins and program firsts, it's been an important stretch for the Catamounts as a program. Madison Litchfield has shown great promise in net, so they need to just keep building on that.
Connecticut is hoping to find the comforts of home. The Huskies are 7-2-1 away from Storrs and 2-3-1 at home.
Maine wants to build on their success and work on special teams. They've got to capitalize on those opportunities and not give opponents so much time with an extra skater.
Merrimack wishes to find some defense when they head into the second half. They've made great strides for such a young program. They've proven they can score, so they need to work on keeping the puck away from their zone.
WCHA
Dear Santa,
On the top, at least, the WCHA is everything it was billed to be. Start with Wisconsin and Minnesota ranked and on top and let the middle teams dogfight it out. There never has been an easy game in this conference, but as the bottom teams continue to push the top teams, the gap between them gets even smaller. As a conference, the WCHA hopes to place three teams in the NCAA tournament. Individually, here's what the WCHA teams hope Santa leaves behind for them.
Wisconsin hopes to figure out the man-advantage. The Badgers are leading or near the top in almost every statistical category, but they are 28th and a meager 8-for-72 on the power play. They've got the offensive depth and firepower to make up for it, but may really be wishing for more power play mojo as the season winds down.
Minnesota wishes for defense this holiday. With a goalie who isn't faring well after having played behind others in previous years and a defense that's been torched twice in the past three games, they're struggling to find answers at the blue line. They also hope to find a healthy Dani Cameranesi in their stocking.
Minnesota-Duluth wants to find some penalty killing under the tree. They are third-to-last with just a 77 percent kill rate. If they're allotted a second request, it would be some help for goalie Maddie Rooney. Only one other goalie has faced more shots than she has.
North Dakota hopes to find help for their anemic power play. Though their conversion percentage is better than UW, they've only managed to score seven goals on the man-advantage. They also ask for some consistency in the second half. If they're permitted an extra request, they hope a fourth WCHA team gets consideration for the NCAA tournament.
Ohio State's one and only wish is a bubble of safety around goalie Kassidy Sauve. She's faced more shots than any goalie in the country and has the third highest save percentage. The second-worst power play could use some help, but mostly they just want to make sure Sauve is around for a few seasons to come.
St.Cloud State wants to find some help for Julia Tylke. The senior is carrying the Huskies offense and if they're going to continue to push conference foes and make waves, they need to have some depth.
Bemidji State wishes that the season were already over. After some of their program's best games last season, it's been a tough year. They graduated half the roster, so they're wishing for lots of on-the-ice learning and quick lessons.
Minnesota State hopes that they continue to improve. They need to score more and Brianna Quade is a big help back in the net, but they have confidence and room to grow.