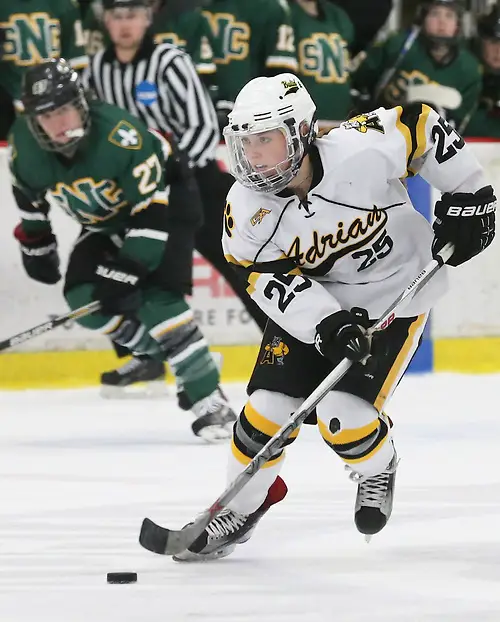 Less the midpoint and more just the beginning, we're partway through the Division III season and ready to head into the holiday break. While students finish up finals and you all finish your holiday preparation, here are the things I'm asking Santa for in women's DIII hockey:
More parity. It's an old refrain, but with Plattsburgh still holding court at the top of the polls and the rest of the spots remaining virtually unchanged from week to week, I'm asking Santa for a shake up.
Some respect for Division III hockey. Sure, it's all a matter of perspective and degrees, since the professionals and many Division I programs struggle with attendance, but it would be nice if even casual women's hockey fans could name more than one or two teams and attended a game every once in awhile.
Another set of 30-goal scorers. Adrian's Kristin Lewicki did it last season and has a good jump with 11 goals so far. Dani Sibley at Wisconsin-River Falls sits at 14. Plattsburgh's Melissa Sheeran and Morrisville freshman Vanessa Klimpke sit at 12. We had two last season; can we double that this year?
A 50-point player. Last season, Lewicki and Plattsburgh's Kayla Meneghin each finished with 48 points. Sheeran was the only player to average more than two points a game. Lewicki has 27 points and teammate Kaylyn Schroka has 25, but there are 10 player with 20 or more points right now.
Wins — and confidence — for some of the winless squads. Finlandia, Salve Regina, Nichols, St. Michael's, and Colby are still looking for their first and are joined by Trinity, Wesleyan, St. Benedict, Cortland, Chatham, and Salem State in looking for their first conference wins.
A new penalty kill record? Both Hamilton and Endicott have been perfect on the penalty kill so far with Middlebury and Amherst just a single goal allowed behind.
Continued growth from Morrisville. The Mustangs finished third in the CHC last season, but are thus-far undefeated in conference play. Goalie Renee Schmaltz already has five shutouts and there are five different Mustangs among the country's top scorers.
Growing the game. From increased numbers of foreign-born players and more players in the professional leagues to increased parity and strength of play, there are more and more signs of the growth of the D-III game. More and more players are choosing D-III and the level of competition continues to improve. Let's hope Santa brings even more parity to the postseason and the sport as a whole.
Some defensive help for Northland, Lebanon Valley, Finlandia, and Nichols. They're all averaging more than five goals allowed per game. That's the kind of disheartening stat that makes you stop loving the game, so I hope Santa brings them some relief after the break.
Special teams love. There are 17 squads scoring at a less than 10 percent clip on the man-advantage. On the flip side, 13 teams are killing penalties less than 80 percent of the time.
Cooler heads; 35 teams average 10 or more penalty minutes a game.
The rise of the freshmen. There are four rookies in the top 15 of scoring and six rookies among the top half of goalies.