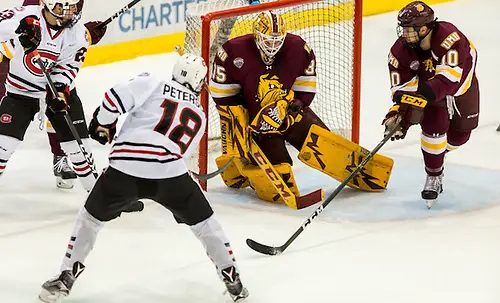 Fresh off a road split in this season's second national No. 1 versus No. 2 matchup, top-ranked Minnesota-Duluth is in a good place, but knows there is still plenty of work to be done.
The Bulldogs enjoyed a successful trip to second-ranked Denver last weekend and ended it Saturday with a 3-1 win that snapped Denver's 15-game unbeaten streak.
Winning the season finale saw UMD (11-3-2 overall, 8-2 NCHC) jump into first place in the NCHC standings. Duluth was outshot 39-26 on Saturday and lost the faceoff battle 33-20, but a career-high 38 saves from goaltender Hunter Miska and goals from Kyle Osterberg, Billy Exell and Joey Anderson saw the Bulldogs through.
The night before, Duluth proved to be a tough out for Denver as the Pioneers grafted to a 4-3 win. Three DU goals 4:46 apart in Friday's second period made a big difference, and the Pioneers held UMD off for the game's final 2:05 after a Sammy Spurrell tally cut DU's former two-goal lead in half.
Miska made 27 saves Friday before finishing the weekend with 65. He had help in front of him, too, and sophomore forward Neal Pionk (six blocked shots to go with three assists) came in for particularly high praise from UMD head coach Scott Sandelin.
"I wouldn't say 'standout.' I mean, we expect that," Sandelin said of Pionk's play at Denver's Magness Arena. "He's kind of grown into that, and he's been one of our top defensemen and plays a ton of minutes, and I think for him, again, the consistency … I thought, truthfully Friday, we didn't think he played as well as he could have, but even him right now maybe not at his best is still good, but he's had a tremendous year and a half for us here.
"He's played a lot of big minutes, he's been put into a lot of situations, and to me, he's handled those situations really well and has really grown as a player. I think there's more growth (to be had), but he's certainly evolved into one of our top players."
Duluth has been getting solid performances of late throughout the Bulldogs' lineup. Offensively, eight different UMD players are in double-digits for points, led by senior forward Alex Iafallo's 20 (10 goals, 10 assists).
Speaking at his weekly post conference Wednesday, Sandelin suggested that while UMD might not have one defined top line, there are groups within the roster that are getting the job done.
"We have a pretty good second line, but I like our mixture, and I think you saw a little bit of that this past weekend with Sammy (Spurrell) and Billy (Exell) and Jade (Miller). Those guys (were) contributing, and when you get that from those types of lines, it certainly helps your team."
This weekend, UMD will be the only NCHC team in action. The Bulldogs are gearing up for a home-and-home series against No. 15 Bemidji State, which has won its last three meetings with UMD and hasn't lost to the Bulldogs since Dec. 7, 2012.
"We haven't been in this situation playing during finals week, but these are big games," Sandelin said. "They're big non-conference games obviously against a very good team, a team that's leading the WCHA. That's not an easy task, and they've got 13 wins and it's not by accident.
"They're a strong team, and this is going to be a real, real big challenge for us. Obviously, we have not had success against them in the last four years, and our guys are certainly aware of that but it doesn't guarantee us anything. You've got to go in there and it's going to be competitive, it's going to be a hard-fought series, and we need to find a way to finish the first half here on a good note by playing good hockey, and hopefully by doing that we find a way to win some games."
Holiday gift ideas for NCHC teams
As this is the last league column of 2016 and the last before the holiday break, we've taken a look at what each of the NCHC's eight teams will be hoping for as they look toward the new year.
Colorado College: Better results at home
Colorado College will enter 2017 still searching for the Tigers' first home victory of the season. CC is just two games under .500 when playing away from home, but an 0-7 mark thus far at World Arena sticks out poorly.
Admittedly, CC's home schedule so far hasn't been a walk in the park. All but two of the Tigers' home opponents during the 2016 block of the season were ranked in the top 15, and the last home game – a 3-1 loss to Denver on Dec. 2 – came against a team riding a hot streak many teams only hope to emulate.
CC currently sits three points back from Miami at the bottom of the NCHC standings. If the Tigers are to finish the regular season above the league basement, CC first has to snap its current nine-game winless streak and build from there. Getting that first home win could provide the needed spark.
Denver: Continued strength in depth
Denver's loss to UMD on Saturday snapped the Pioneers' fourth-longest unbeaten streak in program history, but plenty more good things appear to be on the horizon for DU. Part of that is down to the enviable amount of depth on Denver's roster.
Several key players, such as sophomore Dylan Gambrell and seniors Evan Janssen and Emil Romig, were either injured during or sat out of games during that long hot streak, and star freshman center Henrik Borgstrom has missed the last four games with an as yet unspecified illness.
He is expected to play for Finland in the World Junior Championship, though, which indicates that he will likely be good to go as the Pioneers open the 2017 portion of their schedule. Opposing teams won't want to think about how much more dangerous this Denver team can be when everyone's available.
Miami: Greater secondary scoring
Miami entered this season with 14 first-year players making up the majority of the RedHawks' roster. A handful of key pieces such as senior forward Anthony Louis returned, but how quickly Miami's younger players would develop was always going to have a say in how far this Miami team can go.
So far, results have been mixed. Freshman forward Carson Meyer (10 assists) has shown himself to be a solid setup man, and sophomores Kiefer Sherwood (7 goals, 11 assists) and Josh Melnick (two goals, 11 assists) have also supplied good underclassman leadership.
What's worrying is that those four players are the only RedHawks in double-digits in scoring, and it drops off considerably from there. Melnick's 13 points more than double the six that sophomore defenseman Grant Hutton, junior forward Louis Belpedio and junior blueliner Scott Dornbrock each hold.
Minnesota-Duluth: More consistent even-strength output
This isn't quite a what-do-you-get-the-person-who-has-everything situation, but even the top-ranked team in the country has room for improvement.
One thing to watch for with the Bulldogs going forward is their puck possession. UMD was outshot at even strength five times in its first 14 games. That it only happened three times all of last season makes that stat jump out.
It will be interesting to see how Duluth's offense operates this weekend against Bemidji State. A Bulldogs team potting in 3.62 goals per game so far faces statistically the nation's best defense from BSU, which has only given up 1.6 goals per outing this season. There are lots of reasons to feel confident about UMD, but how the Bulldogs do this weekend should affect just how bullish people will stay about them.
North Dakota: A 100 percent healthy Boeser
UND sophomore forward Brock Boeser played through the Fighting Hawks' first 13 games of this season with an injury to his right wrist before sitting out the last five in hopes that rest would expedite the healing process.
On Wednesday, UND released a statement announcing that Boeser was to undergo minor surgery that day in Minneapolis on the wrist and is expected to return to the Fighting Hawks' lineup in January. He will miss the World Junior Championship after being named to the United States' preliminary roster.
Boeser earned all-American honors last season as a freshman with 27 goals and 60 points in 42 games. Thirteen games into this season, Boeser has seven goals and nine assists for UND.
Omaha: Greater home success
Sitting one point below fourth place in the NCHC standings, Omaha's bottom-half position largely boils down to the Mavericks' difficulties so far at home.
No. 20 UNO has been great on the road, going 6-1-2 in true away games and beating Alaska-Anchorage during a season-opening tournament. It's been a different story at home, however, as the Mavericks are just 2-5-1 so far this season at Baxter Arena.
After earning a split last weekend at No. 17 St. Cloud State, UNO is off until it hosts Lake Superior on Dec. 30-31. Four home series remain after that, three of them against currently ranked league foes in the forms of No. 8 UND, No. 16 Western Michigan and, on the final weekend of the regular season, No. 2 Denver.
St. Cloud State: Greater consistency
It's safe to say that, on several occasions this season, SCSU has shown what it's capable of. The Huskies' home-and-home sweep of Minnesota in October sticks out, as does the win and shootout loss two weeks ago at Western Michigan.
Inconsistency and youth have reared their heads at other times. Getting swept three times so far this season – twice at home, against Minnesota-Duluth and North Dakota – doesn't look great, and freshman goaltender Zach Driscoll has shown room for development.
That being said, the 2017 portion of this season's schedule could be very good to the Huskies. Trips to UMD, North Dakota and Denver won't be easy, but home series against Miami and Colorado College in the final four weeks of the regular season could leave SCSU looking up entering the playoffs.
Western Michigan: Starting each series stronger
Broncos fans have many reasons to be cheerful over the holidays. Their football team is heading to the Cotton Bowl, and their hockey team sits in third place in the NCHC. After winning eight games all of last season, WMU's icers are already at the eight-win mark heading into 2017.
There is room to grow, though, and it has shown in the first games of WMU's recent weekend series. The Broncos haven't won on a Friday since Nov. 11 at UMD, and Western is 0-2-1 on Fridays since then.
WMU's next game gives the Broncos a great incentive to hit the ground running. A win over Michigan State at the Great Lakes Invitational on Dec. 29 would put Western in good shape to emulate its GLI championship success from 2013.
Players of the week
Offensive player of the week: Wade Allison, Western Michigan. The freshman forward played a key role in Western's road split against UND last weekend, picking up two goals and as many assists. Allison had a hand in each of the Broncos' goals during a 3-1 win over UND on Saturday, making him the game's first star.
Defensive player of the week: Neal Pionk, Minnesota-Duluth. The sophomore forward from nearby Hermantown picked up three assists in a road sweep against Denver while leading a penalty-killing unit that went 7-for-7 against the Pioneers. Pionk also finished the series in the Colorado capital with a plus-2 rating.
Rookie of the week: Alex Leclerc, Colorado College. It's rare that a goalie gets into this spot, but Leclerc had the numbers last weekend to back it up. Leclerc stopped 65 of the 69 shots he faced against Miami in Oxford, Ohio.
Goaltender of the week: Ben Blacker, Western Michigan. After assuming relief duty Friday in a loss to UND, Blacker started Saturday night and made a career-high 32 saves in a 3-1 victory over the Fighting Hawks. Saturday night saw Blacker make his first start since Oct. 14 after missing time due to an illness.