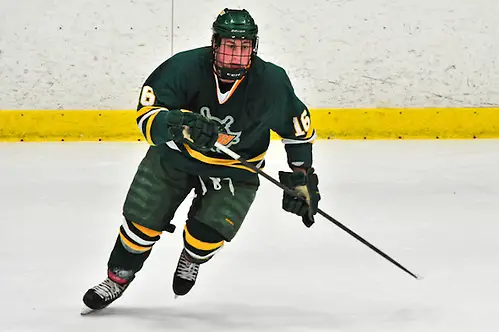 One might think that after finishing the first half at 10-1-0, being ranked number one nationally, having a team goals-against average below two, and excelling on both the power play and penalty kill, the Oswego Lakers would be a pretty content bunch entering the break. Not so, says coach Ed Gosek, who clearly sees so many of the positives but believes there is more in this team to show on the ice in the second half.
"Don't get me wrong, we have been very good in so many ways," stated Gosek. "But as good as we have played, I don't think we have really played a complete game yet — not to the level I know this team is capable of. Am I looking for perfection? There is no perfection, but there have been games where we have had a slow start or a lull in the middle. We have found ways to win and our team is functioning at a high level, but if we want to hit our goals of winning a tough conference and getting back to a Frozen Four, we need to really play a complete 60-minute game."
This year's edition of the Lakers is coming off a not up-to-par season according to Oswego standards, having finished 14-11-0 last season. That is a big motivation for a core group of players that were part of the Frozen Four experience early in their career and have the sense of urgency to want to get there in the final season for the Lakers. Forwards Shawn Hulshof, Alex Botten, and Matt Galati have all achieved a significant milestone this season by surpassing the century mark in points for their careers with still a half a season and more to go. Teammate Kenny Neil is on pace to pass the 100-point plateau sometime after the New Year and the foursome of offensive stars in total are a big part why their coach thinks they have it in them to achieve some bigger things on the ice as a team.
"Every fourth year, we have a big class moving on and these guys know what it takes to get to where we want to be," said Gosek. "It started with the off-ice conditioning and extra time in the weight room in the off season and has continued on the ice in practices and games. They aren't satisfied with last year and since they all had opportunities to play and play in important situations from their first year in the program, they understand completely the sacrifices and commitment needed to get to a place that isn't guaranteed because you were there before."
With a 10-1 start, Oswego has looked every bit the elite team they aspire to be, but the current stretch of six games has their coach and likely his players convinced that they need to prove it on the ice against several of the top teams in the nation in and out of their conference.
"Heading into the break, we had Fredonia and Buffalo State on the road to close out the first half," noted Gosek. "Those games were a challenge, but now we come back after Christmas to face Williams in the Northfield Bank tournament only to get Nazareth or Norwich the next night. Then in our Pathfinder Bank Tournament the following weekend, we get a Frozen Four rematch with Wisconsin-Eau Claire before playing either Curry or Utica the next night. These six games are critical and we have had them circled on the schedule for a while in terms of finding out the kind of team we really are going to be this season."
The Lakers closed out the first half by splitting the two games at Fredonia and Buffalo State, with the Bengals handing Oswego its first loss of the season by a 5-1 score. Finals and the current holiday break separate the team from the next pair of games in the crucial six.
"These games are a great challenge for our team," stated Gosek. "I believe this group is up to that challenge and ready to play our best hockey to start the New Year."
Holiday Tournament previews
Middlebury Classic: The Panthers are not looking to be gracious hosts to any of their guests, which include St. Anselm, Canton, and Manhattanville as they look to open the second half with a win. The Valiants may be the favorites here.
Codfish Bowl: Connecticut College, Franklin Pierce, and Salve Regina join hosts Massachusetts-Boston in one of the longest running D-III tournaments in the nation. This tournament has not been particularly kind to the hosts since playing at the Clark Center, but don't be surprised by a Salve Regina vs. UMB final, where it is anyone's guess as to a winner.
Northfield Bank Tournament at Norwich: Norwich hosts Nazareth, Oswego, and Williams in a star-studded lineup that could see several realistic final possibilities, although many would likely want to see the No. 5 Cadets take on No. 1 Oswego in the final.
Plattsburgh Tournament: The Cardinals welcome Wesleyan, Neumann, and Castleton up north in another highly competitive foursome this weekend. While the hosts would like to play in the final, the other Cardinals could displace them in a championship round match-up with Neumann.