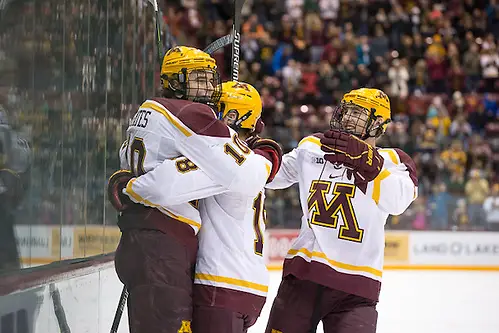 Each week during the season, we look at the big events and big games around Division I men's college hockey in Tuesday Morning Quarterback.
Jim: Happy New Year, Paula and to all of our loyal readers. The year 2016 is in the rear view mirror and so, too, are a number of holiday tournaments. Host teams fared okay with Minnesota and Robert Morris wining their respective tournaments (the Colonials win an impressive one using victories over Ferris State and Quinnipiac to take the title.) UMass Lowell defeated host Dartmouth in the title game in Hanover, N.H., while Western Michigan and Colorado College each picked up trophies for the NCHC in the GLI and the Florida College Hockey Classic, respectively. The final tournament victory went to Connecticut in the Desert Holiday Classic. While the Huskies recorded two impressive wins over St. Cloud State and Brown, the craziest game may have been the semifinals between Brown and host Arizona State, an 8-8 tie decided in a 3-on-3 OT session.
Paula, we have talked in the past about the fact we don't love shootouts to decide tournaments. They are a necessary evil so that we don't have teams playing 2, 3 or 4 overtime games, possibly on back-to-back nights in season. But I like what the Sun Devils did in inserting the 3-on-3 OT after the game was officially a tie through 65 minutes. Might that be a happy medium to limit the number of shootouts needed to decided advancements and champions in tournaments?
Paula: Happy New Year to you, too, Jimmy and everyone reading!
It was an interesting weekend of tournament hockey, and after answering your question about the shootouts, I want to get back to a few tidbits about the tournaments.
I don't like shootouts to decide any game, period, but I do see why they are preferable to endless overtime play during regular-season tournaments. Using the three-on-three overtime after 65 minutes of play is an excellent compromise to the shootout. So too, though, is an official tie in the books after 65 minutes of hockey with the tiebreaker being the total number of tournament goals scored by the teams vying for the title. If teams are tied in that regard, then maybe a shootout or the three-on-three can decide it.
I was excited for overtime in the championship game of the Great Lakes Invitational Tournament precisely because that tournament format calls for regular 20-minute OT periods until someone scores. I know that can turn into a very exhausting night for players, but it can also be a very thrilling thing for fans.
As for the tournaments, I don't want to gloss over the big-time wins of some of the teams, particularly Robert Morris, a team that captured back-to-back Three Rivers Classic titles and completely dominated Quinnipiac in that title match.
It was especially important for both Minnesota and Western Michigan to win two games in their respective tournaments. In each of their respective tournament fields, each was in the top 16 of the PairWise Rankings and each was low enough in the PWR that losses could have been very costly. Kudos to the Golden Gophers and Broncos for taking care of business.
Jim: You've brought up the PairWise, so we might as well begin talking more about it. For one, I think most people can agree this is the time of year where teams across all conferences have played enough games that the PairWise begins to tell us something substantial.
With that said, I thought one thing that was most interesting last weekend was the fact that Minnesota-Duluth and Penn State both flip-flopped positions and then, one night later, flip-flopped back despite the fact that neither played a game this weekend. It really proves that the PairWise is dynamic. As much as it does matter what your team does on the ice, it's actually more important how your opponents and your opponent's opponents play.
We can also look a little further down and see that three teams are currently tied for fourth in the number of comparison's won: Harvard, UMass Lowell and Boston University. Harvard has the highest RPI and BU the lowest among the trio, the criteria that will be used on the final day to break ties if they exist. That underscores how important a team's RPI is understanding in that RPI can be used twice when determining the PairWise because RPI is one of the criteria that comprises the Pairwise and once the PairWise has been calculated, RPI is used again to break any ties.
Paula: The importance of the RPI explains why so many coaches are focused on the PWR from the very start of the season. It's not that coaches look past the value of capturing a conference title. In fact, I don't know of a single coach that doesn't have emphasize the goal of regular-season and playoff conference titles, even those who coach programs that have established themselves perennial national title seekers, the kinds of programs that nearly always have a reasonable chance of making the NCAA tournament or have many Frozen Four appearances.
The first half of the season, though, matters now more than ever in terms of NCAA postseason play. While every team wants to be playing its best hockey in March and April – if it plays in April – no team has the luxury of rebuilding or coming together in the first half if it has any expectation of making the NCAA tournament. There is more parity within conferences, providing dark horse teams the opportunity to capture a playoff championship and an automatic NCAA tournament berth, knocking bubble teams out of the top 16 in the PWR.
Also, the importance of RPI highlights the importance of strength of conference – as we've seen repeatedly illustrated by the NCHC since its inception and often see with Hockey East. When teams in a given conference win their nonconference games consistently (and most of those come in the first half), they contribute to the strength of their overall conference, and that helps in league play when they're beating each other up.
The weight of the first half of the season also illustrates differences between the conferences, especially in the amount of nonconference action Big Ten and ECAC teams see in the first half versus the other leagues.
In the past, I've been critical of coaches who focus too much on the national tournament at the expense of league competition and there are a few guys out there who still do that, but I don't fault any coach who does what he can to maximize his team's PWR potential in a given season. Now that the process is fairly transparent, it makes sense to think of the PairWise from the very start of the season. And now that we're at the midway point, there is enough information there to provide real meaning to the kinds of speculation we fans enjoy.
Jim: The reality there are many coaches who are thinking about their PairWise well before the season begins. Building a nonconference schedule is critical, particularly for leagues like the ECAC, Big Ten and Hockey East who all have 12 or more nonconference games to fill each year.
As we've discussed in this space before, your nonconference schedule matters so much when it comes to the PairWise. A team that can go, say, 9-3 in a 12-game nonconference slate needs to be a little better than a .500 team in league play and then have some success (notice, I don't say win) in the conference tournament. But if you go 3-9 in nonconference play, it's highly likely (I'd guess above 95% of the time) that said team would have to win the nonconference schedule.
Thus, as a coach, when building a nonconference schedule, you have to schedule games you are confident your team can win if you want some NCAA hopes. This doesn't even take into consideration the "bonus points" that are awarded for beating a team that finishes the season in the top 20 of the RPI. Get a couple of wins and earn bonus points and you can watch your RPI sky rocket.
All of this is a little technical for most but there still is such lack of understanding of how the PairWise works (and thus how the NCAA tournament is selected). Thus, I feel like every time there is a chance to accurately explain the PairWise and everything that goes into it, we should.
Paula: We are in agreement there, Jim.
Other than the inevitable end and all the excitement it brings, what are you looking forward to in the second half? I know that the Bean Pot in the first half of February is all-consuming out East, and that fans in the conference I cover, the Big Ten, are eager to watch a lot of conference play in the second half – eager to see, too, if Penn State and Ohio State will be able to sustain their first-half success.
Related to that, I'm looking forward to the last-ever Big Ten championship tournament in Joe Louis Arena. I have mixed feelings about that venue. It's not a favorite among the press, but it has a long history associated with college hockey.
At the end of the season, though, I'll be eager to see how the new WCHA playoff format will work and the single-game championship hosted on campus by the highest seed.
Between now and then, there is a lot of hockey to be played, and I'm looking forward to watching how the conference season will unfold, especially in leagues that look like horse races right now. At midseason, there are conferences that are already sorting themselves out, but both Atlantic Hockey and Hockey East look like they may be shaping up to have very dynamic, unpredictable endings.
Jim: I'm really looking forward to watching the conference races. The best one might be the one you didn't mention: the NCHC. That conference has six teams playing extremely well all season and the two that have struggled – Colorado College and Miami – both had excellent starts out of the break. The NCHC tournament easily could have the most "upsets" (defined only as a lower seed beating a higher one) of any conference.
Trying something new for the New Year
We want to change things up a little for 2017.
Thus, we are looking for questions from you, our readers, that we can answer at the end of every TMQ. Thus, if you have a question you would like answered, email it to [email protected].
We will select one question each week and answer it, so send us your questions and we will try to answer it in a future column.