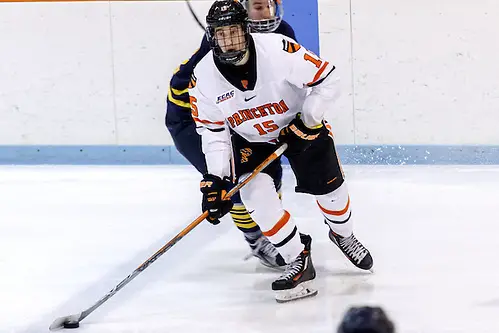 Princeton sophomore forward Max Véronneau, who led the Tigers to a 5-2-0 record last month, which included the program's first five-game win streak since the 2010-11 season, was named the Hockey Commissioners' Association National Division I Player of the Month for December.
The HCA National Rookie of the Month for December is Minnesota State forward Marc Michaelis. He tied for the Division I freshman lead with 12 points last month, while ranking second among first-year skaters by averaging two points per game. Michaelis tallied five goals and seven assists in six contests, pacing the entire WCHA in points, points per game, goals (tied), assists (tied), power-play assists (tied, with three) and power-play points (tied, with four).
Véronneau finished the month as the Division I leader in assists (10), power-play goals (4) and points (16), while ranking fifth in both points per game (2.29) and shots on goal (29), tying for third in plus-minus (plus-8) and finishing eleventh in assists per game (1.43).
The Ottawa, Ont., native was named the NCAA Star of the Week twice (third star on Dec. 6 and first star on Dec. 13). He also earned ECAC Hockey Player of the Week honors twice in December, while recently being named the league's Player of the Month. On Dec. 2 and 3, the first-line forward had a hand in every goal in a loss to No. 18 Union, scoring twice and adding one assist. He had two goals and two assists in a 6-5 overtime win over Rensselaer the next night. The following weekend in a sweep of No. 7 Quinnipiac, Véronneau had three assists in a 5-3 win and two goals and one assist in a 4-1 win. He added an assist in a win over Massachusetts and notched two assists against No. 19 Minnesota State on Dec. 17.
During the month, Véronneau helped the Tigers record three wins over ranked teams (Quinnipiac – twice and Minnesota State). Princeton now has five total wins (Bemidji State – twice; Quinnipiac – twice and Minnesota State) over ranked opponents for the first time since the 2008-09 season when they won six (Northeastern, Minnesota State, Nebraska-Omaha, Cornell twice and Yale).
Véronneau, who earns his first-career HCA National Monthly Award, currently leads Princeton in scoring this season with 21 points (1.31 points per game) in 16 games on six goals and 15 assists.
Michaelis, a Mannheim, Germany native, was a two-time WCHA Rookie of the Week in December, earning the honor after a seven-point series (4g-3a) Dec. 2-3 versus Alaska and a four-point weekend (1g-3a) Dec. 16-17 at Princeton. During the Alaska series, Michaelis recorded his first career hat trick (including the game winner) and assisted on another in a 7-3 Maverick win in the series opener, before adding a short-handed marker and two assists the following night in a 5-5 tie. He recorded a point in five-of-six contests and had a trio of multi-point efforts, including a one-goal, two-assist effort in a 5-4 road triumph Dec. 17.
Michaelis enters the second half of his rookie campaign pacing the WCHA with 16 assists and 26 points, while his league-best 1.30 points-per-game average is tied for 24th nationally (fourth among freshmen). He also leads the 19th-ranked Mavericks with 10 goals.