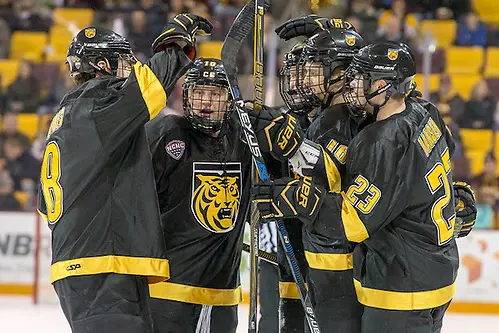 Each week during the season, we look at the big events and big games around Division I men's college hockey in Tuesday Morning Quarterback.
Paula: Talk about an interesting first weekend in January, Jim, and an interesting response to that first weekend of play.
After Minnesota-Duluth tied and lost to Colorado College, Denver moves to No. 1 in the USCHO.com Poll, Harvard to No. 2, and very few people show confidence in the Bulldogs, who slip to No. 3 with six first-place votes. Additionally, we have four teams earning first-place votes for the first time since our preseason poll of Sept. 26.
The last time we had four teams receiving first-place votes in the poll during the regular season was Feb. 1, 2016, and opinion wasn't nearly as divided for that ballot as it was for this week's. Last February, Quinnipiac received 35 first-place votes followed by North Dakota with nine, St. Cloud with five and Boston College with one.
The last time we had a No. 1 pick receive just over half the votes for that spot was earlier this season, and it was also Denver — which was also the last time the Pioneers were ranked No. 1, receiving 26 first-place votes.
With a split against Ohio State, Penn State actually moved to first in the PairWise Rankings, but slipped from second to fourth … but picked up three more votes for first place.
Then there's Harvard, riding a six-game win streak with strong victories against Quinnipiac and Princeton, moving to second in the PWR and jumping a spot from fourth to second in the poll.
I think the voters are more than just divided in terms of votes. It looks to me as though the voters are at a point where they're waiting for a team to emerge as a flat-out favorite, and that's not something we may get until the regular season is nearly over.
Jim: Well, the lack of confidence in Minnesota-Duluth isn't overly surprising and isn't solely because of a loss on Saturday to Colorado College. The voters also might be taking into account that the Bulldogs easily could have been swept, tying the Tigers on Friday in the final minute before scoring in the three-on-three overtime to earn the extra point in the NCHC standings.
It might just be a hiccup for the Bulldogs who still sport the most difficult schedule to date based on RPI. It also was UMD's first games back from break after not playing the previous weekend as many teams did. Two games against St. Cloud State this weekend should tell us whether there is a reason for concern in Duluth.
The team that kind of snuck up on me is Harvard. You mentioned the Crimson's six-game winning streak, tied with UMass Lowell and Air Force for the longest current streaks. For at least a few minutes on Saturday night, Harvard had climbed to the top spot in the PairWise before Penn State returned to #1.
What's impressive to me about the Crimson is its offense. During this six-game streak, Harvard has scored five or more goals five times (the other game was a 4-2 victory).
Many worried that when Jimmy Vesey graduated, Harvard would suffer but that hasn't been the case thus far. But just like Penn State, it is fair to question the Crimson's schedule. We've mentioned that Penn State hasn't played that difficult of a schedule, currently ranked 22nd nationally. Well, Harvard's schedule is ranked a slot lower – 23rd.
Is there anything we can take away from that?
Paula: I'm not sure what can be deduced in the moment, other than that voters understand the strength of schedule and are reluctant to vote either Penn State or Harvard into the top spot at this point. Both also play in conferences whose league schedules aren't fully underway until well after the start of the regular season, so that may also play into perception. Regardless, the Nittany Lions and Crimson have two losses each, which is pretty impressive for the start of January.
We talk a lot about teams that are given the benefit of the doubt in the polls based on their conference affiliation, and I think the Duluth is one of those teams at this point. While the Bulldogs may have been shaking off some rust this past weekend, they're 2-2-2 since the start of December. Based on their strength of schedule, their PWR is high but their recent results could arguably justify an even lower ranking than where they were placed this week.
You mention Harvard's loss of Vesey this season and there's another parallel with Penn State. The Nittany Lions had so many question marks after graduating their first senior class and losing junior goaltender Eamon McAdam to pro hockey. Harvard also creeped up on me, but Penn State has been on the radar since the start of the season because of the sheer number of goals the Nittany Lions are capable of scoring. That makes Ohio State's 3-0 shutout win Friday to snap PSU's 13-game unbeaten streak and Christian Frey's 46-save performance even more impressive. The series against OSU also marks the first time that Penn State was held to four goals in a weekend on the season.
Okay, changing direction a little. How do you account for Minnesota State still being ranked? With all due respect, this baffles me. The Mavericks do have winning overall and WCHA records, but they're 30th in the PWR and they're 4-2-1 since the start of December. Yes, they have won three in a row but – again, with all due respect – they swept Alabama-Huntsville last weekend for two of those wins. If I'm missing something here, what is it?
Jim: I think for Minnesota State, the Mavericks survived falling from the poll when it was losing. It entered last weekend at No. 19 and won both of its games against Alabama-Huntsville. Thus, you really can't knock them out this week.
The real question is why didn't the Mavericks fall out of the poll weeks ago. The four wins against ranked opponents to begin the season placed Minnesota State in the top 10 and it has been a slow descent since. But trust me, voters (I think) understand this team is on thin ice.
I do want to get your take on what was a fantastic World Junior tournament for college hockey. The American team constructed primarily of college players took gold without a single loss. And even though I know, based on last week's column, that we both hate shootouts to decide championships, the U.S. – and particularly Denver's Troy Terry – survived the skills competition to take home gold.
This really was a fun tournament to watch top to bottom. I know you were following along. Give me your thoughts.
Paula: As much as I hate shootouts, there wasn't anything about that tournament that I didn't love. The competition was so very good this year and any one of those teams that made it to the medal round could have won the gold.
I loved that the U.S. never led in the gold-medal match, and I loved that they won in Canada. That rivalry between the U.S. and Canada on that international stage is as good now as any international rivalry we've seen in the past. It's so much fun.
Troy Terry was amazing, but there were so many outstanding moments from players on the U.S. team. Boston College's Colin White led the team with seven goals, Boston University's Jordan Greenway is on his way to becoming a household name, if he isn't already, and Calgary Flames draftee Tyler Parsons' performance in net makes me wish the Chesterfield, Mich., native had decided to play for any of the Division I colleges in his home state.
Five kids from Minnesota, five kids from New York State, three from Missouri, three African-American players – I believe the highest number ever on an international team – and, as you said, a squad loaded with collegians, coached by one of the nicest guys in college hockey, Bob Motzko. Not only was this tournament fun to watch as a fan of Team USA, but it was amazing to see it as a measuring stick for the growth of amateur hockey in the U.S.
You've Got Mail
"Last year, there was significant conversation about the proposal initiated by the Big Ten to limit the ages of incoming players. I have forgotten the details, but it clearly favored some schools over others. I have heard nothing about that this year. Whatever happened to it?" – Andrew Pond
Jim: If you weren't paying attention during the Frozen Four last year (and let's face it, a lot of hockey fans tune out when their team's season ends), you easily could have missed the fact that, in the 11 hour, the Big Ten withdrew its proposal to limit the age of freshman to 20 years old.
The fact is the way NCAA legislation works it is likely that – despite nearly three-quarters of schools that play NCAA Division I hockey – this legislation could have passed. But I think that the schools that supported it, most notably the Big Ten teams, understood that bullying your way to legislating the sport is dangerous. Hockey has always been a college sport where teams work together (for the most part) and that the annual Coaches' Convention is generally where discussion on legislation starts. Circumventing the unwritten process, though allowed, wouldn't have made many friends for the Big Ten. And, in my opinion, that mattered.
Paula: I wasn't shy about my ire regarding this proposal. It completely favored teams with larger budgets and high-profile programs and it seemed particularly mean-spirited – a term I used at the time – coming from the Big Ten after the formation of B1G hockey shook up college hockey's landscape and outright killed the CCHA. To suggest that teams with whom these B1G schools had once shared leagues – like Michigan Tech and Ferris State, to take two examples from the state where I live – should be forced to compete only for a pool of players that young was especially tone deaf.
Also, as you mentioned Jim, that it came from a conference that could propose such legislation when other leagues – because of their makeup – could not do so also seemed like a bullying tactic to me.
That it came, too, when the newly formed league with only Big Ten schools was underperforming in embarrassing fashion made it seem all the more churlish in nature.
If you have a question you'd like answered in next week's TMQ, send it via email to [email protected].