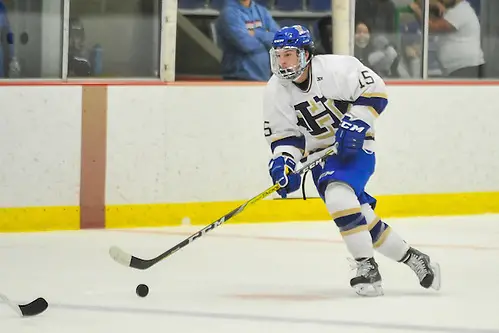 Last season saw the Hamilton Continentals playing some of their best hockey of the season in the month of January, where they went 8-1-1 and had an 11-game unbeaten streak stretching back into December. February was not that successful, as the team finished 1-4-2 over their final seven games and saw a first-round exit from the NESCAC tournament. So what about the 2016-17 edition for Hamilton that has started this campaign at 10-0-2? According to their coach, there have been some lessons learned and a different approach that should create great optimism for the folks in Clinton, New York.
"We don't pay attention to streaks or national rankings or any of that stuff," stated coach Rob Haberbusch. "I think we talked about it once and that will be the only time we talk about any of that stuff. Our focus is coming to the rink every day to be better as a hockey team and to focus on the team that is up next — nobody else. The only opponent we should be worried about is our next one, so that is the way we look at things. We don't worry about streaks or rankings; we are just trying to be the best team we can be."
While the renewed focus and singular direction may be valuable lessons learned from last season, there are some other pieces of the puzzle for this year's team that certainly are key contributors to the great start for Hamilton. Last season, the top three scorers for the season were the line of Robbie Murden, Neil Conway and Brendan Willett. This year's current table finds sophomores Rory Gagnon and Jason Brochu along with senior defenseman Jon Carkeek in the top five, with Willett and Conway and Murden not so far behind in seventh — all things the coach sees as a positive with the team.
There is no question we have much better balance in our scoring this year," noted Haberbusch. "We relied on one line maybe too much in the past, so it is refreshing to see guys like Jason and Rory who have made that jump in acclimating to the college game from their freshman to sophomore seasons. Jon has fit in just great on the power play, and in fact we have both power-play units producing goals for us. That balance makes it difficult for teams to defend or match up with a singular unit.
While 15 different players have accounted for the scoring, one main figure has emerged as the foundation of the Continentals' success in keeping the puck out of their net: junior Evan Buitenhuis has been among the nation's leaders in goaltending this season with his current 8-0-2 record, .957 save percentage, and minuscule 1.38 goals-against average. Buitenhuis has been the modicum of consistency so far this season, something his coach knows has come with a lot of effort and dedication to his craft.
"Both our goalies have been terrific," said Haberbusch. "I was delighted to see Charlie [Fennell] pick up a pair of wins for us and play so well against Skidmore to start the new year, but Evan has been our rock back there and a very big part of giving us a chance to win every night. He has really matured in the position and has such great focus and poise. If anything bothers him in the crease, I don't know what it is as he makes the saves we expect him to and most of the time the ones that most goalies won't. He is a big reason our defensive numbers are so good, and we certainly hope he can maintain this high level of play in the second half."
Following this weekend's home-ice wins over Colby and Bowdoin, which vaulted Hamilton into first place in the standings, Buitenhuis' numbers are even better in conference play, where he is 5-0-2 in seven games played, has a save percentage of .960, a goals-against average of 1.26, and has a pair of shutouts in wins over Wesleyan and Middlebury.
Friday night, the Continentals host Connecticut College before closing out a stretch of five of six games played at home with Tufts. While the home record has been impressive at 5-0-1 so far this season, the Continentals have matched that performance, going an identical 5-0-1 on the road. The consistency has been impressive and bodes well for a team that will play four of its final six games in February on the road.
"Right now it is a lot of fun and everyone is contributing to our success," noted Haberbusch. "We are just focused on Conn. College right now and won't get ahead of ourselves."
Based on lessons learned, it is a formula that is working for Hamilton.