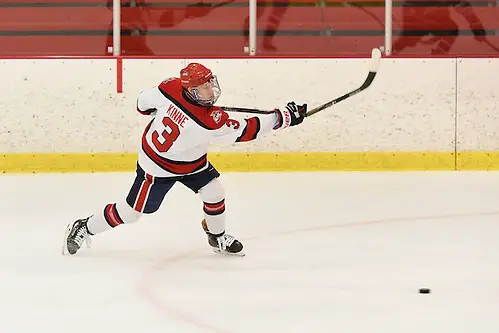 Ask Bob Kinne if there is anything special he does on the ice that makes him such a great scorer and you will quickly discover the answer is no.
"It's just about being at the right place at the right time," said Kinne, the leader in points for the Saint Mary's Cardinals. "I do whatever I can to help my team win. My success is a result of having great linemates."
Kinne was certainly in the right place over the weekend in a crucial MIAC series against St. Thomas, scoring two goals in a 6-5 loss to the Tommies Friday before punching in the game-winner in the Cardinals' 2-1 victory the following night.
Kinne also dished out two assists in the two games and now has a team-best 17 points. His total includes 10 goals, a category he leads the team in.
For Kinne, it's all about understanding his role.
The former transfer from Bemidji State has blossomed into a star in Division III hockey, and has the Cardinals in contention for a conference championship. Saint Mary's is 8-5-3 overall and 5-3-3 in the MIAC, good enough for second place in the standings.
"I've really grown up and understand what it takes to be a successful hockey player," Kinne said. "I went from being a fourth-line guy at Bemidji to stepping into a more prominent role here. I understand my role and it's worked out well for me."
Kinne and the Cardinals were hoping to sweep the Tommies, but a split isn't such a bad thing when you consider the competitive nature of the MIAC.
"It's a battle every week," Kinne said. "Any team can win on any given night. You have to be ready to play every game."
Saint Mary's is motivated this year after last season ended in disappointment, the Cardinals dropping five of their final six games to finish 9-14-2.
"We had some injuries to key players last year, but everyone is healthy and we have a big senior class," Kinne said. "There are eight of us, and we're all trying to make the most of this season and make a run at the conference championship."
Kinne is doing his part to help the Cardinals make that run while serving as an example to younger players.
"I work hard and I try to lead by example every day," Kinne said.
Hard work has no doubt paid off for the senior forward. He is a two-time first-team All-MIAC selection and on pace to earn that honor for a third consecutive year. He has tallied 18 goals and 30 assists and is looking forward to finishing his career on a high note.
"It's been a great ride so far; I'm happy with the opportunity to play hockey here," Kinne said. "We want to keep moving forward and put ourselves in a position to win a MIAC title."
Gusties continue to battle
Wins have been tough to come by for Gustavus Adolphus. However, the Gusties did manage to forge a 3-3 tie with Wisconsin-Stout Saturday night and improve to 1-8-4 on the year.
What stands out about that game is that the Gusties trailed by two goals with seven minutes left in the game and found a way to avoid defeat. They scored twice in a span of just over a minute.
Colin Hernon cut the deficit to one with 6:51 left, and a little over a minute later Reid Brown scored his first collegiate goal to tie the score and force overtime.
Gustavus has seen three of its last four games end in ties is still searching for its first win since October, when it defeated St. Olaf 4-1.
The Gusties have managed to score only 23 goals this year while allowing 38. Evan Erickson leads the team in goals scored, tallying four, while Jake Bushey ranks first in points with 11.
Wolter rises up
Colton Wolter stepped up in a big way for Wisconsin-Eau Claire in its final game of the Pathfinder Tournament at Oswego State.
Staring at a 3-3 tie with Curry Saturday night, Wolter scored with 3:01 left in the action to lift the Blugolds to a 4-3 win.
The goal by Wolter was his seventh of the season and he now ranks third on the team in points with 17. Wolter has scored three game-winning goals this season.
Mac Jansen pushed his team-leading goal total to 11 as he scored once, while Kyle Lee punched in his fifth goal of the year. The Blugolds have scored 65 goals in all.
Jay Deo stopped 23 shots in the victory and notched his 11th win of the season. Deo has made 16 consecutive starts for Wis.-Eau Claire, which is 11-2-3 on the year. Four of those wins have come on the road. The win over Curry marked the first neutral ice win of the year for Wis.-Eau Claire.
Raiders look to build momentum
The Milwaukee School of Engineering finished off a series with Lake Forest with a win Saturday, knocking off the Forresters 3-2 after losing 3-2 in the opener.
It was the third win in the last five games for the Raiders, who are 5-5-3 overall and 2-4-2 in the conference. MSOE is entering a stretch where its next five games are at home, including two against winless Finlandia.
The stretch is one that could make or break the season for MSOE, which will play eight of its final 12 games at home.
Gage Christianson has played a pivotal role for the Raiders and will be counted on to continue to step up. The senior forward has scored seven goals while dishing out nine assists.
MSOE also has two capable of goaltenders in Austin Campbell and Zach Woodman. Woodman has three wins and a 2.88 goals-against average. He is 3-5-1 on the year. Campbell is 2-0-2 and has a 3.33 goals-against average.