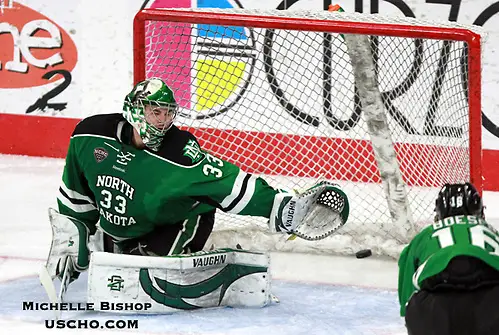 The North Dakota-Omaha rivalry isn't exactly as old as time.
The teams' first meeting came in November of 2010, during their first season together in the WCHA.
The series quickly picked up steam, though, and has been known over the last six-plus years for tight, entertaining games. Imagine, then, a two-game set in which one of those teams scores 16 goals against the other.
That's what happened last weekend when UND visited Omaha's Baxter Arena. The Fighting Hawks trounced UNO 9-1 on Friday night – giving former UND head coach and current UNO bench boss Dean Blais the most lopsided loss in his 18-year college coaching career – before besting the Mavericks again 7-3 on Saturday.
In speaking with USCHO.com on Tuesday, UND head coach Brad Berry was asked if he could've seen such scoring output coming.
"Not in our league," Berry said. "Especially in our league, it's so tough and there's eight very good teams in our league that play very well defensively. It's one of those things where we got a little bit of momentum on Friday that carried over into Saturday, and we had our full lineup.
"You can't get caught up on that because that doesn't usually happen every week, so we've got to keep building on what we do as a team and play with and without the puck and try to get better and try to build in the second half here."
There are no handshake lines after Friday-night games in NCHC play, and Berry said there wasn't much interaction between both teams' coaching staffs after the series opener in Omaha. There was more chatter after UND's 7-3 win on Saturday, but Berry, a former UND assistant coach under Blais, suggested there wasn't too much to the finale's postgame pleasantries.
"Both of us have absolutely the utmost respect for each other," Berry said. "And Dean has done a tremendous job for our program here at North Dakota, winning two national championships, and he's done a great job building that program in Omaha.
"Just personally, he's responsible for me getting an opportunity to coach and getting to come back to North Dakota. I have the utmost respect for him, and at the end of the day, we said 'good luck' to each other and said we'd see each other down the road at the end of the year. It was pretty professional and respectful."
Berry served on UND's coaching staff as an assistant between 2000-06 before moving into the professional ranks with the AHL's Manitoba Moose (2006-08) and the NHL's Columbus Blue Jackets (2010-12). He came back to UND to work under former head coach Dave Hakstol from 2012-15 before succeeding the current Philadelphia Flyers coach.
UND was buoyed in part last weekend by the return of forwards Brock Boeser and Tyson Jost, who both played in Friday's blowout win.
Boeser scored in his first game in nearly two months after recovering from a wrist injury. Jost's goal and an assist Friday came on 30 minutes' sleep after playing for Canada in a gold-medal game defeat to the United States in the World Junior Championship in Montreal.
Deciding to let Jost play on a long travel day was a judgement call. Jost flew into Omaha's Eppley Airfield and met with his Hawks teammates just a few hours before Friday's opening puck drop.
"He and I were going back and forth through text messages a day or two before him coming back and joining us," Berry said. "That was the plan all along, for him to fly in the day of the game, and then it was a mutual decision as to whether he was able to play.
"He was supposed to fly into Omaha at 11:30 but there were delays that got him into Omaha at 3:30, so the first thing I said through text was, 'Let's get you here before making a decision on your playing. Let's talk face-to-face and see how you're doing,' and when we met in the lobby, he had a sparkle in his eye and a jump in his step and he had energy in the tank.
"I think that's usually what happens after you play at that level and you have adrenaline in your body," Berry continued. "We decided to put him in the lineup, and I'm glad we did."
Berry wasn't kidding.
Jost played for the fourth consecutive day on Saturday and for the fifth time in six days, and yet he still finished UND's series in Omaha with three goals and two assists.
UND (12-6-3 overall, 5-4-1-1 NCHC) will hope to get more out of Jost and Co. – presumably all well-rested – this weekend when Miami (7-8-5, 3-4-3-1) visits Grand Forks, N.D.
Blasi feeling good heading into big series
The Miami team visiting UND this weekend started this season with inevitable growing pains. Such issues are likely to come up for a team carrying 14 first-year players.
After a handful of positive early results, however, the low point came in the form of a nine-game losing streak (including two shootout losses at then-No. 1 Denver on Nov. 18-19) between late October and early December.
It wasn't all bad, though, and a change was felt in the RedHawks' camp near the end of that skid. It's showing more all the time now, especially with Miami riding a five-game winning streak into this weekend's series in Grand Forks.
The two most recent wins came at home last weekend when Miami swept No. 20 St. Cloud State. A Josh Melnick overtime goal was the difference Friday in the RedHawks' 3-2 win before four Miami players – Melnick included – scored in MU's 4-1 rout of the Huskies on Saturday.
At his press conference earlier this week, Miami head coach Enrico Blasi was asked to describe the mood in his team's dressing room ahead of the trip to UND.
"As you could imagine, it's good energy," Blasi said. "Any time you come off a win or a couple wins, it's a good vibe in the locker room.
"It's been a couple of good days of practice and getting ready for the national champion. We've got to be at our best, and that's been really our focus the last couple of days."
Miami's good run of form dates back to before the start of their current winning streak. The shootout losses at Denver were followed two weeks later by a pair of one-goal losses at a Cornell team that currently sits five games above .500 (9-4-1).
"Since the Denver series in the middle of November, we've been playing some decent hockey, even though maybe some of the results weren't there," Blasi said. "I've liked the way we've competed and I've liked the way we approached the games.
"Sometimes we lose sight of the focus and lose sight of the situation of the game and what needs to be done, but lately it's been more consistent and a better understanding of that."
Miami's next stretch of games isn't easy: At No. 7 UND this weekend, at Omaha next week and then No. 14 Western Michigan in Oxford, Ohio, on Jan. 27-28. If the RedHawks continue playing as they have in recent weeks, however, plenty of league points are there to be had.
"I think it's just the lessons that we've learned over the course of the last couple of months," Blasi said. "Understanding how to manage the game and the situation that you're in and the plays that you have to make in those situations, I think, is probably the biggest difference between our team now and maybe a couple of months ago."
Players of the Week
Offensive player of the week: Troy Terry, Denver. The United States' shootout hero from the World Junior Championships, Terry returned to DU later last week and posted a career-high five points in the Pioneers' 6-1 win over Arizona State on Saturday. Terry finished the game against ASU with three assists and two goals, including the game-winner.
Defensive player of the week: Christian Wolanin, North Dakota. The UND sophomore defenseman picked up four points in the Hawks' big road sweep against Omaha. Wolanin helped UND go 3-for-6 on the power play each night at Baxter Arena while helping the visitors kill eight of UNO's nine power plays on the weekend.
Rookie of the week: Henrik Borgström, Denver. After missing six games due to illness and then WJC duty for Finland, Borgström recorded six points in two wins over Arizona State. Against the Sun Devils, he posted four goals, two helpers and a plus-4 rating.
Goaltender of the week: Alex Leclerc, Colorado College. The freshman Tigers netminder is becoming a regular feature in this portion of our NCHC column, having picked up his third consecutive nod. Leclerc stopped 69 of the 72 shots he faced last weekend in a tie and win at Minnesota-Duluth, and helped CC limit UMD to a 1-for-10 power play showing.