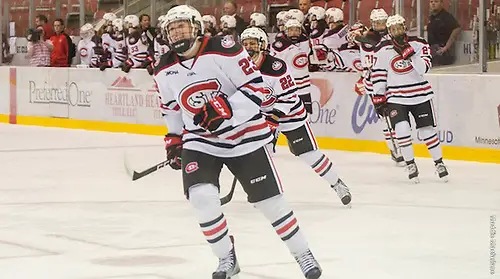 Taking over a program, installing your systems, and creating a new culture take time. St. Cloud State coach Eric Rud has patience. And the work he and his team have put in since he took over as head coach before the 2014-15 season is starting to show results. Despite heading into the winter break on a six-game losing streak, the Huskies upset no. 7 Colgate in the first weekend back with a 7-4 win on Friday and 0-0 tie on Saturday.
St. Cloud State has never made an NCAA tournament appearance. They finished third in the WCHA once, in 2009-10, but ended up in seventh or eighth place in five of the sixth seasons since then.
Rud is a realist. He thinks his team let some games slip away in the first half and would be a bit happier if they had a few more wins to their name at this point, but he also knows that growth doesn't happen instantly. So instead of focusing on the wins column, something he thinks will come with time, he's focused on the improvement his team is showing on the ice.
"I think the first half was a little bit up and down," Rud said. "You know, we'd like a couple more wins in there somewhere, but overall I think our approach and our practice habits we were happy with. In terms of our energy or our work ethic, I think we're real happy with where the team is at. In terms of just where the program is right now, we're pretty happy."
There's an adjustment period for a program when a coaching change happens. Two and a half years into Rud's tenure, he's starting to feel like everyone has settled in, himself included. The familiarity he has with the players and that they have with his philosophy is one of the reasons he thinks the Huskies are improving. They no longer have to focus on broad strategies or systems; now they can spend the time focusing on the finer details.
Rud thinks there are two paths a coach can take when they start with a new squad. He said there's the option where the coach comes in and tries to immediately make improvements to the win-loss column. They play conservatively and hope to eke out a bunch of 1-0 wins.
The other option — the one Rud has employed with the Huskies — is to go in and "try to do things the way you want to do." The process takes longer and you may have to look harder to see signs of improvement, but Rud doesn't have any regrets about his choice.
One major change he's made is to put the focus on the offense. A product of being a bottom-half team in a highly competitive conference is relying heavily on the defense to try to keep the game manageable. Not only does Rud think that's almost impossible in the WCHA, but it's also not very fun for the players. So he's instilled a culture where it's encouraged that the players get aggressive and mistakes happen, but aren't emphasized.
"That's what we spend the majority of our time on and that's our mentality," he said. "We're trying to make plays. Each year we get a little more dangerous offensively. In order to win at a high level, you have to go out and play a style that's going to let you make plays and score some goals. If you play a style where you plan on winning 1-0, a lot of nights that's not going to happen."
When the team hits the ice for practice after a weekend series, the coaches aren't harping on what went wrong or where players might have made mistakes. As a whole, the squad is working on focusing on the future and not getting too bogged down in what happened in the past.
Rud is working on getting the team to focus solely on themselves and what they can accomplish, as opposed to worrying about the next opponent. It's part of the culture change he's instilling in his athletes. Talking about how great their opponent is doesn't do much to instill confidence. So they try not to overthink things in terms of which team they're facing. Instead, they work on playing the way they want to play and executing that on a consistent basis.
Being proactively offense-minded is a major switch in philosophy and mindset and one that can be difficult for the players to embrace. Having Janine Adler be so solid in net this season gives the rest of the players the freedom — and confidence — to push forward. Adler is a 21-year-old freshman who was part of Switzerland's bronze-medal winning team in Sochi in 2014.
"To have Janine emerge and be as solid as she has been all year for us really helps," said Rud. "She's a little older, she's very experienced — playing on the Swiss National Team and being an Olympian — she carries that confidence with her. I really think it brings a calmness over our team when she's in the net. You know she's going to give a solid effort and you know if a weak goal goes in, it's not going to rattle her. The key to her really solid season is her mental approach."
So far the changes seem to be paying off. The Huskies scored just 45 goals all season in 2014-15 and 63 goals in 2015-16. They've netted 40 already this season. Rud would like to see his team be able to pull off wins in a few of the closer games, but knows that the win/loss column isn't where St. Cloud needs to be looking to gauge their success.
"In terms of ultimate wins and losses, we're going to keep plugging away at that. We just keep getting more competitive every year. We've had a few games that we let slip away this year and we've had a couple of big wins along the way. As long as you keep achieving a few benchmarks along the way, everyone stays energized. They see it's working. The biggest thing is to practice that way. A lot of our coaching is done in four days. Then the weekend comes, it's up to them to go out and make plays."