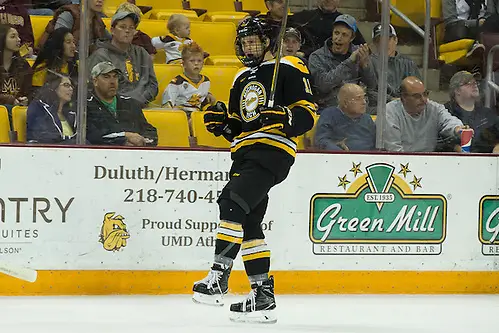 With the new 2017 calendars ripped open and on display, Michigan Tech finds itself in an enviable position — second place in the WCHA with 36 points.
Plus, they have four games in-hand over first-place Bemidji State.
Still, if given a hypothetical choice to switch bodies with the Beavers, Tech coach Mel Pearson knows which team he'd rather be.
"It's nice to have those games in-hand, but I was just thinking about this the other day: would I rather be 13 points up, or would I rather be the team with four games in-hand?" Pearson said Wednesday. "I think I know who I'd rather be, but we're not in that position. We have to go out there and earn the games like Bemidji did. They earned their points and their position, and now we have to go out and match that."
The Huskies, at 14-9-3 overall and 11-3-2 in the WCHA, have been one of the hottest teams in the country since starting their season with one win in their first eight games. They're 13-4-1 since, which includes last week's split with No. 13 Notre Dame and a solid showing at the Great Lakes Invitational, which included a 2-0 shutout of Michigan and a heartbreaking 1-0 overtime loss to No. 14 Western Michigan.
"At the GLI, I thought we played two pretty good games, but we were a little rusty," Pearson said. "Still, I thought we're getting a little bit better every game. And you're only as good as your last game, but our last game (a 4-2 win over Notre Dame) we were really good in a lot of different areas. So that's a good thing."
Against the Irish last weekend in South Bend, Ind., the Huskies scored five goals from five different players (Joel L'Esperance, Jake Jackson, Gavin Gould, Michael Neville and Alex Smith). That depth, according to Pearson, has been the biggest reason for Tech's midseason turnaround.
Unlike last season's Huskies team, which boasted WCHA goalscoring leader and Hobey Baker finalist Alex Petan, Tech doesn't currently have a player in the top 20 for scoring. Sophomore forward Jake Lucchini and junior defenseman Matt Roy are currently in an eight-way tie for 30th in scoring with 14 points apiece.
"Still, we have a lot of guys who can find the back of the net," he said. "We understand that now, we need everybody. You're not going to look over your shoulder and see Alex Petan or Tanner Kero or Blake Pietila walk into the room. We have to play more of a team game, a structured game, and try and wear teams down. When we do that, like we did against Notre Dame the second night, we're much, much better."
The Huskies also have Angus Redmond. The freshman goaltender from Langley, B.C., has started in ever game for the Huskies since a 2-0 shutout of Northern Michigan on Oct. 28. Since then, Tech's defense has been outstanding. Redmond leads the country with a 1.41 GAA, is tied for second nationally for wins and ranks fifth with a .937 save percentage.
"Our goaltending is much improved, obviously," Pearson said. "Ever since Angus took the net, from that point on, we've been good. It's been him, but it's been our defensemen and our total team defense too."
The Huskies have three experienced senior defenders in Cliff Watson, Shane Hanna and Chris Leibinger, as well as juniors Roy and Mark Auk.
"Our defensemen have played much better, too," Pearson said. "The first 8-10 games we were real average but from that point we've played much, much better. The freshmen have started to contribute more now, too, so a lot of guys have stepped up."
For a team that has played just seven home games as opposed to 19 away from Houghton, these next two weekends will be crucial for the Huskies, who are 5-1-1 at home. Tech hosts Alaska Anchorage this weekend and Minnesota State the weekend after that. Both series present opportunities for them to get back within striking distance of Bemidji State. The Beavers are idle this weekend.
"It's been a month-and-a-half since we played at home so we have to reestablish that home-ice presence," he said. "It's like you're starting a season all over at home. And now we have seven more conference games at home, which is good. We have to take advantage of that and make sure we use that home ice to our advantage.
"Now we have to take advantage of those games in hand. It's nice to have them, but now we have to go out and get it done."
Ice chips
– Alabama-Huntsville dropped two games at home against Minnesota State, 3-0 and 3-2. The Chargers are 6-1-1 on the road in conference play, but just 1-8-1 at home in Huntsville.
– Alaska-Anchorage's sophomore class led the Seawolves last weekend, scoring all six of their goals over the weekend against Ferris State. UAA's sophomores have scored 17 goals and 45 points. The junior class is close behind with 14 goals and 40 points.
– Alaska returns to action after a bye week; they were swept by Notre Dame 5-0 and 4-0 in South Bend, Ind. They're currently tied for seventh place with LSSU. Both have 19 points. Alaska's upcoming opponent this weekend, Ferris State, is just three points ahead of Alaska (22 points).
– Bemidji State ended its 10-day road trip to Alaska and Ohio with a 2-2-0 record. The Beavers are now 8-5-2 on the road this season and have averaged 2.20 goals per game, while allowing 1.73. The Beavers are 12-for-63 (.190) on the power play and their penalty kill is 54-of-61 (.885) when away from home.
– Bowling Green's Mark Friedman currently leads all defensemen in the WCHA with 0.71 points per game. His 17 points in 24 games ranks him tied for 39th nationally.
– Ferris State freshman defenseman Cameron Clarke scored his first collegiate goal in Saturday's 2-2 shootout win over Alaska Anchorage. Clarke, a Boston Bruins draft pick, has taken 39 shots on goal — the most shots of any freshman on the Bulldogs' team.
– After a 6-1-0 start, Lake Superior State is 3-11-1 and has been outscored 55-33. During that stretch, they've allowed a league-worst 55 goals (3.67 per game).
– Minnesota State earned its first road sweep of the 2016-17 season last weekend, with 3-0 and 3-2 wins at Alabama Huntsville. Junior netminder Aaron Nelson started and got both wins for the Mavericks. The Bismarck, N.D. native stopped 47 of 49 shots in the series with the Chargers.
– Northern Michigan split its series with Lake Superior State, losing 3-2 before winning 6-4. NMU senior forward Dominik Shine recorded his second-career hat trick in Saturday's game in Marquette. Shine scored a goal at even strength, one on the power play and one shorthanded.
Players of the Week
This past week's WCHA Players of the Week were Northern Michigan senior forward Dominik Shine (offensive), Minnesota State junior goaltender Nelson (defensive) and Bowling Green freshman goaltender Ryan Bednard (rookie).