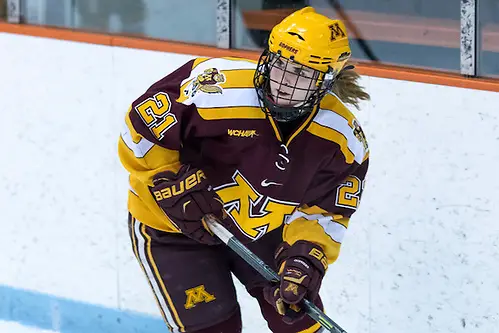 Minnesota senior forward Dani Cameranesi had season-ending ankle surgery this week, a source has told USCHO.com.
The school did not respond to multiple requests for comment.
Cameranesi left the Gophers' Dec. 3 game against Wisconsin after an awkward fall along the corner boards. She returned to the ice on Jan. 13 at Minnesota-Duluth, but appeared to re-injure herself in the first period the next day.
It would be an anti-climactic and unfortunate ending to a prolific career.
Cameranesi is a two-time Patty Kazmaier top-10 finalist and a former Rookie of the Year. In 19 games this season, she had 18 goals and 14 assists for 32 points. Despite missing six games to this point, she's still third on the team and 12th in the nation in scoring. Cameranesi led the Gophers in scoring during the 2015-16 season (68 points), as well as in goals (33) and power-play goals (13).
She is currently ninth on the Gophers' all-time scoring list with 201 points (93 goals, 108 assists).