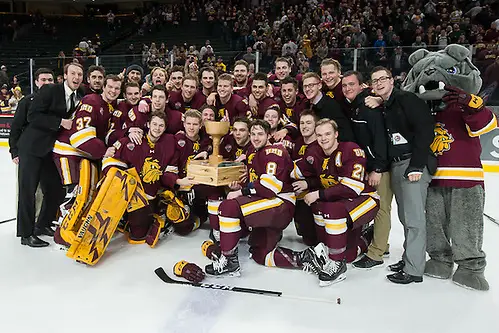 After an emotional road sweep of North Dakota, Minnesota-Duluth set its sights on the North Star College Cup last weekend.
Duluth was one team that hadn't won the trophy, and in the event's last year, the team wanted to take it home.
With one-goal wins over Minnesota and St. Cloud State, the latter of which came in overtime, the team did just that.
"We talked about going in, the last one, we were one of the teams that hadn't won it, so we wanted to play two good games and win," said Bulldogs coach Scott Sandelin. "Fortunately, we did that. I wouldn't say they were great 60-minute games, but both games were good hockey games against two good teams. They showed a little of our resiliency, getting down in both games in the first period.
"The kids were excited to win it."
One of the keys to the team's success was the play of freshman Hunter Miska, who made 21 saves against Minnesota in the third period of the first game while facing four Minnesota power plays. Miska's play is one reason that a six-on-four extra-attacker goal in the game's final minute wasn't a tying goal.
"He's been doing that all year," said Sandelin. "He was especially good Friday in the third period. Minnesota had four power plays and outshot us pretty badly, and he made key saves. I don't think he gets too rattled. I think each game for him isn't a championship game or anything like that. I think he looks at it as a game and trying to make sure he plays his best, and that's kind of what he's done since the beginning of the year and the reason he's taken over that position. He's got a great demeanor in the net and he's been pretty solid."
Against St. Cloud State, Duluth found itself in a familiar position, behind entering the third period, but Alex Iafallo's goal just 42 seconds into the third changed the game, allowing Kyle Osterberg to score the game-winner in sudden-death OT.
"Again, our guys have been in that position; I think it was the third time against St. Cloud where we'd been behind going into the third period out of the five games," said Sandelin. We just kind of stayed with it. It was only a one-goal game, and it was nice to get Alex's goal on the first shift of the third period. It gave us life after finishing the second pretty strong. The overtime, we talked about how we'd had a good third period and every shot is a good shot, and just keep doing what we were doing. Fortunately, Kyle found a rebound there and put it in. It was pretty fitting again that it was a one-goal game against those guys, because we've had five of them."
Entering the final four weeks of the regular season, Duluth is tied with Denver atop the NCHC standings, with the two battling for the Penrose Cup awarded to the team winning the regular season. Duluth is also atop the PairWise Rankings.
Sandelin says his team is aware of the hunt for the Penrose, but needs to take it game by game.
"I think guys know, obviously," said Sandelin. "It's a goal when you start the year and we're in a position to challenge for that certainly. Again, I don't think you can't look too far ahead and I don't think you can look at what you've already done. We talked yesterday about trying to get better every game, and there are a few areas we need to get better at down the stretch to become a better hockey team.
"Like any coach, you want to be more consistent over the 60 minutes. We've shown great resiliency by coming back and doing those things, which is a great thing to have, but we've got to play more consistent over 60 minutes, and hopefully it starts this weekend. Hopefully, we can have better starts to our games. I wasn't happy with our starts Saturday against St. Cloud in that final game. As a coaching staff, you look at what we can do better to make sure our guys are starting the game on time, because you start digging holes, you're not going to get out of them all the time. Hopefully we can be better."
CC rebounds from devastating loss, earns first home win
Friday night at home against North Dakota, Colorado College looked like it was in position to win its first home game of the season.
The Tigers took a 2-1 lead into the third period, and held it until the 14th minute of the third.
In the final 5:19 of the game though, North Dakota scored four goals to inflict a devastating loss on a young Tigers team.
However, CC quickly put it aside and came out strong the next night, surviving a first-period North Dakota blitz on 16 saves by freshman goalie Alex Leclerc, then got a goal from Luc Gerdes at 19:30 of the first. Leclerc made it stand up, and CC got two empty-netters at the end of the third for a 3-0 win and their first home win of the year.
"We've learned some lessons," said Tigers coach Mike Haviland. "We went in after the game and we talked as a team and said we've been in this position before, and they're going to come out tomorrow hard and try to beat us in the first period, and we have to make sure we are ready to go. We have a good group here, a group that believes in themselves, and I think when you get in some of those games like we were in Duluth, and Cornell was a tight one, and you find ways to win them, you start to learn the habits of winning and what it takes to win. Leclerc in the first period really held us in there and then we got better as the game went on."
Leclerc has been strong in the second half of the season as he has earned the starting role, and is one reason that CC has been in many games.
"He's an extremely hard worker," said Haviland. "This guy is the first guy on the ice, last guy off the ice. I love his awareness of himself. When he was struggling in November, he came in and said he needed to be better, and will be better for this hockey team. You have to give young man a lot of credit for walking in and talking to the coaches and his teammates and saying he would be better."
One thing that helped CC against North Dakota was its penalty kill. Two weeks before against Omaha, the PK gave up three goals, and against Western Michigan gave up two. Against North Dakota, the penalty kill was perfect, killing off nine North Dakota power plays over the two games.
"They have a potent power play with Brock (Boeser) there, and you have to watch when he's on the ice, and (Tucker) Poolman runs it up top," said Haviland. "They had 15 shots on the power play on Saturday night, so it wasn't from lack of their attempts at all. I thought we did a good job of taking away the second chance. Alex got to see the first one, and then we took away the second chance where teams make you pay. Our PK the last 12 games has been 87 percent, so it's been better."
Defense is important to the Tigers, because they don't have an explosive scorer. Mason Bergh leads the team in scoring, and averages .653 points a game.
"We have to do it by committee here," said Haviland. "We talk a lot about it and we do a lot of things where we have to get to the net and really simplifying it. We don't have the Troy Terrys of the world. Around our conference, I can name guys on each team, but we don't have that 50-, 60-point guy, even 40-point guy, so we have to have this mindset of getting pucks to the net, attacking the net and looking for second and third opportunities."
CC is off this weekend, and the following weekend plays a series with archrival Denver, against whom the Tigers have not had success in recent years. Denver swept the series last season, and swept a two-game set back in November.
"We have to work; it's as simple as that," said Haviland. "Especially up there, I think we have taken some costly penalties and they've made us pay. They have a really good power play; maybe their numbers aren't where they want to be, but I think they have a really good power play, but again, we have to be smart against them. You have to manage the puck and sometimes we have gotten into a track meet and we can't do that with them. We have play with our structure and our systems."
NCHC Players of the Week
Offensive Player of the Week – Liam Finlay, Denver: Finlay helped spark a Denver offense that scored 10 goals on the weekend in sweeping Omaha. On Friday, he scored the game-winning goal in a 5-3 win and finished plus-1. In his first career multipoint game Saturday, he had three assists in a 5-0 shutout win, setting up two power-play goals, including the first, and was again plus-1 while being named the game's second star.
Defensive Player of the Week – Will Butcher, Denver: Butcher posted three points in a weekend sweep of Omaha while helping Denver hold the Mavericks to three goals on the weekend, all on Friday. In the first game, he assisted on the game-winning goal and scored a power-play goal in the third for some insurance in a 5-3 win, posting a plus-1 while earning the game's third star. Saturday, he posted a plus-2 and assisted on Denver's second goal in a 5-0 win. He has a team-best plus-19 on the season.
Rookie of the Week – Alex Leclerc, Colorado College: Leclerc helped Colorado College to a split against North Dakota and got CC its first win of the year at home. Friday night, he posted 38 saves in a 5-2 loss, keeping North Dakota at bay until the game's final five minutes. Saturday, he made a career-high 45 saves in a 3-0 shutout win, including 15 on North Dakota power plays. He finished the weekend with a .954 save percentage and 2.02 GAA while posting the most saves by a CC goalie in a weekend since Joe Howe's 87 on Nov. 23-24, 2012.
Goaltender of the Week – Hunter Miska, Minnesota-Duluth: Miska was one of the keys to the Bulldogs capturing the North Star College Cup, the team's first. Friday against Minnesota, he made 37 saves, including 21 in the third to help preserve a 3-2 win, with Minnesota's final goal coming in the game's last minute on a six-on-four extra-attacker power-play goal. Miska earned the game's second star. Saturday in the championship against St. Cloud State, he made 31 saves and was named the game's first star and the Tournament MVP. He finished the weekend with a .958 save percentage and a 1.43 GAA.