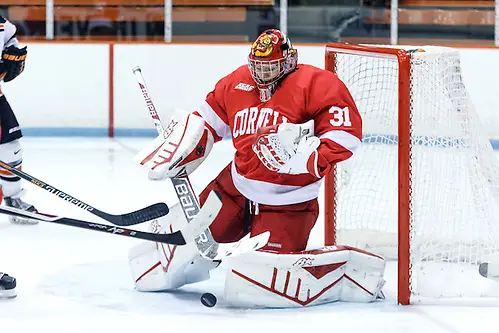 In Cornell coach Doug Derraugh's first NCAA appearance, a reporter asked him about his team's "risky" style of play. It's a moment that's stuck with him ever since.
He wouldn't characterize the Big Red's style as risky, though he admits that he does try to play an aggressive brand of hockey. Cornell wants to play puck-possession, uptempo hockey where they're taking away time and space.
"Some people might see that as risky," said Derraugh, though he really doesn't agree.
It's a strategy that's been successful for Cornell in the past, but one that required a bit of adjustment this season. With seven freshmen on the roster and seeing regular playing time, everyone on the Big Red has needed to alter their approach.
The Big Red are a team used to being offensive-minded. This season, they've not been scoring at a pace they're accustomed to. The need for a strong defensive unit has been amplified by the lack of scoring.
"For us to have any success, we have to be strong defensively and I think that's an adjustment that we made this year," said Derraugh.
Cornell is eighth in the country in team defense, allowing 1.65 goals per game. They're splitting time in net with two goalies, sophomore Marlene Boissonnault and senior Paula Voorhies. The two have a combined .935 save percentage and 1.55 goals-against average.
For the new players, Derraugh said he's had to remind them that they're used to much longer seasons — sometimes up to 60 games — but the ECAC season is just 22 games long. That amplifies every turnover, missed pass, and awkward shift change and has meant that it's even more important for the young players to get up to speed as quickly as possible.
With increased parity in the ECAC this season, more than ever there are no easy games or days off in the conference schedule and the youth of Cornell's roster sometimes amplifies that. Add in their low-scoring offense and there are a lot of chances to make mistakes and let games slip away.
While that certainly makes things a bit tougher for Derraugh and the team, it also has helped create a closeness and cohesion. The Big Red isn't counting on a single player or line to lead them; every player is crucial to ensuring their success.
"We know that if we don't show up with everybody ready to play that we're going to be in trouble; this is more a team that really does need everybody to be successful and we can lose to everybody," said Derraugh. "Quite honestly the way we play, it's a challenge for us every night. If you're not scoring goals, then every game turns into a one- or two-goal game."
One place Cornell has excelled is special teams. The penalty kill unit is improved from last season and the power-play unit is fifth in the country.
Freshman Kristin O'Neill has been especially crucial on changing momentum on the penalty kill; she leads the country in short-handed goals with four. It's a credit to not only her confidence in their defense, but also her vision on the ice.
"She's very tenacious and has a lot of speed," said Derraugh. "If you're not paying attention, she'll strip you of the puck pretty quickly. She's somebody that if she gets a step on her, she's hard to catch."
O'Neill's speed is often combined with the vision and puck-handling of senior Hanna Bunton on the top penalty kill unit. Having O'Neill's speed as a weapon means that instead of merely clearing the puck up ice when she's able to grab possession, Bunton is able to look for a chance to feed O'Neill and give Cornell an advantage.
A team that struggles to score has to take advantage of every opportunity they have to get on the board, so the success of the power-play unit is something Derraugh is especially proud of. There's increased pressure on that unit to be successful and give the team a boost and they've responded.
"If you're not scoring a lot of goals five-on-five, you have to find ways on special teams. It's been absolutely a key to our success. We know that we're no high-scoring offense; we know that we have to take advantage of these opportunities to have success."
With the steep learning curve, it's no surprise that Cornell started a bit slowly and has found some confidence and consistency in the second half.
"We've learned a lot over the course of this season. We've had some big wins and we've had some big losses and I think that's really helped this group to grow, having adversity early on and learning from those past mistakes. This is a group that's learned quickly and we need that with a young team," said Derraugh.
No coach knows exactly how a freshman class will integrate and mesh with the new squad or how well they'll be able to get up to the speed of the NCAA game. Despite the close games and bumps that come with having a young, inexperienced team, Derraugh is happy with how cohesive his team is.
With just a few weeks left in the regular season, the Big Red are ranked seventh in the country. Now it's about balancing what they need to work on and extra practices with a need to keep an eye on fitness and energy level. The longer season the freshmen are used to may help keep them fresh and play in their favor here as others get fatigued.
"It's always a big change for freshmen," Derraugh said. "It seems like they're getting the hang of things here in the second half, but there's still a long way to go and we need to keep improving."
Next up are four games against teams below them in ECAC standings before facing Clarkson and St. Lawrence — the top two teams in the conference — on the final weekend of the regular season.
It'll be a tough test for the young Big Red, but Derraugh knows that his players have bought in and are committed. There are no egos, he said.
"Sometimes it just comes down to the characters you have in the room and I think we're just really fortunate to have this group."