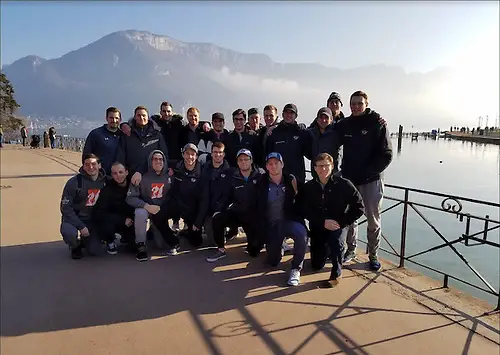 For many teams, the holiday break was exactly that, a holiday break. For the Hobart Statesmen, the holiday break included a unique opportunity to visit and play hockey in France and Switzerland. From December 28, 2016, through January 7, 2017, the team spent time in the French Alps touring, skiing, and visiting the U.N. and other landmarks in the Geneva area while also playing very competitive hockey against professional teams in the area, where they won four of five games on the trip. For many it was a once in a lifetime trip with so much on and off the ice shared as a team. Now the No. 5 Statesmen have returned stateside and the focus has turned from exhilarating exhibition hockey to the run to the playoffs in the ECAC West.
"It was an experience none of us had before," noted senior Nick Bingaman. "We definitely came together more as a team on the trip and maybe learned the most in our loss to the team from Gap. Their puck management, crisp passing and defense activating into the offense were all something we saw at a higher level than what we are used to seeing, especially on the big ice surfaces over there. It was a learning experience, but we had a lot of success too and we can build on that back in our schedule here."
"We have it going good right now," said coach Mark Taylor. "Not that I was disappointed at all with the first half or the great experience we had on the European trip, but we weren't quite where I thought we could be. I think we can still be one or two clicks better and that is what it is all about in the remaining games, is getting better and keeping the focus on improving our game at the most important time of the year."
Since their trip to Europe brought them back to the U.S. at the end of the first week in January, Hobart didn't get back to their D-III schedule until two nonconference contests at home against Salve Regina and the University of New England on January 13-14. The Statesmen won both games by 4-1 and 5-1 scores, and that started a current seven-game win streak and extended their unbeaten streak from December to 11 games. Included in the current streak is a big road win over nationally ranked Geneseo last Tuesday by a 3-2 score.
"That was a big win for us," said Taylor. "Winning those games against high-caliber opponents is what we need to do if we have aspirations of playing hockey beyond the conference schedule. We need to continue to get wins and even our only two losses are against really good teams. Utica beat us back in November when they were going very well and Manhattanville tripped us up early in the season. Even our ties are against quality opponents in Skidmore and Trinity. Like our schedule in Europe, we play these games to position us for the NCAA tournament and making us a better hockey club."
Following the win over Geneseo, Hobart returned to ECAC West play with two wins over Lebanon Valley and Stevenson this past weekend. The games showcased some high-octane offense, as well as the ability to win a tight playoff style game, as was the case with Saturday's overtime win against Stevenson. The leadership and performance on the ice from players like Bingaman and Bobby Sokol has the coach pleased with the effort and energy brought every night.
"With this class there probably aren't enough C's around to put on all their jerseys, but Nick and Bobby and the rest of the seniors know what our goals are and how to be ready to play," noted Taylor. "You recruit these kids because they bring those qualities to your program and it isn't a surprise to see Nick and Bobby also leading the way on the score sheet."
"As seniors, we know that this is really our last chance at hopefully making a run to Utica," said Sokol. "I think we are all a little more focused and working a little harder every day in practice and that is rubbing off on the rest of the team that sees that effort and is stepping up to match it."
Bingaman leads the team with 14 goals and 21 points, while Sokol is just behind him with nine goals and seven assists for 16 points to date. Both have a pair of power-play goals among their tallies, but their versatility in all situations has been integral to Hobart's success. So where is the focus to improve those "two clicks?"
"I think our biggest area to improve is the power play," said Bingaman. "We have played together as a group for a couple of years now and we need to make sure we are all on the same page, keep a high level of intensity and have no drop-off."
"I think we need to shoot more," added Sokol. "We can pass the puck around and make possession look good but we need to create chances and rebounds with shots and activity around the goal. We are having more success in practice doing that so hopefully it translates into the games."
"We look at special teams as always wanting to be 20/10," stated Taylor. "We want to be successful 20 percent of the time on the man advantage and give up goals 10 percent or less on the penalty kill. We aren't quite there yet and in looking at some of the game sheets sometimes we can't believe we didn't score a power-play goal. Of course, there is a difference on how we look at success overall vs. a five-on-four or five-on-three situation, but we have room to improve there — maybe one more click."
With the recent announcement regarding next year's move from the ECAC West to the NEHC, Hobart is focused on the here and now starting with Friday night's game at Nazareth.
"Nazareth beat Oswego — enough said," stated Taylor. "There is never a perfect time to announce something like a league change and honestly I haven't had any questions from our team about what happens next year. They are focused on this year and Nazareth. Our decision to move was the right decision for our program. We will of course look to keep some of long-standing rivalries and Skidmore will be our travel partner in the NEHC. It really is about the big pool that is D3 hockey and the chance to compete in the NCAA tournament."
Without an autobid, Hobart and coach Taylor know it's about winning as many games as you can to influence at-large bids. With just six games remaining in the regular season, the current conference schedule is the immediate focus, and while their trip to the Alps is still a vivid memory, Hobart is looking to keep the fun and positive results from December climbing into March and a date in Utica.