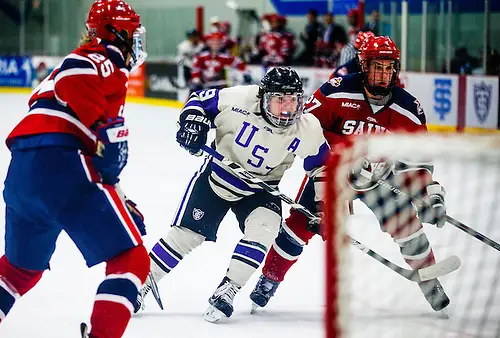 Thomas Williams came to St. Thomas with a great deal of potential, and it's safe to say he has lived up to it.
Consistent throughout his career as a scorer, Williams is well on his way to making his senior season with the Tommies his best one yet, scoring seven goals and dishing out seven assists in 19 games for a St. Thomas team that sits in first place in the MIAC standings.
"I feel like I've stepped into more of a leadership role and have focused more on team success than individual stats," Williams said. "I've stepped up where my team has needed me to step up."
Williams has thrived in that role and is playing with the added motivation of this being his last go-round in college hockey.
"You see the game differently when you are senior than you did earlier in college or even in junior hockey," Williams said. "You have the experience of being there before and that makes a difference, and you realize with time winding down, you want to make every game count."
Of course, Williams has been making games count since his freshman year. With seven goals and nine assists as a freshman, the talented forward earned a spot on the MIAC all-rookie team.
He scored seven goals again as a sophomore and also tallied four assists as well. Williams finished with five goals and nine assists as a junior. Five of his goals have gone for game-winners.
He hasn't missed a beat this season for a Tommies team that is 10-5-4 overall and 8-1-1 in the conference.
"It's been a good season and I'm happy with how I've played," Williams said. "We'd love to have our win-loss record a little better, but we've come a long way as a team and are playing well."
Every weekend is a battle in the MIAC, a conference where five points separate the top four teams in the standings.
"We have a very deep conference and every game is a big one," Williams said. "We always get an opponent's best effort and that means we have to bring our best effort."
The Tommies missed the NCAA tournament a year ago, a rare occurrence for one of the most successful programs in college hockey, but are hoping to get there this season.
"We just have to keep improving as a team and stick with the process," Williams said. "If we do that, we'll be in a good position at the end."
Williams will do everything he can to make that happen and takes pride in having the opportunity to compete for the Tommies.
"It's a great honor to play here," Williams said. "We talk all of the time about the pride in putting on that jersey and playing hard every time you take the ice."
Pipers rise in standings
Hamline moved into third place over the weekend with a pair of wins over the Royals. The Pipers picked up a 5-3 win Friday and completed the sweep with a 3-2 overtime win Saturday.
Russ Jordan continues to thrive for Hamline, scoring his 15th goal of the year on Saturday. The top scoring threat in the conference also scored a goal in Friday's game.
Jordan, who has also tallied 13 assists, has helped the Pipers win three of their last four games and finish the month of January with a 4-4-1 record. They are 10-8-3 overall and 7-4-1 in the conference, and with 22 points on the year, sit just two points behind second-place St. Thomas. The wins match their win total from all of last season.
Justin Quale has been instrumental to the Pipers' success as well, starting 16 games and winning seven times. He has a 2.68 goals-against average and made 46 saves in the sweep of Bethel.
MIAC leaders: Russ Jordan of Hamline continues to be the top scoring threat in the conference. He leads the MIAC in points (28) and goals (15). Teammate Mitch Hall is the leader in assists in the league, tallying 19. Ben Myers of St. Thomas has the most saves at 421 and Andrew Lindgren of Saint John's has the best goals-against average at 1.93.
Pointers back in action
Wisconsin-Stevens Point was off last weekend but returns to the ice this weekend with two WIAC games. The Pointers take on Wisconsin-Stout Friday and battle Wisconsin-Superior Saturday. They last played Jan. 24, when they knocked off Wis.-Superior 3-2.
Wis.-Stevens Point has won three of its last four and features an offense in which eight players have tallied at least 13 points.
Lawrence Cornellier is the leader of the potent attack, punching in 14 goals and dishing out 14 assists. Jacob Barber has also come through with 14 goals. He has also dished out 11 assists. The Pointers, who are the reigning national champs, have racked up 132 assists in all.
Interestingly enough, Wis.-Stevens Point has managed to tally five or more goals just three times in its last eight games. The Pointers scored five or more five times in 14 games during the first half of the year.
WIAC leaders: Patrick Moore of Wisconsin-Eau Claire remains atop the leader board in points, racking up 36. His effort has been fueled by a league-best 21 assists. Moore also leads the WIAC in goals scored with 15. Zach Quinn of Wisconsin-River Falls owns the best goals-against average in the WIAC (1.79), while Wis.-Eau Claire goalie Jay Deo has the most saves (502).
Lumberjacks continue streak
Northland is one of the hottest teams in the NCHA, closing out January on a four-game win streak.
The Lumberjacks have swept Aurora and Finlandia, scoring six or more goals in three of their wins. The streak includes a 6-0 shutout of the Lions Jan. 27, marking the first time this year Northland has kept an opponent off the scoreboard.
After winning only seven games a year ago, Northland already has nine wins and is above .500 with a 9-8-2 record. The Lumberjacks are 5-4-1 at home this season.
Their offense is much better than it was last season, scoring 64 goals on the year, five more than Northland scored all of last season. Michael Berens has been instrumental to the team's success, punching in 10 goals to go along with 10 assists.
NCHA leaders: Cory Dunn of Adrian leads the NCHA in points (27). The total includes a league-leading 20 assists. Jack Lewis of Lake Forest tops the league in goals scored (15). St. Norbert goalie T.J. Black owns the best goals-against average (1.16) in the NCHA and has the most wins (10).