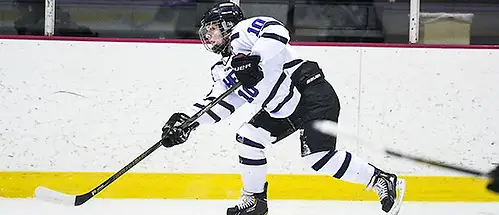 Amherst coach Jeffrey Matthews and his staff take a unique and interesting approach to coaching. His players are student-athletes and he sees the coaching staff as an extension of the academic tradition at Amherst — another branch on the educational tree, so to speak.
That educator-first mindset is the basis of the culture of the women's hockey program at Amherst.
"We measure our success by how much we improve and we're totally a process-oriented team as opposed to focusing on the outcome," said Matthews. "We're excited about the progress we've seen from day one until now. That's our simple goal, to try to improve as much as we can and try to stay humble in our wins and losses and try to take lessons from every day and try to keep building."
It's Matthews' philosophy, but it's become increasingly relevant and necessary in an improving conference like the NESCAC. Eight of nine conference teams are within six points of each other and three teams — Amherst included — are tied for first place with 14 points. Coaches love to talk about how parity has increased and how there are no "off games" in their conference, but it's less cliché and more actual fact when it comes to the NESCAC.
With all but two teams playing above-.500 hockey, Matthews believes intangibles — not talent or skill — are what will separate teams and allow someone to rise to the top. It just so happens that things like work ethic, preparation, and chemistry — the intangibles that may help Amherst separate themselves from the rest of the conference — are also the things that Matthews focuses on to help his student-athletes outside the classroom as well.
It's a "development of the whole-person" attitude that isn't often applied to athletics, but seems to be serving No. 8 Amherst well.
"(We value) those intangibles because those are the things that we want them to carry with them throughout life that'll help them face adversity and the challenges they're going to face in their lives beyond college. They'll lean on those intangibles that they learned to value," he said.
It might be a cyclical argument about what comes first, but Matthews believes that if his team stays true to their standards and principles, the results will come on the ice. From developing emotional intelligence and leadership skills to learning about sleep habits and nutrition, the whole idea is to stay focused on the process and perform their best while creating habits that will serve them in life outside hockey for decades to come.
"(We're) focusing on developing people." said Matthews. "We're trying to develop their minds just as much or more as any hockey skills. The natural byproduct is you'll be a better athlete. It's all encompassing for us, our approach. We're not going to measure our success on where we're ranked. It's about how committed are we to our core values — humility, gratitude, grit, and enthusiasm — and making the most of the opportunity. Ultimately, we want to see (our players) succeed and flourish and inspire them to chase their dreams and pursue their passion."
By setting this as the standard at Amherst, Matthews is probably making his job more difficult. Teaching skills and systems is straightforward. Teaching concepts and intangibles is a lot more nebulous and a lot more difficult to get right. It takes patience and a willingness to have totally open communication, Matthews said, but it means that the staff often is learning just as much as the student-athletes are and it helps narrow the gap between the coaching staff and the athletes — and helps the students feel involved, valued, and a part of something bigger.
Amherst has been successful rotating two junior goalies, Bailey Plaman and Sabrina Dobbins, in the net. While it wasn't necessarily how Matthews saw things playing out, both players have earned the right to starts.
"They are two fabulous human beings," said Matthews. "No question with their attitude and approach, they push each other and drive each other to excel and improve, which they both have done since they've been here. They both have contributed to our success. (Playing two goalies) goes hand-in-hand with our philosophy to constantly improve. We're constantly evaluating."
There is no hierarchy at Amherst. It keeps the players from being complacent, but also helps first-year players feel welcomed and not intimidated. No one player is more than any other and Matthews feels like the depth that gives his team is crucial to be successful in the increasingly competitive league.
Amherst's top scorer is Alex Toupal. She's tied for seventh in the nation with 16 goals, but that's not what impresses Matthews the most.
"She's a tremendous hockey player who works extremely hard and she has a great passion for the game. When your top player has that work ethic in addition to skill, that's what I think is going to be the differentiator come crunch time. That attitude and tenaciousness and work ethic will be the difference-maker."
That Toupal is so successful on the ice while embodying the principles, the intangibles, that Matthews values so highly is a testament to the validity of his approach. It's easy to preach to his players when they have someone like Toubal to look up to — a successful player on and off the ice who works hard, embodies the Amherst spirit, and finds the back of the net.
Whether or not Matthews' philosophies translate to success on the ice might be a question as yet fully answered. The program has had more wins each year of his tenure and earned an NCAA at-large bid last season after earning the program's best regular season record in history. They finished the year ranked sixth in the country. With just five games left in the regular season, they share the lead in their conference and seem to be poised to make another postseason run.