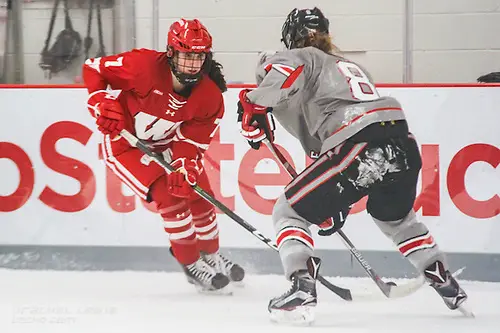 The Wisconsin Badgers have been the no. 1 program in the country every week of this season. They head into the final two weekends facing No. 2 Minnesota-Duluth and No. 4 Minnesota, the only two teams to beat them this season.
Though it's a daunting path to the postseason, Wisconsin coach Mark Johnson likes that his team will be forced to play at a high level — the highest, really — at the most crucial time. Though the results of both of the two series will likely not have much impact on either conference or national standings, they are important in terms of preparing for the playoffs and ironing out any final wrinkles.
Johnson is a stickler for only focusing on one game at a time — the next one. He never tries to get ahead of himself, he says. That axiom is magnified in the postseason, where he talks about only being promised so many games once the regular season ends.
"Everyone knows what's at stake as far as the next few weekends; there's never talk from the coaching staff about rankings, about positioning," said Johnson. "(We focus on), 'What can we do to help you improve on and off the ice?' We try to perform those habits and really strengthen them as the season goes on."
Playing at Wisconsin comes with a set of expectations. Entering the season as the projected number one and holding on to that ranking only compounds them. However, no one has more expectations of the Badgers than the players themselves. Having been knocked out of the Frozen Four in the semifinal round each of the past three years by the Gophers is as distasteful a way to end their season as possible. These players came to Wisconsin to win a national title, and that's something that's not happened in the past five years.
"Expectations were high for the kids at the beginning of the year, but it's about how do you handle that," said Johnson. "Our captains are doing a good job of keeping people grounded and understanding the process and doing things on a daily basis that individually help you, but collectively help you grow as a team."
Every top team has talent, but in order to become truly great, they need an X factor, something that makes them elite. For the Badgers, that might just be their chemistry.
Johnson calls it the "family dynamic." Hockey is a two-semester sport and the student-athletes are together nonstop from September through mid-March, if they're fortunate. For a team to be successful on the ice, they have to cherish the time they spend together off the ice. For the Badgers, there's chemistry and camaraderie, but there's also a healthy level of respect.
For Wisconsin, that starts with the captains.
"A huge component to any team environment is that the leaders are the ones that are around the team the most; their voices are heard the loudest," said Johnson. "When everybody respects that group and understands the expectations, you're at the starting line in a good position."
It filters down to the freshmen as well. Each of the Badgers newcomers this season came in with international experience, as well as having held captain or assistant captains roles on their teams. So while Johnson and his staff were excited for the talent they were bringing in, he said they were just as excited about the caliber of people they are. That, above anything else, made the transition so smooth for them.
That collective approach is part of what has made the Badgers so successful. Their depth is unparalleled and they have three potent offensive lines. On top of the players' individual talents, their lines have found chemistry on ice that makes them all that more potent together. It's a dangerous combination for opponents to have to face.
On the top line, Emily Clark and Annie Pankowski are almost seamless in the way they feed each other and read the other. They magnify each other's strengths and work as one unit, making it easy for Johnson to add any of the rest of his talented wingers to their line. For most of the season, that's been sophomore Sam Cogan, who's proven an incredibly versatile threat for the Badgers that has even been able to play on the blue line when needed. Recently, Sarah Nurse and Cogan switched places and it's proved to be an even bigger spark for the already formidable offense.
With 14 players in double-digit points, there's a wealth of scoring talent up and down the Badgers' lines, and Johnson said the switches he's making are all about trying different combinations and finding things that might work. It's the same philosophy he used on the power-play unit that had struggled early in the year but has found its rhythm in the second-half. After scoring just eight extra-attacker goals in the first 20 games, they've scored 12 power-play goals in the nine games since the break.
If that weren't a difficult enough prospect for opponents, the Badgers have Patty Kazmaier top-3 finalist and USCHO Player of the Year Ann-Renée Desbiens in the net. After breaking nearly every NCAA and program record last season and having "an unbelievable, once-in-a-lifetime year," as Johnson called it, Desbiens came back for her senior season looking to be even better. She's missed time to two different injuries, but her work ethic and attitude in response to those are the things that Johnson said are most important.
"She's handled them in a real positive way and is better because of those situations," said Johnson. "The younger players look at that and see it every day. There's adversity, and your upperclassmen deal with it in a positive and constructive way; that's a reflection of who they are and what our program wants to be. If you're able to sustain that for a period of time and create a real positive working culture, usually you're going to be successful."
The Badgers have faced some obstacles this season, both on and off the ice, but Johnson said he's been impressed with how they've handled them, not only in how they are in the moment, but how the players have tried to become stronger coming out of it.
This weekend's series will prove to be the Badgers' toughest yet, but it's also senior weekend and emotions will be high for the upperclass leadership group that's been so important to Wisconsin's success. Johnson said he has to remind his players to stick as closely to their normal routines as possible while also soaking in the environment and enjoying having their family around.
The Badgers aren't promised any games after the first round of the WCHA playoffs, so the message from the graduating class — and the coaches — is to not take any of it for granted.
"… take each day for what it's worth and get the most out of it because you only get so many days. Embracing the moment, enjoying the moment, enjoying your teammates and if you put good work habits together and connecting with each other and playing for your teammates, pretty soon you become a pretty good unit," said Johnson.