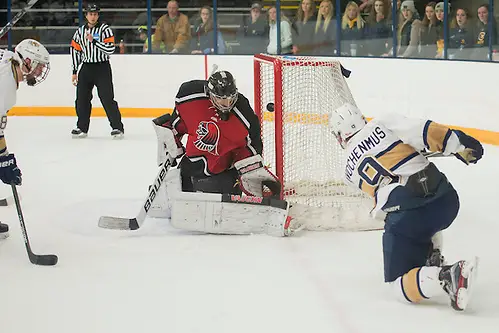 Wisconsin-Eau Claire coach Matt Loen was asked about the thing that has surprised him most about this college hockey season.
He didn't bring up anything regarding his team in particular, but pointed out the biggest surprise of this season might just be the parity in NCAA Division III hockey.
A total of 32 teams have won 12 or more games. Only one, No. 1 Norwich, has 20 wins. There were 35 teams with 12 or more wins last season, including 10 with at least 20 wins.
"I think the parity is the thing that is most surprising," Loen said. "There are no easy games. Anyone can win on a given night. It's something that could impact how teams are selected for the tournament."
He said widespread talent has played a big part in creating that parity.
"I think the growth of hockey has helped and there are a lot of good (junior) leagues producing good players," Loen said. "Even at the Division III level, you are getting good players that you can build great programs with."
Wis.-Eau Claire is certainly one of those programs. The Blugolds won a national championship in 2013 and are in the national title picture again this year. Wis.-Eau Claire is 15-5-3 overall and 4-2 in the WIAC with two games remaining in its regular season.
"It's been a good season so far," Loen said. "But you aren't measured by how you do in December and January. It's about how you finish and we continue to grow as a team."
The Blugolds have scored 88 goals this year, their offense fueled by the play of Patrick Moore, who has come through with 15 goals and 21 assists.
Colton Wolter has stepped up as well, tallying nine goals and 12 assists, while Adam Knochenmus, despite battling injuries at times, has racked up six goals and 11 assists. Mac Jansen has been another key contributor, scoring 12 goals and dishing out nine assists.
Loen has also been impressed with the progress his young defensive core has made and points to goalie Jay Deo as an instrumental part of the defense's success. Deo has started 22 games, winning 15 times. He has racked up 476 saves and owns a 2.19 goals-against average.
"He's played well but I really think he can become an elite player," Loen said. "Goaltending is such a huge part of the game and when you have a good goalie like Jay, it can dictate your style. We're able to take more risks because we know Jay will cover up any mistakes."
The Blugolds close the regular season with games against Wisconsin-Superior and Wisconsin-Stevens Point. They are in second place in the WIAC standings, but could easily move into first with a weekend sweep.
Either way, they know the conference tournament is ahead and their goal is to win it and hopefully earn an NCAA tournament berth.
"We play in a very good league, but I told the team it doesn't matter where we finish in the standings. Stevens Point finished third last year and won the conference tournament and the national championship. We want to play our best in the conference tournament. We just have to take care of ourselves and play our best hockey."
Johnnies back on the ice
Saint John's has had a bit of a late-season break, with the Johnnies not playing this past weekend. They last took the ice Jan. 28, when they fell 5-2 to St. Thomas, their second consecutive loss to their rival.
Now they face the daunting task of playing Saint Mary's, the second-place team in the conference, and need to bounce back, as they are on the outside looking in at the moment in the playoff picture. Saint John's has 17 points, putting it three points behind Concordia.
What will make the series even more challenging is that the Johnnies will be on the road, where they are just 3-5-2 this season, but they certainly have the talent to get the job done.
Offensively, the Johnnies have put up 61 goals off 109 assists, with Sam Valerius leading the way with seven goals and 11 assists. He is one of 11 players to tally at least three goals, and that balance will need to be present for the Johnnies to thrive against the Cardinals, who feature one of the better offenses in the conference.
This week's series begins a crucial stretch for the Johnnies, who play three of their final four games on the road. A winning record over the next two weekends probably puts the Johnnies in the playoffs. Anything less than that might not be enough.
MIAC leader board: Russ Jordan of Hamline is still the leader in points (32) and goals (18) in the MIAC, while teammate Mitch Hall is the assist leader in the conference, tallying 20. Sam Nelson of Concordia (Minn.) leads the league in saves with 477 on the season.
Pointers aim for strong finish
Reigning national champion Wis.-Stevens Point has won its last three games and is aiming to keep the streak intact entering the final weekend of the regular season.
The Pointers, who close out the year with games against Wisconsin-Stout and Wis.-Eau Claire, have every reason to believe they can win the WIAC tournament title and repeat as national champions, particularly with their high-powered offense.
They have scored close to 100 goals, with Lawrence Cornellier and Jacob Barber leading the attack. Cornellier has punched in 17 goals to go along with his 15 assists, and Barber has tallied 14 goals and 13 assists. Kyle Sharkey has been one of the team's top playmakers, dishing out 18 assists.
A total of 13 players have scored at least three goals for the Pointers, who average a little over four goals per game.
And then there is the defense, which is anchored by goalie Max Milosek, who has won 13 games and has racked up 389 saves.
Wis.-Stevens Point clearly has the pieces in place to win another championship and it won't be a surprise if they are hoisting another trophy in March.
WIAC leaders: Patrick Moore of Wis.-Eau Claire has the most points in the league, tallying 36, including a WIAC-best 21 assists. Wis.-Stevens Point standout Lawrence Cornellier has the most goals in the league with 17 and Wisconsin-River Falls goalie Zach Quinn has the best goals-against average at 1.65. Quinn has won 10 games this season and has the most shutouts with three.
Foresters on late-season surge
Lake Forest is playing its best hockey at the right time of the year, winning its last three games to improve to 12-9 overall and to 8-8 in the conference. The Foresters have won five of their last 10 games overall.
Their streak should continue this weekend when they hit the road to play a pair of games against a struggling Finlandia team.
The current streak the Foresters are on has helped them bounce back from a four-game losing streak they battled through in January.
Lake Forest features one of the best players in the league in senior Jack Lewis, and his ability to rise to the occasion gives the Foresters a chance to win every night.
Lewis has come through with 15 goals and 11 assists this year, while teammate Bron Loiselle has made an impact as well, scoring nine goals and dishing out 11 assists.
Loiselle is just a sophomore and Connor Duncan is just a freshman, and yet the talented defenseman ranks third on the team in points with three goals and 14 assists.
The Foresters are currently tied with Marian for the longest win streak in the conference, and with a winning record at home (7-6) and on the road (5-3), they have the potential to be a dangerous team in the conference tournament.
NCHA leaders: Saint Scholastica's Brandon Millin leads the conference in points with 27 while Jack Lewis of Lake Forest is the top goal scorer in the NCHA, punching in 15 goals. Cory Dunn of Adrian is atop the leader board in assists, tallying 20, and A.J. Smith of Nortland has the most saves with 513. T.J. Black of St. Norbert leads the league in wins (11) and save percentage (.944).