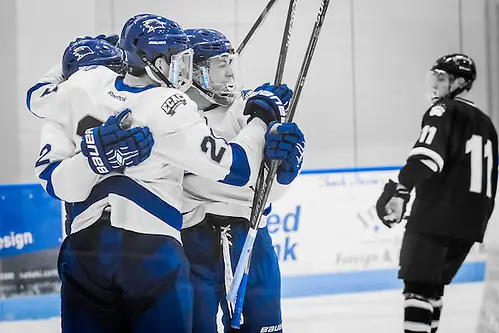 "No doubt you gain chemistry on the ice by being good friends off the ice," said UNE sophomore forward Brady Fleurent.
If that is the case, the B-F-F line must be REALLY good friends off the ice just based on what they have been able to do offensively this season. To date, Brady leads the nation in points with 45 on 16 goals and 29 assists, while brother Trevor has recorded 16 goals and 17 assists for 33 points. Newcomer Ryan Bloom has 19 goals and 14 assists for 33 points. All three players have surpassed the prior school record for points in a single season and all expect to be adding to those numbers in the five remaining regular season games and upcoming CCC playoffs.
While the line combination of freshman Ryan Bloom, the "B," and sophomore Brady and senior Trevor Fleurent, the two "F's" have been terrorizing their opponents all season long, ironically it was a different "B" that was on the line that switched during the season and since then the chemistry has taken off. Bloom has taken the spot of Dylan Bengston, the team's fourth-leading scorer, and Trevor Fleurent is not surprised that the freshman has fit in so well between him and his brother.
"I had the chance to watch 'Bloomer' during the captain's sessions and really thought then that he could be a good fit with Brady and me. He and Dylan are a lot alike in terms of their ability to score goals, so it wasn't a big change for us but it has been a great fit as we just connected right away."
"I don't really have to think about where Ryan is going to be on the ice," noted Brady. "I am obviously used to playing with my brother, but now we all just know where each other is going to be on the ice so it is just a matter of getting the puck there and being creative in our game."
While the B-F-F line has been very successful in five-on-five play, opposing teams may want to note that they are even more effective on the power play. Brady with six, Trevor with eight, and Ryan with five power-play goals account for almost 50 percent of the team's scoring with the man advantage, and as a group UNE is clicking at a 31.5 percent success rate.
"We have definitely seen teams try to match up lines on us and be more physical," stated Bloom. "We just stay with our game being creative as a group."
"They may slow us down five-on-five sometimes," said Trevor. "But we just make up for it on the power play where we have been deadly some nights."
While all of the scoring has certainly got the three of them a lot of attention and accolades this season, the focus has shifted a bit to what all that offense needs to be a driver for — winning hockey games and competing for a CCC championship.
"We are really focused on winning our last five games," said Bloom. "We want to earn a home playoff game, which means being in the top four in the conference so we can't take anything for granted."
Three of the team's final four league games are on the road, where UNE has struggled for positive results. All of the linemates agree that the mental side of the game needs to be addressed if they expect to see the future success they are all striving for.
"I think it is a mental preparation thing," noted Brady Fleurent. "Honestly, I don't think we have been really ready to play some nights away from home and our fan base. We need to really be ready to play our game form the opening faceoff and make sure we bring the same intensity on the road that we do when we play at home."
"Some nights, especially at home it seems like everything we throw at the net goes in," said Trevor Fleurent. "On the road we are looking and hoping for some bounces some nights. We need to carry that mindset of what has worked at home anywhere we play."
For Trevor, a senior, these are his last few games in a standout college career that has already seen him pass the century mark in points and by season's end, he will have done the same in games played as well. He and his linemates know exactly how he wants this ride to end and as all best friends do, they are more than happy to share the ride and make sure the team goal is achieved.
"Ryan and I have more college hockey to play," said Brady. "This is it for Trevor and our great group of seniors that have done so much to build the program here at UNE. We have a blast playing together and really want the end of the season to be special for them as we pursue a home playoff seed, conference championship, and who knows what else before it is all done."
Either way, the B-F-F line is going to continue to do what it does best, which is play fun and creative hockey, score a lot of goals, and, hopefully, reaching the goals that these BFFs have talked about so much in their time together away from the rink.