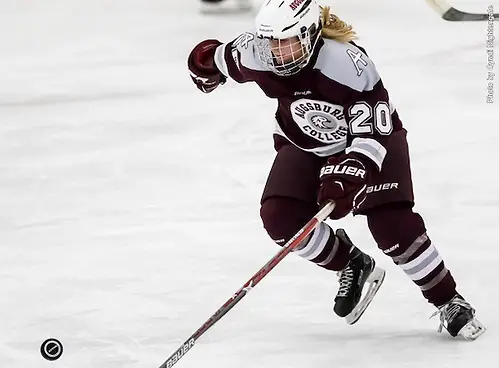 With nine new faces on the Augsburg roster, it wasn't exactly clear how the season would go. The Auggies have been gradually building and improving their program and the results have shown with improved records nearly every year of coach Michelle McAteer's tenure.
Every coach says it's difficult to know how freshmen will assimilate and how long it will take them to catch up to the pace of the college game. That many new faces means a shift in the team dynamic and no one knows exactly how that will play out. They all count on the opening weeks of the season to include a learning curve.
While the Auggies did not win their opening series of the 2016-17 season, McAteer said she saw all she needed to in those opening games to know that her team was going to be OK.
"From our first game I think I knew that we were going to have a successful season just because of how well they competed on that first night and how well they clicked," she said.
It's been a slow and often nonlinear path to building a program at Augsburg. Though the results are showing on the ice this season, with the Auggies atop the MIAC and ranked in national polls, it's been a process of recreating a culture, building on what came before, and having players not only buy in, but take an active part in the leadership and direction of the program.
So while this is the season and the squad that is getting the on-ice results, those are just the culmination of a lot of work put in by previous teams to change the culture of the program and start to build something from the ground up. This season's success is just a reflection of the hard work done in previous years.
"Four years ago, we were at a very different place and how we measured success was different because we were not getting all the results that we are now," said McAteer. "But we were still making progress. (Those teams) weren't getting the results, but they could see their work was paying off. That helps create positive momentum. And those kids helped recruit the current kids that have been able to enjoy the results. Everything is about building."
That process of building and recruiting and passing on has led to this team, which McAteer said is one of the best character squads she's ever been a part of. From the upperclassmen leadership down to the new players who've stepped into big roles, the Auggies have proven themselves time and again on and off the ice.
When two team members experienced personal tragedy off the ice, the team rallied around them and stood by each other in a way that McAteer said she's more proud of than anything they've accomplished on the ice.
"Our current seniors are a very driven group and from day one wanted to leave the program better than they found it," said McAteer. "Our upperclassmen know that their success depends on how well the new people adapt because they were in their shoes at one point. They want to keep paying it forward and passing along the lessons that they've learned so that the new players don't struggle as much. It doesn't matter how much you say or how impassioned you are as a coach; if the players aren't willing to take it on themselves, you're not going to move forward at all."
Each new class has been invested in the rebuild and in helping to create something bigger than they might be able to accomplish in their four years of school. Part of that, McAteer said, is because of how important the history of the program is to the players. The oldest women's hockey program in the Midwest, Augsburg celebrated its 20th year as a program last season. They were the first NCAA team at any level of women's hockey in the state of Minnesota and they take a lot of pride in that history.
Being atop the conference and nationally ranked are tremendous accomplishments for this team, but McAteer said it has never been about one team or one good season. She and her players have been working to bring Augsburg to national recognition and stay there.
"Your on-ice success is a byproduct of your commitment level and how well you communicate and what your leaders do and how you treat each other. It's a process. It's not just one year. That's what makes it special. We don't want just one great team. We talk about this. We don't want this team to be a blip on the radar. We want to be a strong program that can produce strong competitive teams frequently. "
With such a young team learning from the talented and committed senior class, Augsburg is well on their way to ensuring that the culture they've created is indeed maintained.