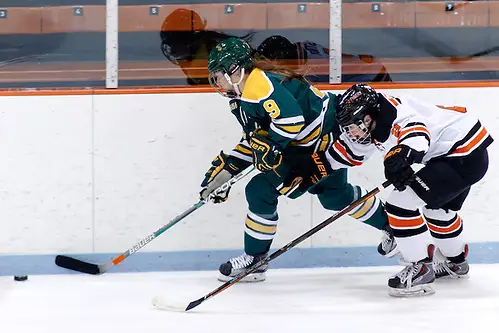 Arlan: We saw some more races for season championships get decided over the weekend. As in Hockey East, where BC won a week earlier, Hollywood would have asked for a rewrite in the WCHA, because there hasn't been much drama in those races for quite some time. Wisconsin made its title official with an 8-0 rout of undermanned Minnesota Duluth on Sunday in a game that featured a Baylee Wellhausen hat trick.
Meanwhile, Clarkson has been nursing a slim edge over St. Lawrence for much of the year. The Golden Knights clinched at least a share of ECAC Hockey's crown when they recorded third-period wins on home ice over both Princeton and Quinnipiac with Loren Gabel and Jessica Gillham scoring the winning goals. The Saints hosted the same two teams and saw leads slip away both days, settling for a single point. Emma Woods' power-play goal gained the Bobcats a 1-1 tie on Saturday. Even more painful, SLU grabbed a 2-0 lead over the Tigers on Sunday, but Princeton stormed back with a 4-2 win behind two goals and an assist from Carly Bullock.
College Hockey America's playoffs take place over three days, so its regular season still has two weekends to go. Robert Morris hasn't cemented anything yet, but the Colonials upped their advantage over Syracuse to four points when the Orange split with Mercyhurst.
If there is increased clarity in the league standings, the same is not true in the PairWise Rankings. Wisconsin has the top seed all but sewn up, and while UMD still holds second, the knot of teams that sit third through sixth — Minnesota, St. Lawrence, BC, and Clarkson — is within hailing distance. Cornell clings to the precarious seventh spot in the PairWise, but there is pressure from below from the likes of Colgate, Princeton, Quinnipiac, and Northeastern, in addition to the wrench that can come from a Cinderella team emerging with an automatic bid.
What did we learn this week that changes the picture for the conference tournaments and beyond?
Candace: I don't think we really learned anything new. We learned that Wisconsin is close to being unstoppable. We learned that Robert Morris seems to have learned its lesson and won't choke in the race for the CHA. We learned that the ECAC is still volatile, but Clarkson is the team most likely to win it. We also learned the Boston College is likely the most vulnerable of the favored teams in the conference tournaments, and as such is the most likely to end up knocking a team like Cornell out of the tournament. I wasn't terribly surprised that BC lost to Northeastern three days after beating the Huskies in the Beanpot. Northeastern has played BC tough all year; if the Eagles kept playing with fire, they were bound to fall short. BC has also had hella difficulty with Boston University.
The thing is, I think we've known all these things for around three weeks. It's nothing really surprising. Perhaps the only surprise is that right now, Colgate is the final home ice team for the ECAC playoffs, holding a one-point lead over Princeton. About a month ago when Colgate was in a rough patch, I wrote in this column that it seemed impossible to me that Colgate would get home ice. I'm impressed that the Raiders have regained their footing, but I still favor Princeton to clinch home ice. Colgate closes with Clarkson and St. Lawrence, while Princeton closes with Union and Rensselaer. Princeton also owns the head-to-head tiebreaker with Colgate. I don't see Colgate gaining more than two points in the series with Clarkson and St. Lawrence, so if Princeton just beats Union and ties Rensselaer, the Tigers will be at home against the Raiders.
One interesting thing as we head to the final weekend is whether Harvard can throw a Hail Mary and somehow qualify for the ECAC tournament. The Crimson's chances were damaged mightily when they lost to Rensselaer this weekend, but they got a reprieve since the Engineers lost to Dartmouth the night before. It's still a tough road; Harvard has to sweep Yale and Brown and hope Rensselaer doesn't get any points in its games with Princeton and Quinnipiac.
Does that about cover it? Do you see anything different than me?
Arlan: The key word in your sentence regarding Wisconsin may be "close," as the Badgers weren't all that unstoppable on Saturday, given the thin roster of Minnesota Duluth that arrived in Madison to challenge them. While it was inevitable that Wisconsin would prevail eventually, I wouldn't have expected it would take 65 minutes plus 12 rounds of a shootout to demonstrate any sort of superiority. After exhausting a UMD squad that was missing four regulars in the first game, the Badgers were able to perform like a top-ranked team Sunday against an opponent that didn't look to have its legs.
As for Robert Morris, the Colonials were still a bit of a neophyte three years ago during the rookie season of the current senior class, including goaltender Jessica Dodds, as well as redshirt junior Brittany Howard. They only had a one-game lead heading into their trip to Mercyhurst that kicked off the second half of the CHA schedule back then, so it wasn't shocking that they couldn't hold off a more veteran club despite an edge in the standings.
In the ECAC, one other significant development was that in addition to losing all but a mathematical chance at a share of the league title, St. Lawrence saw its odds of hosting an NCAA quarterfinal go from a near certainty to something closer to solid. The Saints can upgrade their chances with a strong trip to Cornell and Colgate to close the season. Right now, Wisconsin is the only team who is a lock to host in the NCAAs, but I fully expect that BC will be on home ice as well. Despite any perceived wobbles, that was the Eagles' first loss since Nov. 5. Given they aren't the juggernaut of the last couple of seasons, they've done very well to rebound after a shaky first month. I don't see BC as vulnerable as you do.
Compare the Eagles to the champs of a couple of other leagues. Let's assume that Robert Morris closes out its final two series successfully and wins its first regular season title. Will that make the Colonials more than a slight favorite in a championship game at a neutral site against either Syracuse or Mercyhurst? I do get your point that it won't matter to Cornell or any other seventh-ranked team, because the champion will be the only CHA team advancing, no matter which team it is.
I also think that Clarkson is in a more precarious position than BC for winning its tournament. The ECAC has six teams where we could concoct a scenario where any one of them emerges on top in the playoffs. In Hockey East, it seems rather far fetched for the championship to reside in any city other than Boston. You mentioned Harvard, and if disaster strikes for RPI and all four of those games go the way the Crimson would hope, they could present an early roadblock for Clarkson. Sure, they're just a shadow of what they were a couple of years ago, but I'd guess that Katey Stone's team isn't quite what a top seed is hoping to see in the opening round.
Even Wisconsin, which looks ready to add a couple of tournament trophies to its haul from this campaign, is likely to face off in the WCHA championship game against a team that has already beaten it this season.
What are your thoughts on Northeastern after its upset of BC? Are the Huskies ready to shake off what has been at times a disheartening season and make a run at a return to the NCAA tournament?
Candace: I don't see why Northeastern can't make a run at the NCAA tournament. The Huskies just have to think to themselves, "Four games." I just glanced at their schedule and realized that while it has felt like Northeastern has had a slightly disappointing season compared to last year, there aren't many games that are actually that way. The loss to Merrimack and the two losses to Maine are the big ones. The two losses to Vermont and the one to New Hampshire were all in OT. Northeastern has a victory over BC and a tie with the Eagles, and also has beaten BU twice. In a three-game series against either New Hampshire or Connecticut at home in the first round of the Hockey East playoffs, you'd have to favor Northeastern. Then you get to the semis and finals and it's BU or possibly whichever of Connecticut or New Hampshire could knock off the Terriers, and then just BC.
Northeastern hasn't had Denisa Krížová in the lineup in February, and yet beat BC Friday and gave the Eagles all they could handle in the Beanpot. That has to give them confidence. If they get Krížová back for the Hockey East tournament, that's a huge boost. Brittany Bugalski has come on strong in net, and has a .930 save percentage, certainly enough that she can cause fits to opposing teams' offenses. Northeastern also has other scoring threats besides Krížová in McKenna Brand, Hayley Scamurra, and Paige Savage. It's a tough path for Northeastern to get back to the NCAA tournament, but it's certainly not an impossible one.
It's interesting to look at Hockey East and ponder how the playoff matchup will shake out. Vermont and Providence are tied for the final home-ice spot. You have to favor Vermont to get it though, since the Catamounts play two against Merrimack while Providence plays two against BC. Even if Vermont hosts though, you'd have to think the Catamounts would prefer to face someone aside from Providence, who Vermont didn't beat in three games this year. Connecticut could possibly sweep New Hampshire and move into fifth place, especially since they are at home, but I think a split there is more likely, and will mean Providence and Vermont face each other in the first round.
The other X factor is that Merrrimack will be supremely motivated this weekend. A tie against the Catamounts might be enough to get the Warriors into the Hockey East tournament, since Merrimack owns the head-to-head comparison against Maine. The Warriors trail Maine by one point, with one game in hand. Maine closes with BU in Boston, and Maine is dreadful on the road, only winning once all year.
What do you think of the rest of Hockey East? And can anyone stop BC?
Arlan: There definitely is more intrigue in Hockey East than there were the last couple of years. The Eagles are still the class of the circuit, but a team like Maine has the knowledge that it knocked them off back when the Eagles' blue line was a little deeper than it is now. Do I think it's going to happen? No, but last year I'd have stated that opinion more emphatically.
As for whether Merrimack or Maine gets into the field, Maine is funny in that it loses with great regularity over the last couple of seasons, but every time it finds itself trailing the Warriors in the race, it seems to come up with a "W". We've learned to expect the unexpected in games involving BU in recent years and this season in particular. The Terriers have already donated points to both the Black Bears and the Warriors. As we speak, BU has to worry about holding off Providence and Vermont in the battle for home ice and the jockeying to keep BC on the other side of the bracket, but come Sunday, that may no longer be in doubt.
It used to be in certain slow-pitch softball tournaments that you could pick up a couple of ringers from teams that hadn't qualified. Maybe Maine and Merrimack could put together a composite team in the hope of competing with BC.
At the end of the day, even though there are more teams that we could envision knocking off Boston College, the reality is that it isn't likely to happen. Parity is all well and good into February, but come March, it tends to dwindle away. After its loss to Northeastern, BC looks to have rediscovered its scoring touch against Vermont. I think that only BU has a chance if it becomes a scoring contest, and I'm not sure if the Terriers are up to winning four games in a row with their season on the line.
New Hampshire, Connecticut, Providence, and Vermont have all given us hints at times that brighter days are ahead, but as of now, I'm not feeling all that excited about any one of them. This season may have been a stepping stone to better days for Hockey East, but given who the Eagles have coming in next year, the gap might widen before it narrows any further.
Looking down the road, do you see the gaps in the various conferences getting tighter? Or, like the universe, are they ever expanding?
Candace: I don't know that they are expanding, but I'm not sure they are getting tighter. The WCHA is in my mind the most stratified conference. I was having a chat with someone about women's hockey when I was at the Denver-Colorado College game Saturday night at World Arena, and talking about BC being 40-0 last year, and Minnesota's perfect season three years ago, and how in women's college hockey, it's a little different, because there isn't anywhere else for these players to go. So teams like Minnesota, Wisconsin, and Boston College can attract the best players who want to develop their game and win a national championship and then go on to play in the Olympics.
In women's college hockey, you can have the equivalent of Sidney Crosby playing for your team. There have been interesting exceptions in men's hockey, such as Jonathan Toews playing two years for North Dakota, but if you look at the leader board in the NHL, most of those players didn't play college. Crosby went straight to the NHL, Alex Ovechkin was playing pro hockey in Russia by the age of 16, Connor McDavid played major junior and then went to the NHL when he was 18, Nicklas Bäckström was playing pro hockey in Sweden as a teenager before moving to the NHL, and Patrick Kane played major junior and then was in the NHL when he was 18. The two college players I see among NHL points leaders are Max Pacioretty, who played one year for the University of Michigan before bolting for the pros, and Cam Atkinson, who played three years at Boston College.
In women's college hockey, these players don't have anywhere to go except the Olympics, and they can still play college after taking a year off for the Olympics, so you have players like Amanda Kessel, Alex Carpenter, Marie-Philip Poulin and others, players who are the best in the world, playing in college, and staying there for four years, and looking for the most part to join the best teams. There are outliers, like Kendall Coyne, who went to Northeastern and instantly lifted that team's profile, but to me it seems the top programs are what Air Force coach Frank Serratore once told me are "reload programs," schools that consistently get the best talent. That makes it harder for the other teams.
Anyway, the WCHA for all intents and purposes has been Wisconsin, Minnesota, Minnesota Duluth, and North Dakota in the top four, and Bemidji State, Minnesota State, Ohio State, and St. Cloud State in the second tier, and while those second tier teams sometimes get an upset or two over the top schools, they can't do so with enough regularity to break through. I feel like the gap is the same in the WCHA that it has been since I started covering the sport over a decade ago, and I don't see that changing any time soon. This is not meant to disrespect those other schools, but with the tradition at those top four schools, plus the crowds that teams like Wisconsin and Minnesota draw, I think if you are at the level of, say, an Amanda Kessel, the chance to go play at that school in front of 3,000 fans is something you take.
The ECAC seems more chaotic, and part of that is I think because of the academic prestige that some of those schools have that can set the players up for a well-paying career after school and/or the Olympics. Going to a school like Harvard, Princeton, or St. Lawrence just looks good on a resume. Those ECAC schools can get the players who maybe aren't quite the Olympic caliber, but are right there. They also do sometimes get Olympians. I can see the ECAC getting tighter, but I've waited to see teams like Union and Brown make a move toward the top ever since I started covering the game and it hasn't happened. I'm not sure why, but the ECAC again seems stratified to me.
The one league where I have seen things getting tighter in is the CHA, where it used to be Mercyhurst and everyone else. Time was the Lakers got those Olympic players like Meghan Agosta and Vicki Bendus, but that doesn't seem to be the case anymore, and the CHA, while somewhat stratified like the WCHA, is still pretty wide open in comparison to the other leagues. I think those schools will continue to get closer.
Does this analysis resonate with you? Do you see it differently?
Arlan: That's mostly how I see it as well. Before Coyne went to Northeastern, the Huskies had Florence Schelling, and we've seen the difference that a top-tier goaltender can make at a number of programs.
When Shari Vogt arrived at Minnesota State years ago, or more recently, Nicole Hensley at Lindenwood, the goalie may just bring a measure of respectability. She can't win games single-handedly. She won't score, and if the puck never leaves her zone, it'll eventually wind up in her net despite her best efforts. But she can at least slow the bleeding and eliminate the double-digit losses.
As you try to move up the ladder, even a great goaltender can only lift a team so far. The one exception that I can think of is when Kim Martin somehow stole a title for Minnesota Duluth in 2008. Maybe that team had something that made it better than it looked, because it did win again two years later without her, but she was asked to be brilliant for the 2008 team to win, and she was.
At the start of the NCAA era, teams could contend with goaltenders who were good or maybe just OK. I don't think that's true anymore. Now, if a team's goaltender is not, at a minimum, very good, then it isn't going to be a factor in March.
To reach the top levels of the sport, it takes much more, although there is some flexibility on how a team is configured. It's like the NFL, where a team's defense might be built around a great pass rush, shutdown cornerbacks, or a sound defensive scheme with the right personnel to execute it. We've seen blue lines have success with stay-at-home defensemen who clean up everything around their net, efficient puck movers who quickly get the puck out of their zone, and more dynamic talents who can ignite a transition game and prove the best defense is a good offense.
Whatever route a team takes, it needs enough quality players. North Dakota has a pair of seniors in Halli Krzyzaniak and Gracen Hirschy who are likely as good a tandem of shutdown defensemen as there is in the country. Both have good size and play a physical game. When the quality drops beyond that top pair, then a coach is faced with a quandary: roll through the depth chart and try to keep the shifts somewhat balanced, or ride the top players extensively and risk wearing them out. Either method can work or fail, depending on matchups and bounces, and overplaying the stars can work in the short term but produce diminishing returns as the minutes add up over a season.
It's similar offensively. Teams can be built around one dynamic line or balanced scoring depth. Either way, it takes numbers. This isn't basketball, where the best players may play the entire game.
We often see fans of struggling programs blame the coach and say things like, "There is a lot of talent on that team." There may be, but all teams have talent. The better teams just have more of it. Programs like Union or Brown may go out and land some quality players, but that likely just raises them to the level of Yale, somewhere near the middle or just below. St. Cloud State has an up-and-coming scorer in Julia Tylke. It has a very good goaltender in Janine Alder. How many more pieces would Eric Rud have to add before he could go toe to toe with Wisconsin and Mark Johnson on a regular basis and come out on top? That's why parity exists in any given game, and not in any given season.
Enough pondering the more distant future. In the short term — like this coming weekend — where should our attention be focused? Harvard trying to keep its string of postseason appearances intact? St. Lawrence embarking on a key road trip to solidify its PairWise standing and gain momentum for the playoffs? Hockey East trying to see how many teams it can fit into a proverbial VW, in this case, the host seeds? Or should we just go with the usual and watch Wisconsin demonstrate to Minnesota why the Badgers have won the last four trophies that the WCHA has awarded?
Candace: Hmm, interesting ponderables. Of course, Minnesota against Wisconsin is the marquee series of the weekend. Minnesota went into what for them was swoon after Wisconsin crushed them back in December 8-2, a stretch where Minnesota then went 3-3-1. That's the worst stretch my memory can think of for Minnesota in many years. Of course, it's easy to remember that before losing 8-2, Minnesota beat Wisconsin, so the teams are 1-1. And regardless of those last four trophies, Minnesota has won when it's counted most: the Frozen Four.
There are games that might be even more interesting in the same conference though. St. Cloud State is currently in fifth place, one point ahead of Ohio State. St. Cloud faces Minnesota Duluth for a pair, and Ohio State faces North Dakota. Can Ohio State get enough points to leapfrog to fifth place and so avoid a first-round matchup with Duluth? Can St. Cloud get at least one point in the series with Duluth? The interesting thing is if Ohio State gets points and moves ahead of St. Cloud State, the first rounds in the WCHA will include rematches of the series between the teams in third to seventh place.
There are of course other interesting games. I already discussed whether Princeton can pass Colgate for fourth place. The ECAC features a weekend between the teams currently in first to fourth place, and those should provide some fireworks.
Where is your attention going to be for the coming weekend?
Arlan: First, one note is that UMD still has a decent shot at finishing second in the WCHA and dropping Minnesota to third. If the Bulldogs sweep the Huskies — possible — while the Badgers sweep the Gophers, another definite possibility, then UMD and Minnesota would finish tied. In that scenario, the Bulldogs own the tiebreaker. Last season, the Gophers lost a share of the league trophy because they lost a shootout to North Dakota. This season, they could drop a seeding spot because a referee ruled that Kassidy Sauve had control of a shootout attempt before it wound up in her net.
Not that there is a whole of difference between being seeded second or third in a conference tournament, but the WCHA might want to look more closely at how it conducts its shootouts. The fact that UMD and Wisconsin went 12 rounds and had to keep sending out different shooters is rather ridiculous. What would they have done once the Bulldogs ran out of skaters but the Badgers had more? Make the backup goalies shoot? I guess we'll never know. Personally, I'd just get rid of the shootouts. It isn't creating some huge surge in attendance of people buying a ticket in hopes of seeing a shootout, so let's just call these games ties and get on with life.
So back to your question. If location didn't factor into it, I'd probably look to the ECAC. St. Lawrence and Colgate are two of my favorite teams to watch, so that would likely be my pick for the most interesting game. Because I live where I do, I'll be attending Wisconsin at Minnesota at that time, so I'll have to settle for watching Clarkson and Colgate on Friday night with one eye while the other is checking out Northeastern at BU.
There are also some individual honors to be decided. Victoria Bach has a two-point edge on three players for the scoring title in Hockey East. Of her pursuers, Makenna Newkirk likely has the best shot at overtaking her because a pair of Northeastern players are down to a single game remaining. Cayley Mercer is three points up on teammate Geneviève Bannon in ECAC Hockey, with some Saints and Tigers still in the hunt. Kelly Pannek's lead is down to five points over Sarah Potomak, but it is hard for a linemate to make up that much ground. Lara Stalder, another point back, would be more likely to catch her, although six points is a lot to gain in one weekend.
Are you on the Kazmaier Committee this season? Are we closing in on any announcements there?
Candace: I'm not on the Kazmaier Committee this year; I haven't been in I think three years. As for announcements, I looked it up and last year the list of 10 came out on Feb. 25, which was a Thursday, so I believe this announcement will be made next Thursday on Feb. 23. Then the following week the list will be winnowed down to the final three. I think there should be a little more time between the announcement of 10 and the announcement of three, but things are more compressed in women's hockey than the men's for the Hobey Baker. Some of the players the Patty Kaz website has spotlighted on its Kaz Watch have included Annie Pankowski of Wisconsin, McKenna Brand of Northeastern, Stalder of Minnesota Duluth, and Mary Parker of Boston University. I don't know if all those skaters will be on the list of 10 nominees that comes out next week, but I'd imagine some will be.