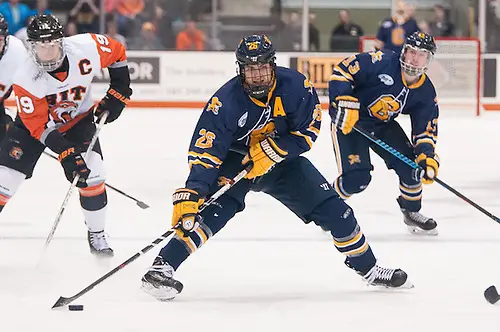 Each week during the season, we look at the big events and big games around Division I men's college hockey in Tuesday Morning Quarterback.
Jim: It seems like just yesterday we were talking about Penn State being the No. 1 team in the country. The Nittany Lions, a program still in its infancy, were also No. 1 in the PairWise Rankings and seemed in mid-January to be on its way to the program's first NCAA bid.
Wow, can things change in a month.
Penn State has just two wins in its nine games since being crowned No. 1 on Jan. 16. This past weekend, the Nittany Lions were swept by Minnesota on home ice, losing on Saturday in heartbreaking fashion. After scoring what seemed like it would be the game winner on a penalty shot with 1:26 left in regulation, the Gophers tied the game with four seconds left and Rem Pitlick buried the overtime game-winner at 3:27.
Penn State has fallen to 11th in the current PairWise and still has to play six more regular-season games. If the Nittany Lions go .500 or worse over those six games, there's a chance they could begin the Big Ten tournament needing to win the title to earn an NCAA bid.
Like I said earlier, wow, can things change in a month!
Paula: Yes, given where they are in the PWR, it makes me wonder too if this stretch of B1G hockey might be a metaphor for the Nittany Lions this season – so close, so close.
As you know, I've been vocal about how much the Big Ten has underperformed since its inception. Given its resources, this is a league that should be competitive in the national tournament every year and that hasn't been the case. This season has given B1G hockey fans their biggest hope of seeing more than a team or two in the tournament, largely because of how the league played its early nonconference schedule. Now Minnesota looks solid but both Penn State and No. 13 Ohio State could very well play themselves out of NCAA berths.
The other league formed because of the existence of the Big Ten, the NCHC, has been solid from the get-go four years ago. Since the end of January, it's clear that Denver and Minnesota-Duluth have been battling for the top spot in the nation and – once again – the NCHC seems to be setting the pace near the top of rankings. Western Michigan is third in the NCHC standings, 10th in the poll and fifth in the PWR. There are two weeks of regular-season play left in the NCHC and Western Michigan ends its season hosting Duluth for two games. It is within the realm of possibility that the NCHC can claim three of the four No. 1 seeds in the NCAA tournament. I know I'm getting ahead of things here and a lot can happen in playoff tournaments, but the possibility exists.
Jim: I don't think you're getting to far ahead of yourself.
At this point, the NCHC is by far the best league. Look at its eight teams. Their strength of schedule ranks from first (Minnesota Duluth) to eighth (Omaha) and the middle six teams are all NCHC teams. Sure this is a product of how the RPI is currently calculated and takes into account how strong NCHC teams were out of conference.
Right now, though, the reward doesn't seem befitting of the NCHC's success. Currently five teams would make the NCAA field. But North Dakota and St. Cloud are hovering around the bubble with the Fighting Hawks most in peril. Honestly, I think every team aside from Colorado College and Miami deserve NCAA spots, but it doesn't look like Omaha, without a miracle down the stretch (or a tournament title) can get into the field. And even if the Mavericks moved up, you'd wonder if it would be at the expense of North Dakota or St. Cloud.
Let's look back East for a second as three different league champs will be crowned this weekend. All three races are intense. Canisius and Air Force are battling things out in Atlantic Hockey. Union, Harvard and Cornell have a three-way battle in the ECAC. And four teams – yes, four – can still win Hockey East as Boston College, Boston University, Notre Dame and UMass Lowell are all still in contention (and three teams could all share the title at this point).
And as if the schedule gods are in Hockey East's favor, BC will face Lowell and BU will host Notre Dame this weekend. I think a commissioner always hopes for this type of finish and Joe Bertagna is about to get what he wants.
Paula: In a just world, shouldn't Joe Bertagna get nearly whatever he wants?
Kidding aside, the intensity of these races is great for fans. In Atlantic Hockey while Canisius is a point ahead of Air Force, the Golden Griffins have just a single game against Mercyhurst remaining while Air Force plays two against Sacred Heart. In the unlikely event that Canisius loses Thursday, Air Force would need a single win to capture the regular-season title outright. Air Force is also tied for 15th in the PWR, so there's that drama added to the mix. I think any of the top four teams in Atlantic Hockey – including Army and Robert Morris – are capable of taking the AHC playoff championship.
In the ECAC, it may work to Harvard's advantage that third-place Cornell and first-place Union play against each other in the final game of the season Saturday night. After Canisius, the Crimson are the hottest team in college hockey, heading into the weekend with a 10-game unbeaten streak and eight wins in a row. Overall this season, Havard is allowing 2.22 goals per game but in this unbeaten streak is giving up 1.50 goals per game.
I don't even know what to make of that Hockey East photo finish, Jimmy. I'm stating the obvious when saying that HEA is the other dominant conference in college hockey with four teams currently among the top 16 in the PWR, but Notre Dame just barely so. And Boston College is tied for 17th, the Eagles in relatively unfamiliar territory – but with confidence from the poll voters still.
Jim: I think Hockey East is just crazy.
A few weeks ago, we were talking about how BU and BC would battle down to the end. Two teams have joined that race and two more can be added to the race for a first-round bye. In all honesty, almost nothing is decided or known entering the final weekend.
I want to go back to something you touched on and that's Air Force and it's PWR position. If Air Force sweeps Sacred Heart at home this weekend, the Falcons will have 23 regular-season wins. Add in the chance for two more wins in the Atlantic Hockey quarterfinals and another in the semis. If Air Force loses in the Atlantic Hockey final, with 26 wins they would likely be on the right side of the PairWise bubble and qualify as an at-large team.
Personally, I think that's great. Other fans (particularly if their team misses the tournament) might not be so thrilled. If AHC gets two teams in the tournament because of Air Force's strong performance, how do you feel?
Paula: I think Air Force deserves to be in no matter how the Falcons make it in. I'll go one step further and say that I'd be delighted to see Atlantic Hockey earn an at-large bid to give AHA two teams in the tournament – and apologies to Air Force fans because that scenario includes the Falcons losing the conference tournament championship.
As I've said a number of times, there is really good hockey being played in that conference and two AHA teams in the NCAA tournament makes that field of 16 even more interesting. Beyond that, teams playing great hockey at the end of the season have just as much right to an earned NCAA tournament appearance as bubble teams that found it difficult to seal the proverbial deal, whether by stumbling at the beginning of the season or cooling off at the end.
I understand the frustration of fans whose teams just miss the tournament because of upsets in other conference, for example, but bubble teams are on that bubble for specific reasons, and usually those reasons have something to do with inconsistent play during the regular season.
I hear the arguments frequently that seeing teams like Air Force and Canisius in the tournament does nothing to heighten the profile of college hockey overall, but that feels like such a strawman to me. On the flip side of it, I heard all about how having a Big Ten conference would heighten the profile of Division I hockey, but in four years I don't see the existence of the Big Ten drawing attention to anything but the Big Ten. That's well and good for B1G Hockey.
Variety is good for the sport. I love when teams that aren't expected to make it to the NCAA tournament do, but maybe that's because I love a good story as much as I love a good hockey game. Air Force is a good story. So is Canisius.
You've Got Mail
"Is there any (realistic) way to compare how a top (or average) NCAA team would do against a top (or average) major junior team?" — Andrew Pond, Burlington, Vt.
Jim: I don't know if it's possible to measure these two levels of competition fairly. One thing that makes it most difficult is the age of the players. College hockey's average roster is older than 20 years of age, whereas the oldest age for a player in the Canadian Hockey League (aka Major Junior) is 20 years old provided they don't turn 20 before December 31 of that season.
I do feel like there is a deeper level of talent across the CHL, though have no data to back that up either. Both the NCAA and CHL have had success producing NHL talent, though the NCAA's impact has significantly increased in the last 10-15 years.
Would I love to see some sort of game played between the Memorial Cup champion and the NCAA champion? Sure. But it will never happen given that the two champions are decided almost six weeks apart (Memorial Cup is late May) and most college seniors would have graduated and early departures would have signed prior to such a game being played.
It's a good debate, though, don't you think Paula?
Paula: It is a great debate, Jim, and you've hit all the main points. Like you, I suspect that there is more talent in the CHL than there is in the same pool of NCAA players of the same age, but have no way of quantifying that for certain.
I guess the closest we can get to seeing such a competition is the IIHF World Junior tournament, but even then there is so much variation from year to year on Team USA – the team most likely to have the greatest number of NCAA players – that it's not a fair comparison.
That having been said, this past year's US team was mighty fun to watch — perhaps not representative of its entire age group across the NCAA, but fun to watch.
Want your question answered in next week's TMQ? Email it to [email protected].