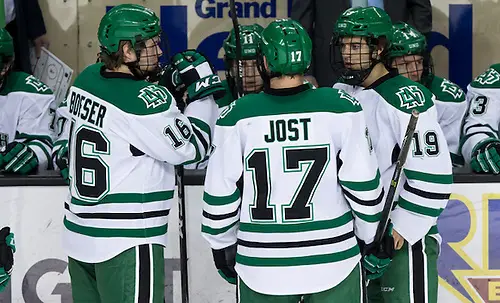 Each week during the season, we look at the big events and big games around Division I men's college hockey in Tuesday Morning Quarterback.
Paula: The regular season has ended for four conferences and league playoffs begin next week for Atlantic Hockey, the ECAC, Hockey East and WCHA.
While I enjoy covering the Big Ten and am always interested in the intensity of both Hockey East and the NCHC, I have to admit that watching the Atlantic Hockey, ECAC and WCHA 2016-17 seasons progress has captured much of my attention. The top four teams in the AHA are highly competitive. Robert Morris always seems to be in the mix in that league every year, but seeing Air Force and Army near the top of the standings at the same time is something new and the emergence of Canisius in the second half has been downright fun for everyone except every other team in Atlantic Hockey. I get the sense that any one of those teams can come away with the AHC playoff championship and NCAA autobid.
In the ECAC, Union's steady improvement throughout 2016-2017 was rewarded with a share of the regular-season conference title, but Harvard is the top seed in that league's tournament. Harvard was picked third and Union seventh in the ECAC preseason coaches' poll with fifth-place Quinnipiac picked first in both the coaches and media preseason polls. Harvard's offense is first nationally and its defense seventh, so the Crimson are a real threat not only to take the ECAC playoff championship, but also to advance in the NCAA tournament. They're third in the PairWise Rankings, so they control their own seeding destiny.
Then there's the WCHA, which has fascinated me this season with its mediocrity. I don't mean to be so unkind, but it's a hard truth that the league as a whole has underperformed. I follow the WCHA closely because of the many former CCHA teams in the conference, and I'm especially disappointed by the seasons that former CCHA teams produced, but there's plenty of disappointment to go around in that league. The regular-season champion, Bemidji State has 20 overall wins, but also 13 overall losses for a overall win percentage of .597. Bemidji, Michigan Tech and Minnesota State all played well within the WCHA, but I don't see anyone emerging from that conference that may advance in the NCAA tournament.
Is it wrong of me to look that far ahead when conference playoffs begin for four leagues next week and two leagues haven't reached the end of the regular season?
Jim: I don't think looking towards the NCAA tournament at this point is unjustified. Right now, I see the WCHA getting just a single team into the field. And I guess I always take the approach that you never know what can happen once you get there, but right now there isn't a lot of be positive about.
Bemidji State clinched (ran away with) that WCHA title a while ago. So this weekend was about crowning three champions in the three eastern conferences. All three endings were crazy.
Harvard and Union were co-champs, as you mentioned. But Union, which entered the final night with a single-point lead over the Crimson, let a late 3-2 lead slip against Cornell when Mitch Vanderlaan scored with 5:01 left. The tie created the co-champion situation.
Atlantic Hockey's title looked to be headed to Air Force. The Falcons needed a sweep of Sacred Heart for the outright title after Canisius took a three-point lead with a win over Mercyhurst on Thursday. Three points and Air Force would be co-champs. But the Falcons, after winning Friday, surrendered the tying goal against the Pioneers with 53 seconds left in regulation and then gave up the game-winner halfway through the overtime. Heart-breaking for the Falcons, but a great moment for Canisius, which wins its first league title.
And then there's Hockey East. Boston College has been in the driver's seat in that league for a while. But a seven-game winless streak, including a sweep at the hands of UMass Lowell on Thursday and Friday, left the Eagles and River Hawks tied for first entering the final night. Boston University, two points back, could catch the duo but its opponent, Notre Dame, needed a win to win the title outright. The Terriers, though, played a complete game and earned a 4-1 victory, thus crowning three champions for the first-time in league history.
Lowell takes the top seed in the playoffs based on tiebreakers, which is impressive given that less than a month ago, the River Hawks were 10 points out of first place (remember, Hockey East uses a two-point-for-a-win system, not three). Additionally, Lowell had to pass or tie FIVE teams in the standings and did so with a 7-0-0 record in the final month.
To say the least, there were some exciting finishes this weekend that the NCHC will have a chance to match in the coming days and the Big Ten two weekends from now.
Paula: When I was covering the CCHA, there were several coaches who fell into the same trap that I just did – looking past conference championships in favor of the NCAA picture. It was always Bob Daniels that reminded me that a conference championship, whether the regular-season title or the playoff championship, is a goal all on its own, something to be proud of and to be savored.
Those photo-finishes in the ECAC, Atlantic Hockey and Hockey East were thrilling to watch. Hockey East was crazy and kudos to the River Hawks for their incredible finish to the season and for another timely reminder: Teams in control of their own destinies, especially toward the ends of seasons, must take care of their own business if they are to succeed.
Look at how the second half of the NCHC has played out. Denver is 10-2-0 in conference play since the start of the calendar year; Minnesota-Duluth is 8-2-4-3. The Bulldogs entered the second half with two games in hand on the Pioneers but are five points behind Denver in conference standings. This weekend, Minnesota-Duluth travels to Kalamazoo to play a very strong third-place Western Michigan team while Denver visits fifth-place Omaha.
There are two weeks remaining in the Big Ten, and this past weekend there were two B1G teams that could not take advantage of the opportunities handed to them. First-place Minnesota entered and exited the weekend three points ahead of second-place Wisconsin after splitting with the Badgers in Madison, and Ohio State slipped from third to fourth with a home split against Michigan, having been shut out by the Wolverines on Saturday. Worse for the Buckeyes is that they probably played themselves out of the NCAA tournament barring a playoff championship since they've slipped to 15th in the PWR.
Jim: I wouldn't write off Ohio State just yet, but they need to being playing better – or at least more consistent – hockey over the last two regular season weekends if they want to make a move up the PairWise. My calculations say that should Ohio State run the table in these four games, they will climb as high as 8th or 9th heading into tournament weekend. So it's not a disaster, but it's a climb certainly.
When looking at the PairWise, the team that stands out to me for their position is Boston College. Despite being co-champion in Hockey East, BC's nosedive in the month of February dropped the Eagles to a tie for 19th (actually 20th when you use the RPI tiebreaker). Because the Eagles have a bye, the most possible wins remaining without winning the Hockey East title is three. That means it is almost imperative that BC wins the Hockey East tournament to avoid being the first regular-season Hockey East champ to miss the NCAA tournament.
The PairWise, in fact, is pretty crazy right now when you think of expectations coming into the season. Despite departures and losses to graduation, many believed that teams like BC, Quinnipiac and North Dakota would all be seeking to return to the Frozen Four again this year. All three are currently on the outside looking in.
Paula: Every week when I vote in the poll, I check how teams did over the weekend, look at their positions relative to last week's poll and then look at the PairWise, and every single week I'm still amazed by where Boston College, Quinnipiac and North Dakota are. I think BC is that one team we get every so often that does exceptionally well in its conference but is in serious danger of not making the NCAA tournament at all. That the team is Boston College is what I find difficult to reconcile.
North Dakota and Quinnipiac may be victimized by their particularly strong conferences. That the Fighting Hawks have a losing record in the NCHC is another fact that is difficult for my hockey brain to reconcile, given all other circumstances.
I wouldn't count the Buckeyes out yet either Jim, but they will need to take care of things on their own end and not count on anyone ahead of them in either the Big Ten or the PWR doing them any favors. They host Michigan State this weekend but finish the season against Wisconsin on the road. Sweeping the struggling Spartans would help OSU's chances, and a single win against a team higher in the PWR would be helpful.
I like a lot of what I'm seeing in the PWR, though, in terms of providing potential interest in the NCAA tournament. Massachusetts-Lowell is the story of a team becoming a perennial threat, having appeared in the NCAA Tournament four times since 2012 and the Frozen Four once in that span. Western Michigan will be making its first appearance in the tournament since 2012 and there's nothing Broncos fans would love more than to have their team to establish themselves as part of the upper tier of an NCHC that has been dominated by former WCHA teams.
Penn State, though – that's a story. Fourth year of Division I play and likely to make its first NCAA tournament appearance? What the Nittany Lions have done this season gets overlooked in some ways, I think, because of their affiliation with the brand of B1G athletics.
Jim: I understand the fact that Penn State may feel overlooked, but the way the Nittany Lions have played down the stretch takes a little bit of the sizzle off for me.
If I'm looking for my favorite PairWise storylines right now, I have three:
• Harvard, after graduating last year's Hobey Baker winner Jimmy Vesey, currently is top 3 and has the best winning percentage in the country.
• Denver, despite playing in the tough NCHC, is beginning to look like the favorite. They find ways to win hockey games.
• Wisconsin, with a new coaching staff, is suddenly right back in the NCAA picture. If the season ended today, the Badgers are back.
There's plenty of time and a lot of great playoff games (and a few more regular-season games) to change my mind.
And here's hoping for a few good overtime games as playoff action begins!
You've Got Mail
Have the NCAA selection criteria devalued the worth of winning in college hockey? Minnesota State sits at 19-11-4, has swept SCSU, split with Minnesota, yet is way out of the NCAA tournament since conference losses decimate their ranking. SCSU, on the other hand, is 15-16-1, but sits inside the NCAA bubble. — Carl from Sartell, Minn.
Jim: I don't think the NCAA selection criteria devalues wins. Rather it awards teams for wins they achieve when playing a more difficult schedule. Right now, whether people like it or not, every single team in the NCHC plays among the most difficult schedules in the nation. And many have had significant success outside of conference play.
When pointing to Minnesota State, you highlight some of their good wins. But miss out on some of their bad losses. Alaska-Anchorage has the fourth-worst RPI in the nation. Ferris State's RPI is 47th out of 60. Bowling Green's is 39th out of 60. Those are just a few of Minnesota State's losses.
Placing that resume against St. Cloud State, to continue with the example you used, the Huskies two losses to Minnesota State in the opening weekend of the season were, based on RPI, the two of their four worst losses of their season. Additionally, St. Cloud State beat North Dakota (16th in RPI), Minnesota (4th in RPI), Western Michigan (5th in RPI).
The reality is that teams with mediocre records in extremely strong conferences – and the NCHC is an extremely strong conference – will always be ranked ahead of decent teams in poor-performing conferences.
One aside as I use this comparison: St. Cloud State, despite being 14th in the PairWise, still needs to raise their record to above .500 to qualify for an at-large bid.
Paula: In some ways, you can look at it in terms of quality of losses – as Jim points out. While not every win is equal and every win is better than any loss, losing to an opponent with a far inferior RPI can really damage a team's PWR.
Just this past weekend, Ohio State dropped from 13th to 15th with a single loss to Michigan. The Buckeyes have had a good season with only nine losses, but two of those losses were to Michigan (40th in the RPI), one to Robert Morris (30th) and one to Miami (29th). It's not horrible, but it's enough to keep a team hovering on the bubble.
Again, it goes back to whether a given team can consistently beat teams with lower RPIs.
The only quirk I see with the strength of schedule logic – with which I agree – is that Penn State didn't suffer from its relatively weak first-half schedule. The Nittany Lions did very well in the first half and so did the rest of the Big Ten, giving Penn State an opportunity to build on those wins against programs with lower RPIs when B1G conference play began.
A strong schedule is rewarded but so is winning. It's who teams lose to that can sometimes hurt the most.
Want your question answered in next week's TMQ? Email it to [email protected].