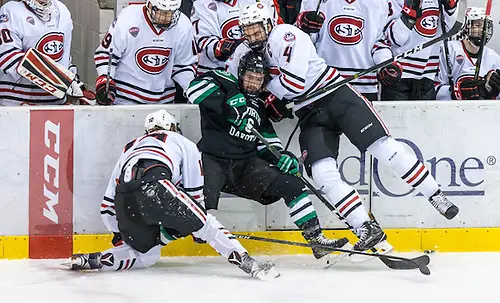 Each week during the season, we look at the big events and big games around Division I men's college hockey in Tuesday Morning Quarterback.
Jim: First off, before we begin today, let me welcome back our colleague Candace Horgan, who is filling in for Paula Weston in today's TMQ. Always nice to have this back-and-forth conversation with Candace!
The timing for bringing Candace in is excellent as the regular season in the league she covers, the NCHC, is now complete. With playoffs beginning on Friday with best-of-three quarterfinal series, I feel like there are a number of interesting storylines in play.
As if so often the case, the most compelling matchup is the 4 vs. 5 series. But in the NCHC, it carries with it so many storylines. As St. Cloud State travels to North Dakota, both teams are absolutely fighting for their NCAA lives. If either team is swept, its path to the NCAA tournament becomes almost impossible. If the Fighting Hawks lose in three games, there will still be possible paths but it's a long road.
For St. Cloud State, however, simply advancing isn't enough. The Huskies are still a game below .500, thus are still ineligible for an at-large bid. Even with a sweep this weekend, St. Cloud State isn't guaranteed to finish at or above .500 because the NCHC has a third-place game.
Considering that St. Cloud State is facing the defending national champions, both fighting for an NCAA bid, might this be the best storyline brewing in the NCHC playoffs?
Candace: The first thing to remember is that NCHC consolation game. In some scenarios, that could be crucial to St. Cloud State. The consolation game is often a glorified practice, such as last year between Denver and North Dakota, but sometimes it's important. Three years ago, North Dakota had to win the consolation game and then Wisconsin had to beat Ohio State for NoDak to make the NCAA tourney. You can just imagine the intensity North Dakota brought in that game.
The 4-vs.-5 series is often the one to watch, and this one is no exception. North Dakota finished strong in sweeping Miami, while St. Cloud lost to last-place Colorado College to end its regular season. North Dakota coach Brad Berry pointed out to me last week that his team has been getting the chances and playing well, but not getting the bounces. Last weekend seems to show North Dakota moving in the right direction.
Last weekend did see some upsets in the conference playoffs. New Hampshire knocked off Merrimack, and Niagara stunned RIT. The others were business as usual.
What stood out to you from last weekend, and what non-NCHC series are you excited about?
Jim: Mostly business as usual, that is. Colgate might disagree.
The Raiders were literally a second away from upsetting Princeton and advancing to the quarterfinals. But a Tigers goal in the final second of Saturday's Game 2 forced overtime, which they won. And then despite falling behind early on Sunday, Princeton rallied for the final two goals and hung on for a 2-1 victory to survive.
The story of RIT's loss to Niagara might be equally as painful. In the opening game, the Tigers led 4-2 and were on the power play late when the Purple Eagles closed the gap to one. An extra-attacker goal tied the game in the final minute. But Niagara took a very late penalty. Thinking the game is headed to overtime with RIT on the power play, somehow not only did the Tigers lose the puck on the offensive zone draw to start the power play, but Niagara skated 3-on-1 and scored another short-handed goal, this time the game-winner with 10 seconds to play. Even thought RIT bounced back on Saturday, Niagara found a way to win on Sunday and advance.
That really does tell the story of how the postseason allows a team to hit the reset button. Niagara was healthier this weekend than it has been all season, and RIT was fighting injuries and illness. Niagara found the life to survive and advance. New Hampshire was a similar situation where it faced a red-hot Merrimack team but somehow hit the reset button and rallied for victories in Games 2 and 3.
But what really stood out to me was the number of playoff games across all four leagues in the playoffs that weren't even close. Vermont routed Maine by a total of 10-1. Northeastern outscored Connecticut 9-3. Quinnipiac swept Brown by an 11-2 margin. And Michigan Tech ran Lake Superior out of the building by a total of 14-4, including an 8-0 win in Game 2.
I always think of playoffs as being the time of year where we get barnburners and multiple overtimes. Not the case in so many series this weekend.
I think that will change this upcoming weekend. Four leagues play quarterfinal series while the WCHA heads to its best-of-three semifinals. North Dakota and St. Cloud State aren't the only teams fighting for an NCAA future.
Providence and Notre Dame (yet another 4-vs.-5 series) could decide whether each team makes the NCAA field. Notre Dame is the bubble team (currently 14th in the PairWise) while Providence is only three spots ahead in 11th. If Notre Dame loses the series, its season is likely over, a tough blow considering the Irish's proximity to Frozen Four host Chicago. Providence is on better footing, but losing to the Irish would mean a lot of scoreboard watching a week later.
Candace: There have seemed to me to be several more teams on the bubble that we wouldn't have expected to be there.
Providence had really turned its season around and is in good position. Boston College, however, which shared the Hockey East regular season crown, likely needs to win the Hockey East tournament to continue its season. Standing in BC's way is Vermont, which also is on the bubble. Notre Dame is a conference upset away from being in trouble. Ohio State has had a good season but played its way out of contention and needs to win the Big Ten tourney.
The WCHA likely will get only one team in the NCAAs. Bemidji State was in danger of getting knocked out after a good regular season but rallied. You said that the playoffs allow a team to reset its season, but a best-of-three also allows a good team to reset after a poor game. Would you agree? It's why I favor best-of-three series in the first round.
Jim: I definitely prefer a three-game series. I think 99 times out of 100, the team that plays the better hockey over a three-game set usually comes out on top. You can't say that for a single-elimination game. Obviously, timelines don't allow for college hockey to use a best-of-three format in the conference tournaments (conference final in the WCHA's case) or the NCAA tourney, which is why you certainly seem to have more upsets in those games.
Before we close this week, I did want to take a second to mention Seth Appert, who was relieved of his coaching duties Monday at Rensselaer after 11 seasons behind its bench. We didn't cross paths too often but I always have enjoyed talking with him. His Engineers had a tough season, which prompted the change, but it's never easy to watch a coach — particularly one who has been with a program for an extended period of time — to lose his job.
Candace: I had the pleasure of meeting Seth on several occasions when Rensselaer came to Denver; the first time was right after he had taken the reins there. I'm sad to see him go. RPI is a tough program because of the academics. Seth had seemed to be on the verge of really getting things together a couple of times, but it just didn't happen. Regardless, I wish him well and hope to see him in the college ranks again soon.
Before the season is over, it wouldn't surprise me to see a few more teams looking for new coaches for next season.
You've got mail
Denver's Henrik Borgström has been having an outstanding rookie season. He electrifies fans and his teammates with some of the goals he scores. Do you think he will be back next season? It's wonderful to see players like that in the college game, but it also seems to be hard to keep them there for very long. — Tim C. from Denver
Jim: Well, this is a perfect question for a week where Candace is here as she's seen Borgström in person many, many times. I've watched him on film a lot, though, and feel like he is a human highlight reel. Those hands combined with such a skating ability makes him stand out.
As for whether he'll return, that is really up to the Florida Panthers. But we can look at some facts and stats. First-round draft picks, in recent years, have typically not lasted on their college team for more than one season after being drafted. He is listed at 6-foot-3, 185 pounds, although that likely was a preseason weight. Assuming he's put on a little weight this season, he likely is more than ready for the NHL.
Candace: Borgström is definitely ready for the NHL. He has incredible hands and moves, and I've seen him several times make plays and score goals that other players just don't see. It's been a treat to cover him. However, he has indicated on a few occasions that he would like to stay with Denver another year. While some first-round players have bolted, others have stayed, as have players who were likely ready to play in the NHL even before going to college, like Jonathan Toews and T.J. Oshie, who both played for North Dakota. Denver had Tyler Bozek a few years back, and he played two seasons. I think Borgström might come back for another season, but if Denver wins the national championship, it also wouldn't surprise me to see him in Florida red next season.
Want your question answered in next week's TMQ? Email it to [email protected].