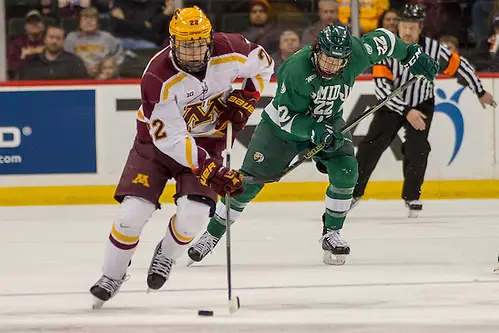 The Big Ten announced Monday the hockey All-Big Ten teams and individual award winners as selected by the conference's coaches and a media panel.
Minnesota's Tyler Sheehy was named Big Ten Player of the Year, while also earning co-Scoring Champion honors with Ohio State's Mason Jobst. Minnesota's Eric Schierhorn was named the Goaltender of the Year for the second consecutive season, while teammate Jake Bischoff was tabbed the Defensive Player of the Year, which is awarded to a defenseman or forward. Wisconsin's Trent Frederic collected Freshman of the Year laurels, while Badgers head coach Tony Granato was selected as the Coach of the Year.
Sheehy was tabbed Player of the Year after leading the conference with 14 goals and sharing the lead with Jobst with 34 points in conference play. The sophomore averaged a conference-leading 1.70 points per game in conference action to pace an offense that led all Big Ten schools with 3.95 goals per game in conference contests.
Schierhorn led the conference with 14 wins in conference play en route to Goaltender of the Year honors. He also paced all Big Ten goalies with a 2.76 GAA in conference play, including a shutout against Michigan State.
Bischoff was named Defensive Player of the Year after leading all Big Ten defensemen with 18 points and 15 assists in conference games. Seven of his points came on the power play, tallying a goal and six assists on the man advantage to tie for the lead among all Big Ten defensemen in conference contests. The Golden Gophers led the conference in scoring defense in Big Ten play.
Granato won Coach of the Year honors after leading Wisconsin to a 19-14-1 overall record and a 12-8-0-0 conference mark his first season at the helm. The Badgers earned the No. 2 seed and a first-round bye in the Big Ten tournament.
In his first season with the Badgers, Frederic was second in team scoring with 15 goals and 33 points in 28 games.
The Big Ten also recognized six Sportsmanship Award honorees. The students chosen are individuals who have distinguished themselves through sportsmanship and ethical behavior. These students must also be in good academic standing and have demonstrated good citizenship outside of the sports-competition setting. This season's honorees are Michigan's Sam Piazza, Michigan State's Joe Cox, Minnesota's Vinni Lettieri, Ohio State's Logan Davis, Penn State's David Goodwin and Wisconsin's Aidan Cavallini.
First Team All-Big Ten
| Player's Name | Position | School |
| --- | --- | --- |
| Justin Kloos | F | Minnesota |
| Tyler Sheehy | F | Minnesota |
| Mason Jobst | F | Ohio State |
| Jake Bischoff | D | Minnesota |
| Vince Pedrie | D | Penn State |
| Eric Schierhorn | G | Minnesota |
Second Team All-Big Ten
| Player's Name | Position | School |
| --- | --- | --- |
| Nick Schilkey | F | Ohio State |
| Trent Frederic | F | Wisconsin |
| Luke Kunin | F | Wisconsin |
| Josh Healey | D | Ohio State |
| Jake Linhart | D | Wisconsin |
| Christian Frey | G | Ohio State |
Big Ten Honorable Mention
| Player's Name | Position | School |
| --- | --- | --- |
| Vinni Lettieri | F | Minnesota |
| Dakota Joshua | F | Ohio State |
| David Goodwin | F | Penn State |
| Denis Smirnov | F | Penn State |
| Sam Piazza | D | Michigan |
| Carson Gatt | D | Michigan State |
| Ryan Lindgren | D | Minnesota |
| Peter Tischke | D | Wisconsin |
| Peyton Jones | G | Penn State |
| Jack Berry | G | Wisconsin |
Big Ten All-Freshman Team
| Player's Name | Position | School |
| --- | --- | --- |
| Rem Pitlick | F | Minnesota |
| Denis Smirnov | F | Penn State |
| Trent Frederic | F | Wisconsin |
| Ryan Lindgren | D | Minnesota |
| Kris Myllari | D | Penn State |
| Peyton Jones | G | Penn State |