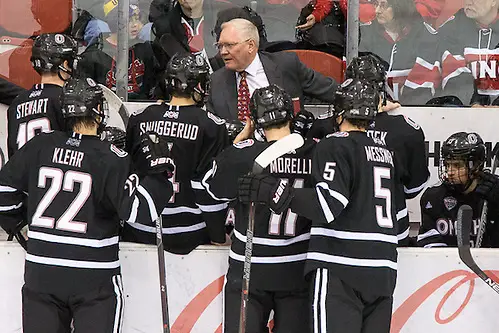 Omaha head coach Dean Blais announced Tuesday that he is stepping down from his position with the team.
"I have been extremely fortunate in my career to work in so many good places with so many people who care about the game of hockey," said Blais in a statement. "Omaha is one of those places. Our administration, led by (vice chancellor of athletics) Trev Alberts and (associate athletic director) Mike Kemp, have been very supportive during my time as UNO head coach, and our fans are some of the best in college hockey. That's what has been most important to me in my career – the relationships I have made everywhere I've been. My experience in Omaha has been so much fun, assisting Trev and Mike with the moves to two different leagues and the building of Baxter Arena. It was challenging, but all very positive.
"And more than anything else, I have forged so many great relationships with our student-athletes, many of whom have gone on to play in the National Hockey League.  They were great students, and great people.  In the end, that's what I appreciate the most.  Jackie and I are going to miss Omaha, and we are looking forward to the next chapter."
"Dean has been a remarkable leader for our hockey program during the last eight seasons, and he leaves it in a more prominent position nationally than when he began here in 2009," added Alberts.  "Milestones were a regular occurrence on his watch. During his tenure, he led Omaha hockey in a successful transition from the CCHA into what was then the toughest conference in the country, the WCHA. Three years later, he led us through another move into an even tougher conference, the NCHC.  Under Dean's leadership, we made our first trip to the NCAA Frozen Four, and we opened Baxter Arena.
"For many, that would be a career's worth of accomplishments, and Dean did that in eight years."
"His considerable experience and knowledge kept the Mavericks in good hands throughout all of that transition," said Kemp.  "He continued to prove to be one of the true giants of college hockey coaching, and Omaha Athletics always will be indebted to him.
"As we move forward, Dean will be working with us in the search for his successor. We recognize that we have a strong internal candidate, but we also will be speaking with external candidates in an expedited process to fill the position.  Given all that UNO has to offer and its place in the college hockey landscape, we expect considerable interest in our head coaching position."
In eight seasons as the Mavericks' head coach, Blais compiled a record of 146-133-30 and led them to the 2015 Frozen Four.  He had three seasons of 20 or more wins and finished with a record of 17-17-5 in 2016-17.  During four seasons in the NCHC, he led the Mavericks to a pair of third-place finishes and did the same in their first season in the WCHA.  That same year, he was named the WCHA Coach of the Year, the fourth such honor of his career.
Blais has 18 years of experience as a college head coach, having spent 10 years at North Dakota prior to coming to Omaha.  While there, he won two national championships and was twice named the Spencer Penrose Award winner as the national Division I coach of the year.  Altogether, his teams made nine NCAA playoff appearances including two with the Mavericks.
In addition to his decorated college coaching resume, Blais also has considerable international coaching experience.  He led the U.S. National Junior Team to a gold medal at the 2010 IIHF World Junior Championship and also coached the team in the 1993 and 2012 championships.  He served as an assistant coach for several national teams, including the U.S. Olympic team in 1992.